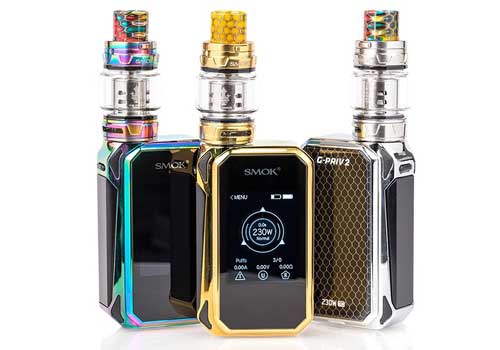 Here's a discount for the SMOK G-Priv 2 Luxe Edition Kit that features an upgraded mod and TFV12 Prince Tank.   The new mod adopts more premium materials  and a prismatic chassis which upgrade the texture to feel comfortable in the hand and also an exquisite appearance. You may also want to check out our deals for the latest Smok G-Priv 4 mod or kit.
Overview
The Smok G-Priv 2 Luxe Edition features a more deluxe appearance, a prismatic shell, a cobra battery cover, an HD display, an easy to use menu, 230 watts of power and an effortless screen lock/unlock button.
Technically, the Luxe hasn't really changed from the regular edition G-Priv 2 mod, but the visual difference is quite striking.  The new mod adopts more premium materials which upgrade the texture to feel comfortable in the hand. The prismatic chassis is also new and is available in these colors: prism gold, prism chrome, prism rainbow, prism blue, prism gun metal and matte black plating with black. An added exquisite Cobra style battery cover features a snake pattern and also feels great in the hand.  The rest of the mod's design is the same with a large side fire mechanism and the control face with 2.0 inch IPS screen on the front. The best aspect of operating the display is the screen lock/unlock button that stops accidental firing or unwanted modifications.  The display can be set to custom fonts and the touch control is response for easy menu navigation.
The Smok G-Priv 2 Luxe  features 230 watts of output and works in three temperature modes, TCR  mode and power mode. Temperature can be adjusted to up to 600 degrees Fahrenheit and the lowest resistance comes in at a rock bottom 0.05ohm. Powered by two 18650 cells, the USB interface can let you charge the batteries while they are inside the device.
At this time, the G-Priv 2 Luxe is only available in a kit that comes with a TFV12 Prince. For more information on this huge vapor producing tank, visit this page.
Features & Specifications
Dimensions/weight: 85mm x 52mm x 27.3mm/181g
Upgraded texture with new materials used
Prismatic shell looks amazing

Colors: prism gold, prism chrome, prism rainbow, prism blue, prism gun metal, matte black plating with black

Cobra battery cover
25mm 510 threaded connection with springloaded/gold-plated pin
Easy large firing switch
Ventilation holes
Massive 2.0″ IPS  color screen

Screen lock button prevents accidental firing/changes
Two battery bars
Color font with six settings
Rich intuitive menu
Easily swap modes
Easily change settings

 Works with two 18650 batteries

Micro USB port for charging
Remove magnetic back cover to swap cells

Operating modes: VW/TC-Ni/TC-Ti/TC-Ni200/TCR
Set preheat to soft, normal, hard, max in VW mode
Set TC mode preheat power
Power mode output range: 1W to 230W
Output voltage range: 0.5V to 9V
Resistance range (VW): 0.1Ω to 2.5Ω
Resistance (TC/TCR): 0.05Ω to 2.0Ω
Temperature control range: 100℃ to 315℃ or 200℉ to 600℉
Standby current: less than 500uA
Micro USB firmware upgrades
Intelligent atomizer recognition
Puff monitoring system
10 seconds cutoff
Short circuit protection
Overheat protection
Low battery warning
Total Views Today: 1 Total Views: 1,005