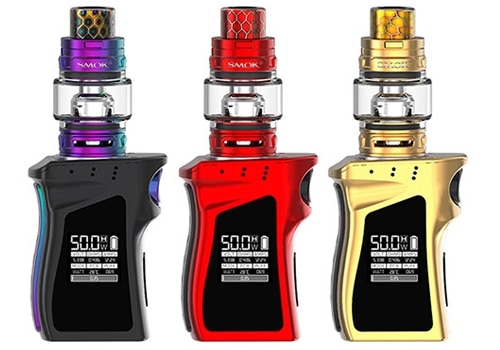 Check out these cheap deals for the Smok Mag Baby Mod or Kit w/ TFV12 Baby Prince Tank.
Deals
Update: This Item Is Out Of Stock Everywhere – Check  Similar Smok Mods & Kits Below
Review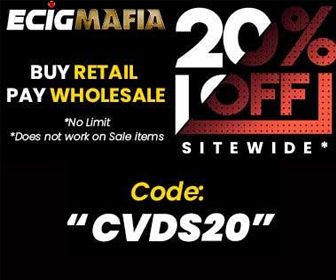 Overview
The Mag Baby Kit features the portable version of Smok's Mag Box Mod Kit and includes the TFV12 Baby Prince Tank. The new tiny vape bundle features 50 watts of power,  a built-in 1600mAh battery, versatile temperature control with low resistance, a 4.5ml juice capacity, a top fill system with lock and cool cobra drip tips.
From a design perspective, the Mag Baby Mod looks almost the same as its larger brother.  It features a gun handle design that is ergonomic, but the size has been reduced to 61.37mm x 46mm x 27mm. This means it can be easily transported in the pocket or purse. Available colors include black/red, red/black, silver/black, purple/black, gold/black, green/black, pink, navy blue/black and black/7-color.  The front of the Mag Baby is built with an OLED that displays a horizontal menu in white font with a black background. Included vape data is sure to be current power/temperature, battery charge level, puff time, resistance, voltage, mode and more. A large fire button is located on the side while the 510 atomizer bezel at the top allows for easy installation of any standard atomizer.
On the technical level, this mod looks to be impressive. Unlike the previous larger Mag Mod, this device utilizes an internal 1600mAh battery that can be recharged via the micro USB port. The capacity of this cell should permit decent vaping times, without recharges, because the mod is only capable of 50 watts of power down to 0.10ohm of resistance.  In addition to the power mode, there are several temperature modes that work with a myriad of heating elements — nickel, titanium, stainless steel, TCR — up to 600 degrees Fahrenheit and down to a resistance of 0.05ohm.  Since this is a Smok Mod, this unit is also sure to have built-in safety protections.
Included with purchase is the TFV12 Baby Prince Tank that pumps out huge vapor. It features dimensions of 26mm x 53.7mm and its colors match the color of the Mag Baby. This new atomizer is built with a stainless steel chassis and features a food grade glass tank for a healthy vape experience. The juice reservoir can hold up to 4.5ml of e-liquid and is made with a swiveling top cap for easy refills. The button that releases the top cap  to expose the fill port is also easily accessed. At the top of the tank, there's a cobra drip tip that not only looks amazing thanks to its patterns, but also improves airflow for massive vape clouds. Airflow is adjustable at the bottom and occurs via two massive air slots that can be easily adjusted from closed to wide open.  Information on the coils that are included with this kit are not yet available, but we will update this article as more details are released. In the meantime, you may check out our TFV12 Baby Prince Tank Page here.
Features & Specs
Mag Baby Box Mod
Dimensions: 61.37mm x 46mm x 27mm
Weight: 144g
Colors:  black/7-color, black/red, red/black, purple/black, gold/black, green/black, pink, navy blue/black, silver/black
Gun handle form factor
Easily accessed trigger type fire button
 Utilizes internal 1600mAh battery

Micro USB charging system

OLED display

White font
Black background
Horizontal menu

Power mode range: 1W to 50W
Temperature range:200℉ to 600℉ or 100℃ to 315℃
Output voltage range: 0.5V to 9V
Resistance range power/variable temp:0.1Ω to 3.0Ω/0.05Ω to 3.0Ω
Standby current: <400uA
Firwmware upgrades
Safety features
TFV12 Baby Prince
Standard/International edition

Dimensions: 26mm x 53.7mm
Weight: 55g
Convex tank section

Colors: match the mod
Stainless steel & pyrex glass construction
Cobra drip tip with snake patterns
510 threaded connector
Dual bottom adjustable airflow
Total Views Today: 1 Total Views: 1,656