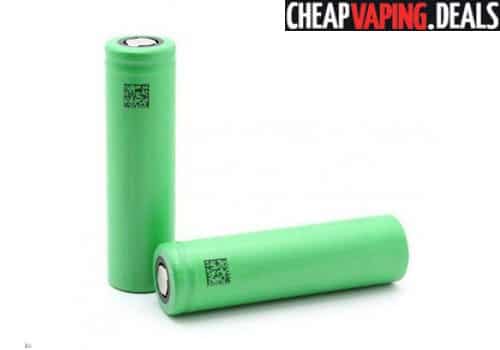 Here's an amazing deal  on a pair of  Sony VTC4 2000mAh 18650 batteries.  
USA: $19.99

$8.99

   
Overview
The Sony VTC4  is a 2100 mAh rechargeable battery with continuous 30 amp discharge.  It is an amazing battery  for any sub ohm vaping setup. Sony batteries are perhaps the most popular batteries in the marketplace. In addition to sub ohm vaping, they are also recommended for use in several electronic devices and  robotics.
Sony VTC4 batteries are hard to find at an affordable price, especially if you prefer a United States warehouse.  At $8.99 for a pair from 101vape, you simply can't go wrong.  Stock up today before they run out!
Features & Specs
Model: Sony VTC4 lithium high power battery
Type: 18650
Weight: 45.1g
2100 mAh capacity
Rated capacity: 2000mAh
Nominal voltage: 3.6V
Charging voltage: 4.2V
Cutoff voltage: 4.25V
Continuous maximum discharge current: 30A
Continuous maximum charge current: 10A
Charge environment temperature range: 0°C to 45°C
Discharge environment temperature range: -20°C to 60°C
Video Review