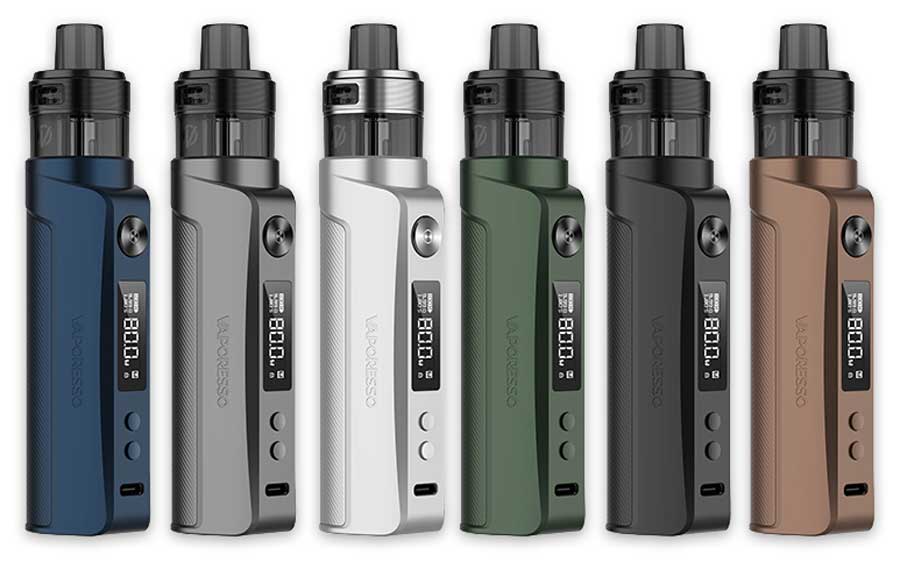 Here are cheap deals to buy the Vaporesso Gen PT80 S Kit or Vaporesso Gen PT60 Kit at a low price.  The PT80 S uses a single 18650 battery with 80 watts of maximum power, while the PT60 is designed with a 2500mAh integrated battery but with a reduced output of 60 watts.  And both options feature a display screen, portability, mesh coils, adjustable airflow, and a 4.5mL pod with an effortless refill system.
Deals
Review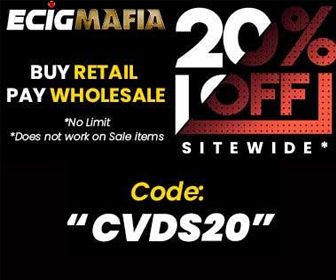 Ergonomic Design
In the design department, the Vaporesso Gen PT80 S and PT60 feature a light design and elegant finishes that are sure to turn heads.  And, with 4 layers of coating, these kits are also ergonomic.  Choose from the following colors: earth brown, alphine green, aegean blue, light silver, matte grey, and dark black.
As previously mentioned, the Gen PT80 S features 80 watts of power and utilizes a single 18650 battery, while the Gen PT60 Kit works with an integrated 2500mAh battery with 60 watts of power.  Power is adjustable from just 5 watts via a 0.96-inch OLED screen with easy navigation thanks to adjustment buttons.  And recharging the battery takes place via a USB-C charging port on the control face that operates with 2 amps of current to make the process fast.  All this is possible thanks to a smart chipset that allows the mod to operate in variable wattage or smart mode that recommends the best settings.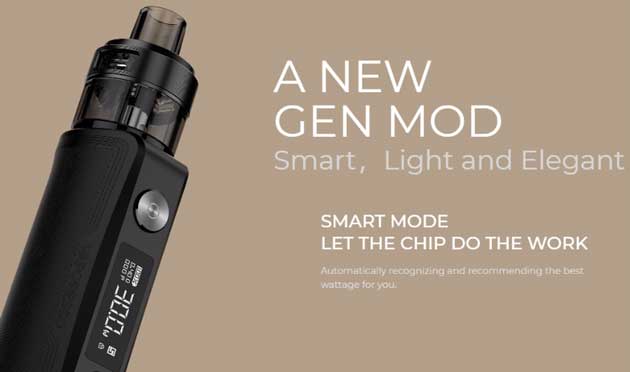 Both these kits utilize a 4,5mL pod with an effortless side-fill system and adjustable top airflow control. But these kits come with different GTX Coils.  With the PT60, expect a GTX 0.2ohm mesh coil that operates between 45 and 60 watts and a 0.4ohm mesh coil that works between 26 and 32 watts.  On the other hand, the PT80 S uses coils with higher wattage capability: the 0.15ohm mesh coil with a 60 to 75-watt range and the 0.3ohm mesh coil that fires from 32 to 45 watts.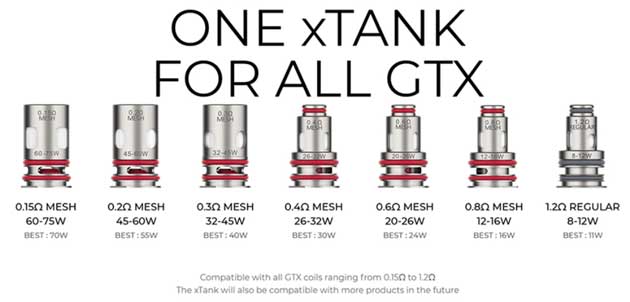 Features & Specifications
Gen PT80 S Pod Kit
Design

Dimensions: 112mm x 35mm x 28mm
Portable
Light
Elegant
Ergonomic
Color options: alphine green, earth brown, aegan blue, matte grey, light silver, matt grey
0.96″ OLED screen

Battery

Powered by a single  18650 battery (not included)
Type-C charging port:  DC 5V/2A
Bottom battery access

Chipset

Output Power:  5W-80W
Modes: VW | Smart
Safety protections

 xTank Pod

4.5mL juice capacity
Adjustable top airflow control
Easy refill system
 Adopts SSS 2.0 leak-resistant tech
E-liquid self-circulation system

Coils

Patented morph mesh structure

 Stronger flavor
Even heating

Cumulus cotton for flavor production
Included: Vaporesso GTX 0.15Ω Mesh Coil | 60-75W
Included: Vaporesso GTX 0.3Ω Mesh Coil | 32-45W
Compatible with all GTX coil heads with a resistance range of 0.15Ω to 1.2Ω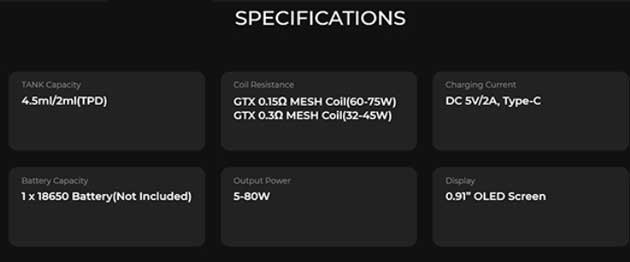 Gen PT60 Pod Kit
Design

Dimensions: 112mm x 35mm x 28mm
Portable & elegant
4-layer finish for ergonomics
0.96″ OLED screen
Color options: alphine green, earth brown, aegan blue, matte grey, light silver, matt grey

Battery

2500mAh integrated battery
USB-C charging port:  DC 5V/2A

Chipset

Output Power:  5W-60W
Modes: VW | Smart
Safety protections

 xTank Pod

4.5mL reservoir
Top adjustable airflow control
Easy refill system
 Adopts SSS 2.0 leak-resistant tech
E-liquid self-circulation system

Coils

Patented morph mesh structure

 Stronger flavor
Even heating

Cumulus cotton for flavor production
Included: Vaporesso GTX 0.2Ω Mesh Coil (45-60W)
Included: Vaporesso GTX 0.4Ω Mesh Coil (26-32W)
Works  with all GTX coil heads with a resistance range of 0.15Ω to 1.2Ω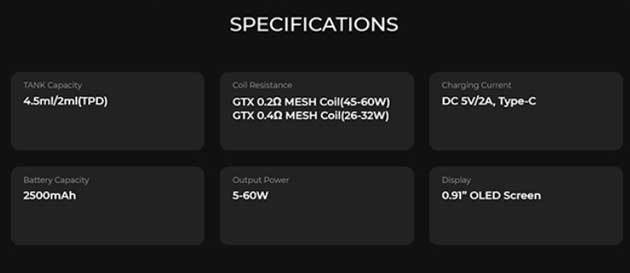 In The Box
Gen PT80 S Kit
Vaporesso GEN PT 80S Mod
Vaporesso x Tank Pod
Vaporesso GTX 0.2Ω Mesh Coil
Vaporesso GTX 0.4Ω Mesh Coil
Type-C Cable
Manual
Warranty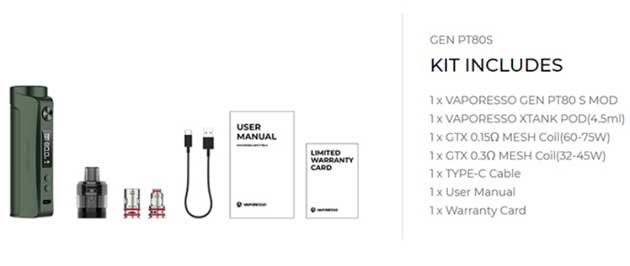 Gen PT60 Kit
Vaporesso GEN PT60 Mod
Vaporesso x Tank Pod
Vaporesso GTX 0.15Ω Mesh Coil
Vaporesso GTX 0.3Ω Mesh Coil
Type-C Cable
Manual
Warranty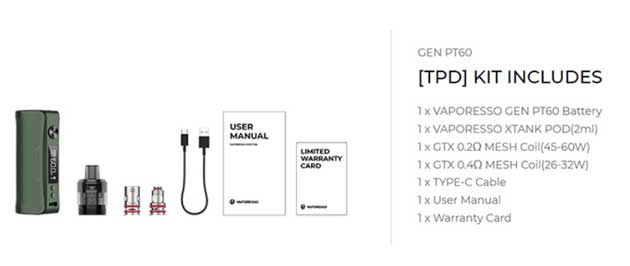 Similar  Products
Total Views Today: 1 Total Views: 1,498