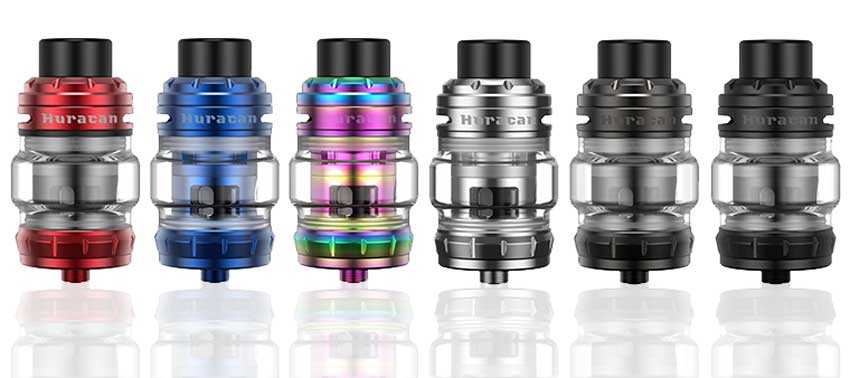 Here are cheap deals to the Aspire Huracan Tank.  It features a 6ml e-liquid reservoir, a top-fill method, top adjustable airflow, mesh coils, and an easy coil installation process. This atomizer is also bundled into the Aspire Rhea X Kit.
Overview
Made from stainless steel and featuring a 26mm diameter, the Aspire Huracan tank features a top airflow system which makes it leakproof.  Moreover, the tank can hold up to 6ml of e-liquid and is refillable via a straightforward top-fill method.  To add e-juice, all you have to do is turn the top cap to remove it and inject juice into a large filling slot.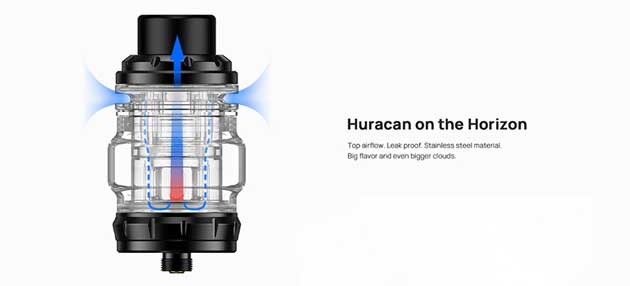 The Huracan works with BP Mesh Coils that are said to produce thick vapor/flavor and are quite resistant to high temperatures for longevity.  With purchase, you will get a 0.15ohm version that operates between 60 and 80 watts, as well as a lower wattage 0.3ohm one that should be fired only in the 30 to 40-watt range. Both are meant for DTL vaping.  There are also 2 optional coils that are compatible with the Aspire Huracan:  a 0.17ohm version that works from 45 to 55 watts and another 0.15ohm variation that fires between 80 and 100 watts.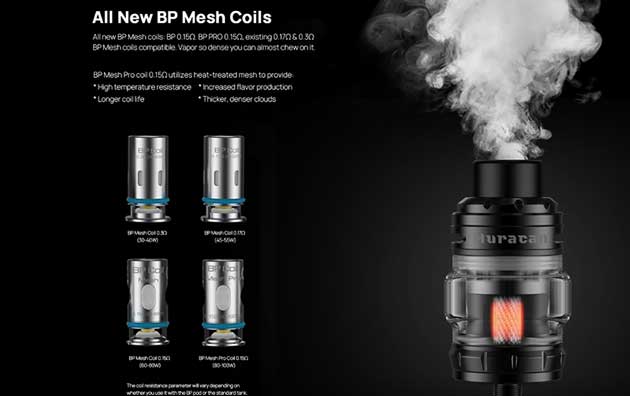 Each BP coil is simple to work with as it is designed for convenience.  You see, the coils have no threads because they utilize a simple push/pull installation method making coil swaps a breeze.
The color options and appearance of the Huracan also do not dissatisfy thanks to a beautiful finish that gives a simple, yet delicate impression.  Choose from black, blue, gunmetal, rainbow, red, or stainless steel.
Features & Specifications
Dimensions: 26mm x 52mm
Body made from stainless steel
Tank capacity: 6ml (included bubble glass) or 4ml (pre-installed)
Top-fill system
Leakproof top airflow
Massive vapor
Exquisite flavor
Included Coils

BP Mesh Coil 0.15Ω (60-80W)
BP Mesh Coil 0.30Ω (30-40W)

Optional Coils

BP Mesh ProCoil 0.15Ω (80-100W)
BP Mesh Coil 0.17Ω (45-55W)

Plug/play coil installation method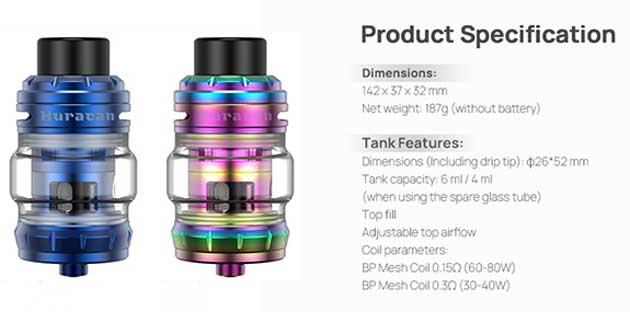 What's Included
Huracan Tank (6ml version Pre-installed)
Aspire BP Mesh Coil 0.15Ω (Pre-installed)
Aspire BP Mesh Coil 0.3Ω
4ml Straight Tube
Manual
Pack Of O-Rings
Similar Products
Total Views Today: 1 Total Views: 99