Here are cheap deals to purchase the Dovpo Top Gear DNA250C Box Mod. This box mod features 200 watts of power, dual 18650 battery support, exquisite carbon fiber panels with four color options, a full-color display screen, the ability to set wallpaper and change settings via eScribe, many modes including TCR,  a micro USB charging port, a replay function, and a rotating knob to make adjustments.
Top Gear Mod Overview
The Top Gear is Dovpo's main flagship DNA250C box mod.  It utilizes dual 18650 batteries, as well as a rotating top gear knob to make settings adjustments.  However, for those who enjoy the traditional methods of making changes, the front panel still has three buttons to make menu navigation a breeze.  The Top Gear Mod also features an exquisite design as the chassis is made with CNC-machined aluminum alloy covered with carbon fiber.  And you may choose from these finishes: Monet, Carbon/Blue, Carbon/Rusty, Carbon/Black, and Carbon Grid.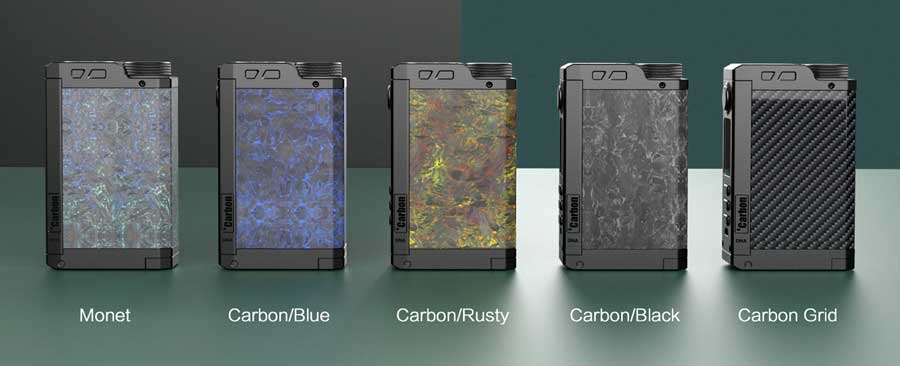 Evolv DNA250C Chipset
What makes the Dovpo Top Gear Mod so expensive is its Evolv DNA 250C chipset, but that's to be expected because the chipboard permits stable and accurate performance that is state-of-the-art on all levels.  With a massive ability to put out up to 200 watts dual bottom-loaded 18650 batteries, the mod can also operate in temperature mode between 200 and 600 degrees and is compatible with any build or tank down to just 0.08ohm.  For convenience, you may customize your favorite settings using eScribe software.  This desktop program further permits adding your personalized settings in several memory slots and uploading themes or changing the layout of the full-color TFT display screen.  Best of all, the Top Gear Mod features a replay function, so you may boost initial power to your liking to produce your ideal flavor from your atomizer in any of the modes.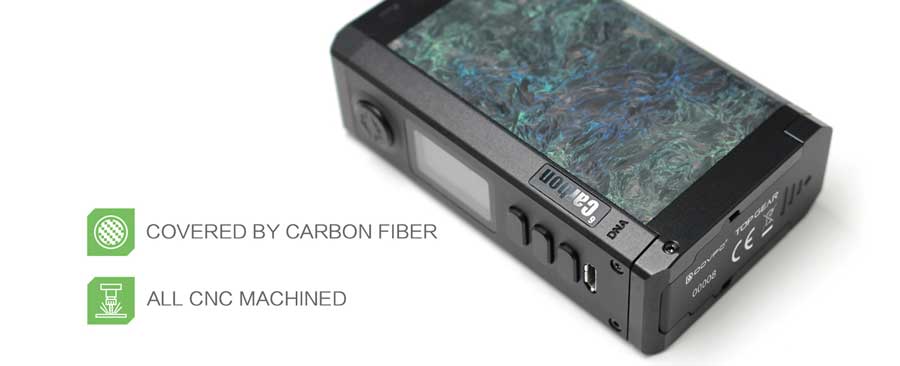 Features & Specifications
Measurements: 88.6mm x 54.2mm x 27mm
Aluminum alloy chassis
CNC machined
Ergonomic
Carbon fiber grip
Color options: Monet, Carbon/Blue, Carbon/Rusty, Carbon/Black, Carbon Grid.
Waterproof buttons
Escribe software & theme designer

Completely customize settings
Input favorite memory slot settings

160 x 80 full-color TFT screen

Ability to change/upload themes & backgrounds
Realtime clock

510 threaded connection bezel
Utilizes dual 18650 batteries
2A micro USB port
Power output range: 1W to 200W
Temperature Range: 200℉ to 600℉ or 90℃ to 315℃

Works with nickel, titanium, and stainless steel elements

TC mode: 0.08Ω to 1.0Ω  resistance
Power mode: 0.1Ω to 2.0Ω resistance
Firmware upgrades via eScribe
Lock mode
Stealth mode
Power preset mode
Power lock mode
Resistance lock
Safety features

Cell balancing
Atomizer protection
Cell-by-cell monitoring
Low resistance protection
Short circuit protection
Low voltage protection
Overheat protection
Reverse polarity Protection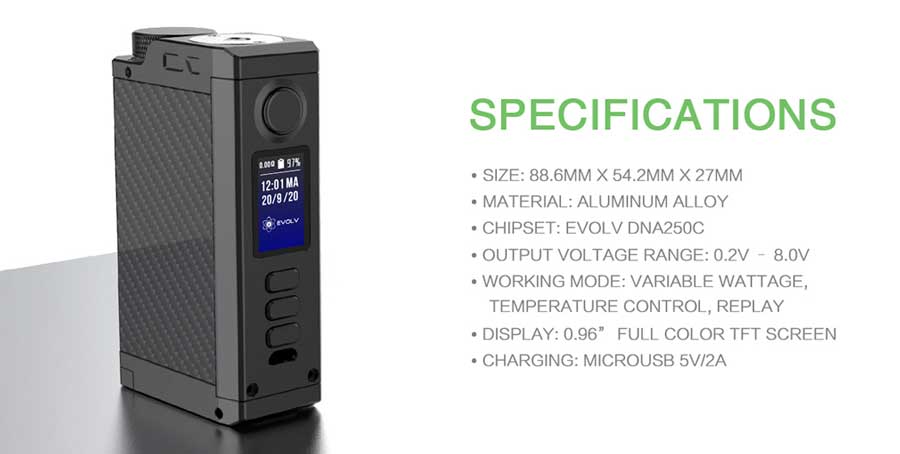 In The Box
The Dovpo Top Gear package contains the mod, a micro USB charging cable, a user manual, and a battery usage warning card.

Total Views Today: 1 Total Views: 2,045