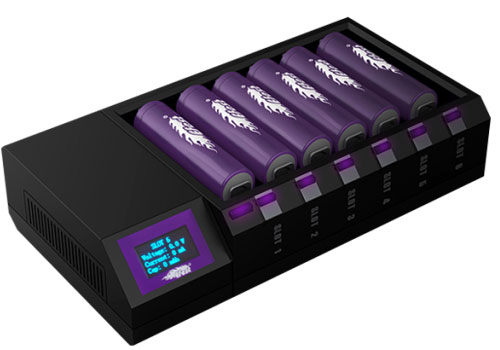 A cheap price just posted on the LUC Blu6 Charger.  It features 6 independently-monitored charging bays, Bluetooth apps, a high-quality OLED display, three charging modes (0.5A/1A/2A), and a multitude of safety protections.
Overview
In continuing to advance battery charging technology, Efest has done it again by bringing the Efest LUC BLU6 Battery Charger onto the market. This is a very smart charger, featuring 6 battery bays and bluetooth technology.   The Luc Blu6 has its own Android & iOs apps, to monitor charge status or change the charge current from your tablet or phone.
This device leads the way in battery charging technology.  It can charge up to 6 batteries at the same time and slots are adjustable according to the battery type.  It works with a multitude of battery types including 10440, 14500, 14650, 16340, 16650, 17650, 17670, 17350, 18350, 18490, 18500, 18650, 26500 and 26650 batteries.  Additionally, each slot has its own LED indicator and OLED display to monitor charge level and current.
The Luc BLu 6 comes has three different amp modes:  0.5 amp, 1 amp or 2 amps.   Each bay has a maximum charging current of 2 amps, but the highest possible current is 4 amps. The device also includes many safety features such as high current, high voltage, reverse polarity and short-circuit protections.
The Luc Blu 6 comes with a AC charging cable, instructions manual, warranty card and gift box.
Features
Dimensions: 145.5mm x 62mm x 34mm
6 charging bays
Compatible with Li-Mn,Ni-Mh & Li-Ion
Individual battery monitoring via OLED: voltage, current and mode
Easily to monitor or adjust the charging status via app
Several charging modes up to 2 amps
Single bay highest current: 2A
Highest total current: 4A
Compatible with almost all battery types (listed above)
Many safety features
Remotely control via app
Thoroughly tested battery bay springs made of stainless steel for durability
Video Review of LUC Blu6 Charger
Video Review of  LUC Blu6 App
Total Views Today: 1 Total Views: 9,082