A cheap price was just posted for the Efest Lush Q4 Charger.  It features four independently-monitored charging bays, LCDs above each charging slot, a wide range of safety features, and three charging modes (0.5A/1A/2A). This charger will work with most vape batteries, including 18650, 20700, 21700, and 26650.

Lush Q4 Charger Overview
Efest has changed the battery market with their high-quality chargers, and now they've outdone themselves again with the amazing Lush Q4 with four bays. This means the charger can take 4 or 8 batteries simultaneously but will charge faster with fewer batteries. With a smart chipset, you can charge up to eight batteries with a 0.5 amp current or place only batteries in 2 slots for lightning-fast charging at an incredible 2 amps.
Charging your cells externally instead of inside your mod will give your batteries longevity and more charging cycles. You may monitor the charging process and check battery status thanks to a bright LCD above each slot that provides the necessary information.
Compatible with most vape batteries, such as 26650/ 18650 / 20700 / 21700, the Efest Lush Q4 also accepts many other battery types and Li-Ion cells.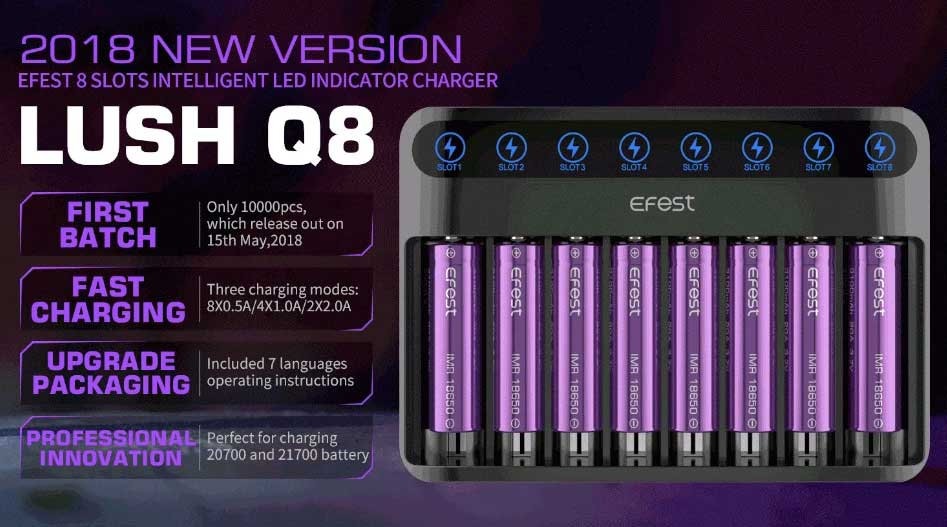 Features & Specifications
Automatic Selective Charging Modes
2A Fast Charging Enabled for Slot 1 and Slot 4
Ultra-Compatible With 3.6V and 3.7V Batteries
High-Quality Piano Wire Springs
High-Quality Fire Retardant Material
Low Voltage Smart Activation Recovery Function
Independent Bay Monitoring
Reverse Polarity Protection
Automatic Over-charging Function
Auto-detect Charging Function
Short Circuit Protection
Total Views Today: 1 Total Views: 541