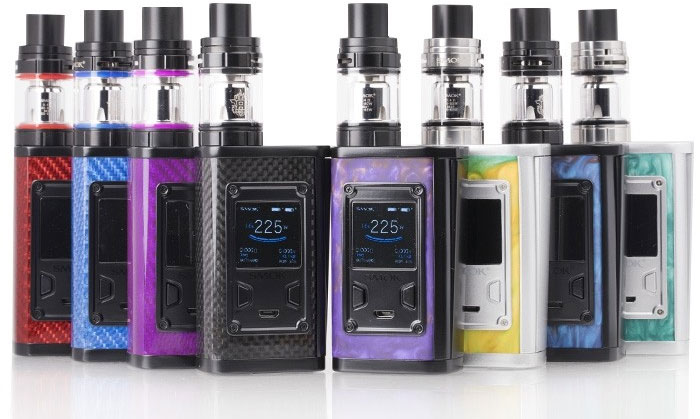 Smok Majesty Resin
The Majesty Starter Mod Kit Carbon Fiber or Resin Edition are premium releases by Smoktech.  The mod features an artistic design, carbon fiber or colorful resin finishes, 225 watts of power, temperature control modes, an upgraded color screen.
 Designed With Premium Resin Finish & Full Color Display
Measuring 85.1mm  x 46.1mm x 30.6mm and weighing 161.9g, the Majesty mod in this kit looks medium sized.  The design is modern, not just because of the artistic patterns, but also thanks to a a resin finish that is available in blue, purple, yellow or green and allows the device stand out from the competition.
On the control face, you will find a screen that is capable of displaying several colors including blue, purple, gold, red, silver or green. Simply access the screen settings menu to change the screen's font color to your liking.  The display also features a newly redesigned user interface with vape data in a vertical orientation. At the top of the menu, there are two battery bars to keep track of charge levels and underneath you'll see puff time, power/temperature, resistance, voltage, mode and a puff counter.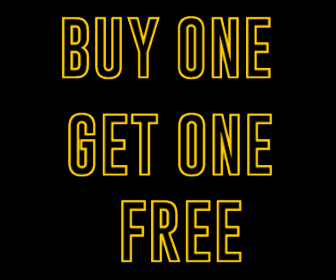 Underneath the display, you will see two adjustment buttons, while the lateral fire button features a stealth design that encompasses the entire side of the device for effortless firing. As usual, there's a standard threaded connector at the top to easily connect any 510 atomizer.
Technical Details
The Majestin Resin Mod is quite capable on the technical level and features a massive 225 watts of power. Temperature operation includes the capability of firing all coil elements — nickel, titanium, stainless steel —  as well as a DIY mode, with memory slots, to enter TCR settings for your particular coil. Temperature tops out at 315 degrees Celsius with any coil that is rated 0.05ohm or above. In power mode, the minimum resistance comes in at 0.10ohm.
For safety, this kit is designed with multiple types of protections including low battery warning, overheat protection, short circuit protection, 12 second overpuff protection, a puff monitoring system and a capability of detecting the atomizer type.
Uses Dual 18650 Batteries w/ Onboard Charging
Powered by dual 18650 batteries, the unit is made with an onboard charging system that takes place via the micro USB port. The cells may also be removed from the battery bay — with clearly marked +/- indicators — for external charging.  To access the batteries, simply slide open the bottom cover.
Majesty Resin Kit
If you purchase the full kit, you will also receive the TVF8 X-Baby Tank that is available in a 4ml version and a 2ml version (for EU customers).  Both versions have dimensions of 24.5mm x 59mm and weigh 59g. A top fill system permits easily adding ejuice.  Simply rotate the top cap open to reveal a large fill port! Airflow is massive and happens via dual slots at the top to ensure huge vapor clouds. Included with your purchase, you will get a heat-resistant Delrin drip tip that is made with a wide diameter to further enhance airflow and vapor output.  Visit our  TVF8 X-Baby Page for more information on this amazing tank.
Features & Specifications
Majesty Box Mod
Dimensions: 85.1mm  x 46.1mm x 30.6mm
Weight: 210g
Material: resin finish
Colors: blue resin, green resin, yellow resin, purple resin
Newly redesigned color display and menu

Set font to green, silver, red, gold, purple, blue
Vertically oriented menu
Two battery bars

Lateral fire button

Stealth design
Encompasses entire side
Easy operation

510 threaded connector
Power range: 6W to 225W
Output voltage range: 0.5V to 9.0V
Power mode resistance: 0.1Ω to 3.0Ω
Temperature mode resistance: 0.05Ω to 3.0Ω
Temperature control resistance range:  200℉ to 600℉ or 100℃ to 315℃
Standby current: < 500uA
Safety features

Low battery warning
12 second cutoff
Overheating protection
Puff monitoring
Short circuit protection
Intelligent atomizer recognition

Utilizes dual 18650 batteries

Sliding/hinged bottom battery panel
Clearly marked polarities
Micro USB onboard charging

Firmware upgrades
TFV8 X-Baby Tank
Dimensions: 24.5mm x 59mm
Weighs 58.5g
Tank reservoir: 4ml/2ml (TPD compliant)

Hinged top fill system
Top cap rotates to access fill port

Constructed from stainless steel and glass
510 threaded connection
Colors: silver, black (matches mod)
Included: wide bore Delrin drip tip (black)
Two adjustable top airflow slots
In The Package
Majesty mod
TFV8 X-Baby
Coils

1 x V8 X-Baby Q2 0.4Ω dual coil (installed)
2 x V8 X-Baby T6 0.2Ω coil

Extra glass section
Micro USB charging cable
Spare parts
User's manual
A Few Pictures
Total Views Today: 1 Total Views: 720