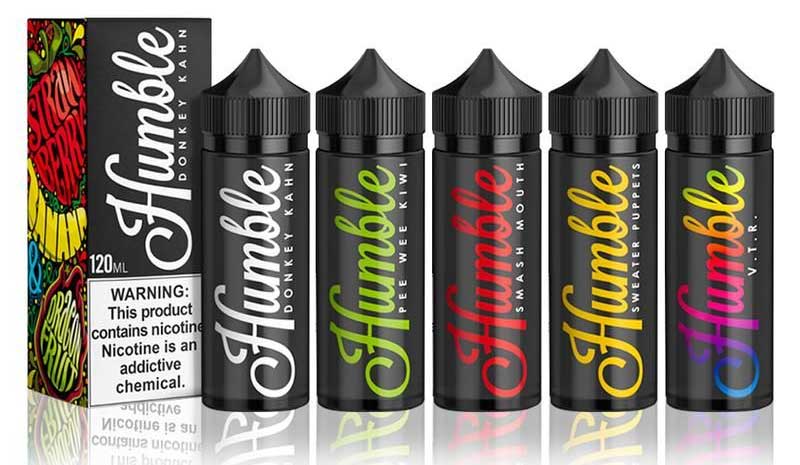 Here are cheap deals for Humble Juice Co. E-Liquids.  This vape juice is for sale in a number of new flavors at a low price and can be purchased in both standard and nic salt variants. Humble e-juice is popular due to its strict manufacturing process with only high-quality ingredients and because they have excellent flavor profiles for an incredible vape experience. As of September 2020,  it looks like Humble will stay available in the USA market, but only with 30mL and 60mL bottle sizes. And, they've recently renamed their vape juices, to more easily identify each flavor profile.
Deals
USA Deal: Humble Juice Co. E-Liquids

$7.49/100mL

 

Use coupon code 25C at checkout (exclusive 25% off sitewide – rock bottom prices on everything – one use per account – $300 limit)

USA Deal: Humble Juice Co. E-Liquids

$7.96

/120mL

To

$9.19/120mL

Use coupon code CVDS20 at checkout (20% off all e-juices)
Review
Overview
At Humble, vape juices are carefully crafted with only exquisite ingredients.  In fact, the company recently applied for FDA approval via the PMTA process, so you know they will only produce the best possible USA e-liquids to provide an excellent and safe vape experience.
Moreover, Humble is focusing on always bringing out the optimal flavor from each puff, without hurting your pocketbook.  And, they've recently given their e-liquids an easy name so you can instantly know each flavor  that is always available in both standard and nicotine versions.  This also means you may use their juices in either a sub-ohm tank or with a pod system.
Each Humble e-liquid is manufactured in a certified clean room with careful analysis and strict testing.  You see, whenever Humble makes a new batch of a certain flavor, they test it for quality and also indicate a best-by-date at the bottom.   In this way, you can vape with confidence!

Flavor Options
Strawberry Banana: juicy strawberry combined with ripened banana and topped off with tropical dragonfruit.
Blue Raspberry: a combo of sweet raspberry and blueberry flavor.
Mango Passionfruit: a tropical vape that fuses mango and passionfruit.
Toffee Vanilla Custard: toffee, vanilla, and butterscotch custard to result in quite a treat.
Kiwi Berry Citrus: bursts of kiwi flavors and hints of citrus zest and berries.  A refreshing fruit vape.
Cream Crunch: creamy milk & oats with a hint of honey.
Blue Raspberry Menthol: the same flavors in the blue raspberry, but with an icy menthol finish.
Banana Bread: a delicate banana bread e-liquid with hints of butter.
Berry Delight: creamy fruit berry-flavored vape juice.
Cherry Limeade: a mashup of orange, strawberry, cherry, and lime.
Creamy Fruit Bar: a creamy combo of yogurt and oats.
Sweet Citrus: citrus sorbet that is both sweet and tangy.
Roasted Nuts: a mixture of caramelized sweet nuts.
Jasmine Tea: creamy, sweet jasmine tea flavors.
Cherry Limeade Menthol: a fusion of lime, cherry, strawberry, and orange.
Strawberry Sour: sweet strawberries and watermelon with a sour aftertaste.
Smooth Tobacco: a satiny tobacco vape.
Chill Menthol: Straight menthol flavors that are sure to keep your mouth chilled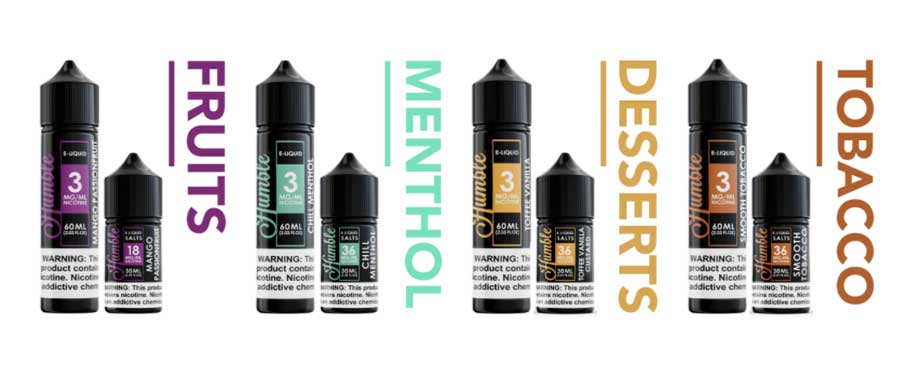 Similar Juice Deals
Total Views Today: 2 Total Views: 5,619