Smok Nord X Kit: 6ml/1500mAh Waterproof VW Pod System
Here are cheap deals to buy the Smok Nord X at a low price. This kit features an IP67 waterproof design, a 1500mAh integrated battery, a USB charging system, 60 watts of output, variable wattage operation, 6mL refillable pods, RPM coils, and either DTL or MTL vaping. The pod system is for sale in fluid gold, fluid red, fluid purple, fluid blue, 7-color spray, 7-color cobra, white cobra, and black cobra.
Update: Check Out The New Smok Nord 5.
Deals
USA Deal:

$20.97

  

Use coupon code 30CVD at checkout (exclusive 30% off sitewide – blowout prices & fast USA shipping – one use per account – $250 limit)
IP67 Rating For Outdoor Use
What stands out about the Nord X is its waterproof design, something many vapers have always wanted in a pod system by Smok. This kit features an IP67 rating which means it is protected from rain, water, debris, and dust.   The "6" indicates full protection from dust and dirt, while the seven means it can be in up to 1 meter of water for 30 minutes before moisture penetrates the chassis.  In other words, there's no need to worry when using the Smok Nord X at the pool, on the beach, or in the rain.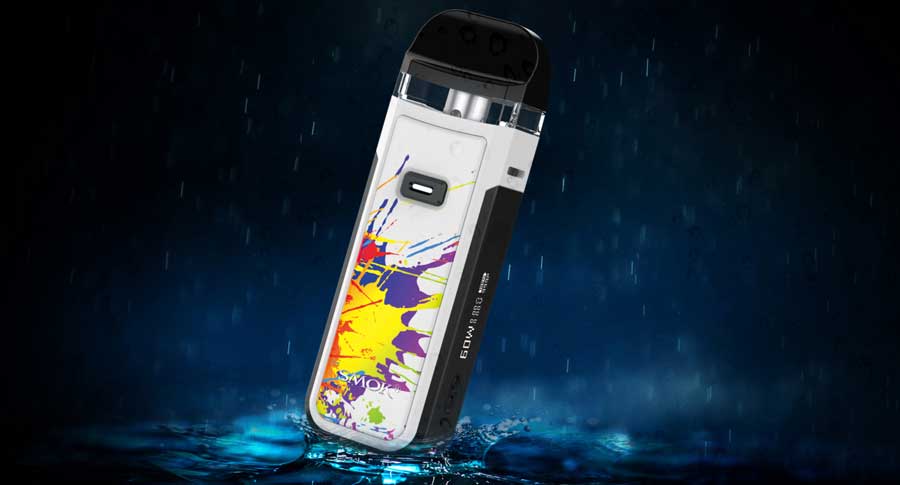 Nord 2 Vs. Nord X
Since the Nord X Kit is the follow-up to the Nord 2 pod kit, it is nice to compare the two quickly. With measurements of 100mm by 31mm by 23mm and a weight of 96 grams, the X is heavier and bigger, but wattage is also improved from 40 to 60 watts. And the refillable pods can store up to 6mL of vape liquid instead of 4.5 for longer vape times.  However, the integrated battery has the same 1500mAh capacity, but you should still be able to vape for extended periods at higher wattage. To recharge the cell, a 1.2 amp quick charging port on the side will top off the battery within one hour and 15 minutes.  And when the charging process of the Nord X starts, the display screen on the side will show a battery bar with the current voltage percentage and the time left until charging completes.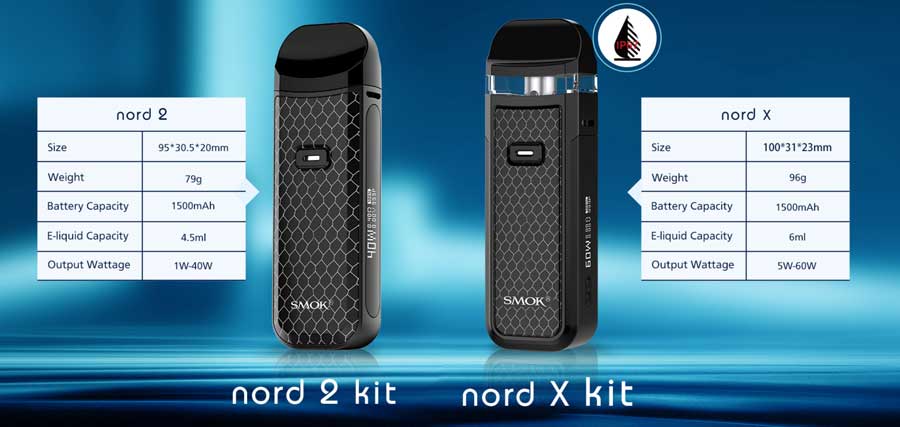 6mL Pods
As previously indicated, the Nord X pods can hold an unprecedented 6mL of vape juice, substantially reducing the need for constant refilling.  To add e-liquid, a fill slot on the side is hidden behind a rubber plug. You mustn't fire the Smok Nord X immediately after a refill to let the cotton saturate and avoid burnt puffs or damage to the coil. And each cartridge is translucent so that you may see the reservoir's current fill level.   The Nord X Kit has two pods with different coil types for versatility.  The included Nord X RPM 2 Pod is compatible with RPM 2 coils, while the Nord X RPM Pod works with RPM coils.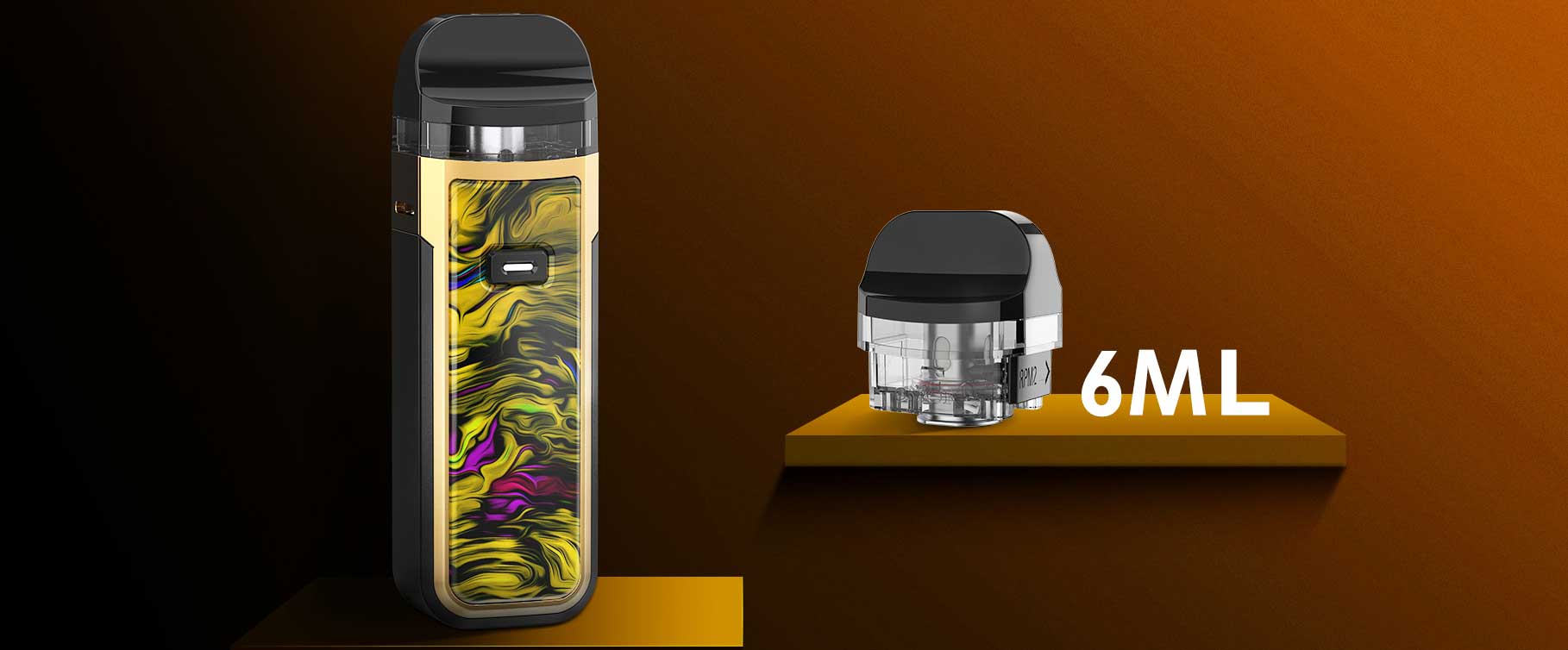 Many Coil Options
While eight different coils are available for the Nord X, the package only includes two. The first is the RPM 2 mesh coil pre-installed in the matching pod. It has a 0.16ohm heating element for direct-to-lung vaping at about 40 watts. Or, you may install the RPM pod with a 0.4ohm coil pre-installed, which is ideal for flavorful vapor from a higher nicotine vape juice at 25 watts of output.  Several other Nord X Kit coil options include an RBA head with a minimum resistance of 0.25ohm.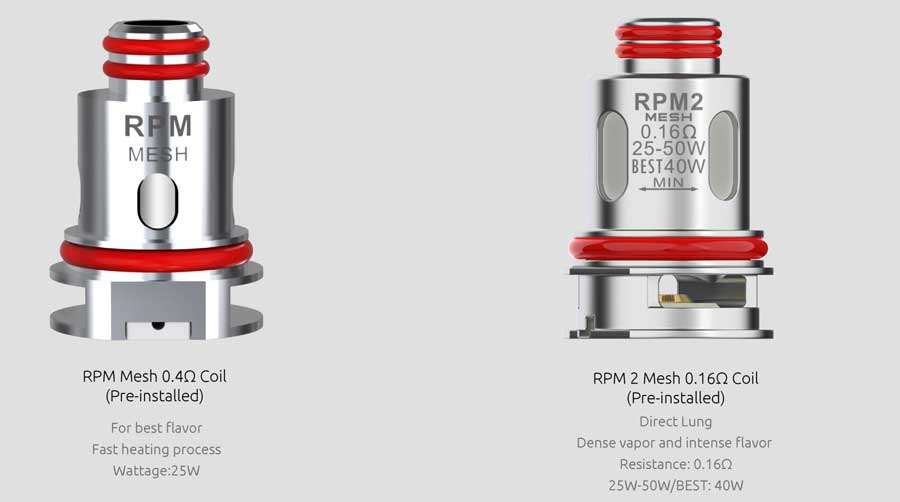 Features & Specifications
Dimensions:  100mm x 31mm x 23mm
Colors: Black Cobra, White Cobra, 7-Color Cobra, 7-Color Spray, Fluid Blue, Fluid Purple, Fluid Red, Fluid Gold
IP67 waterproof
Dustproof
Shockproof
1500mAh integrated battery
1.2A fast charging
Fully charged in 75 mins
6ml translucent  pods
Compatible with RPM & RPM 2 pods/coils
Easy side fill port
Switch between DTL & MTL styles
Variable wattage range: 5W to 60W
Resistance range:  0.2Ω to 3.0Ω
Standby current: <50uA
Input voltage: 3.3V to 4.2V
Output voltage:  0.5V to 4.0V
Charging voltage:  5V±0.2V
Overcharge voltage 4.3V±0.05V
Over-discharge voltage 2.4V±0.05V
Overcharge current 1.75A±0.6A
Safety protections

Atomizer recognition
Low battery warning
8s over-puff
Overheating
Short circuit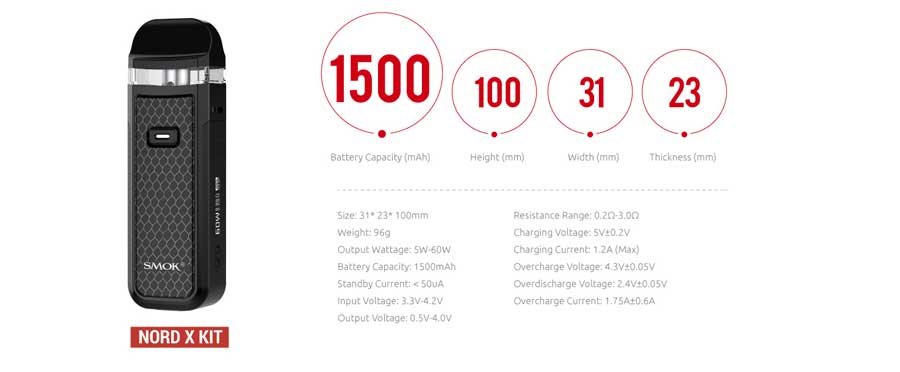 In The Box
With your purchase of the standard edition, you will receive the Nord X Mod, an RPM Pod with 0.4ohm coil, an RPM 2 pod with 0.16ohm coil, a USB cable, and a user's manual.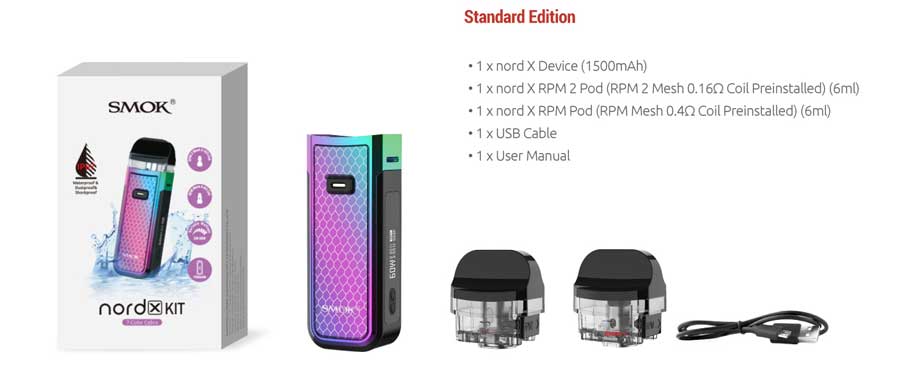 Similar Products
Total Views Today: 1 Total Views: 5,406