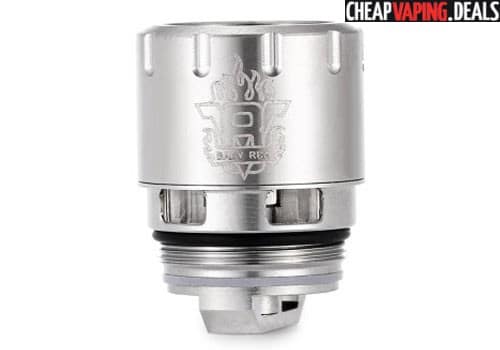 Here's an incredible deal for the Smok V8 Baby RBA that is compatible with the TFV8 Baby Beast & TFV8 Big Baby Beast Tanks
Overview
If you like the TFV8 Baby and Big Baby Tanks and wish you could turn them into an RTA, then you're in luck.  The TFV8 baby beast rba coils are now available and you can get one cheap for just $9.19 and free shipping.
The V8 Baby RBA is built from stainless steel, Fe-Cr and nickel-chronium.  It features a dual post deck and is compatible with dual coil builds.
The Smok Baby Beast RBA is said to bring a unique vaping experience and fire with a resistance of 0.35Ω.  They are rated from 30 watts to 60 watts, but are recommended to be used at 50 watts of power.
To build coils with the TFV8 Baby RBA, ensure your hands are clean and disassemble the deck.  Next, install the pre-wrapped coil between the two posts and wrap the ends into the screws.  After you tighten the screws, make sure the installed wire is lined up with the air hole and also that the coil is not touching the base in any way.  Next, simply cut the ends of the wire, cut cotton at an engle, wick the coil and squirt some juice onto the cotton.
Features & Specs.
V8 Baby RBA
Compatibility: TFV8 Baby & Big Baby Tank
Dimensions: 15mm x 22mm
Weight: 9g
Constructed from: Nickel-chromium & Ferrochrome
Dual post deck
Compatible with dual coil builds
0.35Ω resisistance
Best at 50W
Rated from 30W to 60W
Package: : 1 x V8 Baby RBA for Smok TFV8 Baby Tank, 1 x Glass Tank, 1 x Allen Key, 1 x Insulated Ring, 4 x Screw
Pictures
Video Review
Coming soon!