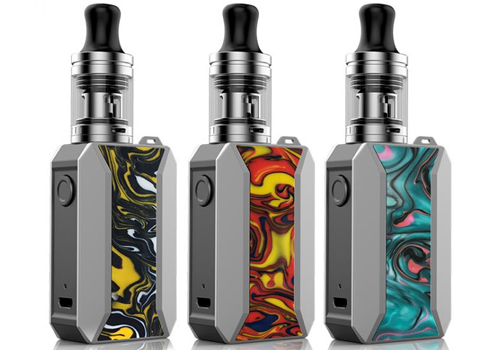 Here are cheap deals to buy the Voopoo Drag Baby Kit for sale at a low price.  This is the latest in the long line of Voopoo Drag Mods.  The Voopoo Drag Baby Mod features new resin finishes, a tiny design, an integrated 1500mAh battery, fast firing, 500 puffs on a single charge, 25 watts of maximum output, a 1.5-hour charge time, and an advanced GENE .Trio chipset and multiple safety features.  The Drag Baby Tank is also tiny and has a 1.8ml juice capacity, adjustable airflow control, patented top fills, an included 0.6ohm mesh coil for sub-ohm vaping, and a 1.2ohm ceramic coil for nic salts.
Similar Products
Overview
The Drag Baby kit features a new resin panel in Ceylon yellow, teal blue, fiesta, aurora, ultraviolet, ink, and rhodonite. The resin material is on one of the large sides, while a Voopoo logo is emblazoned on the other.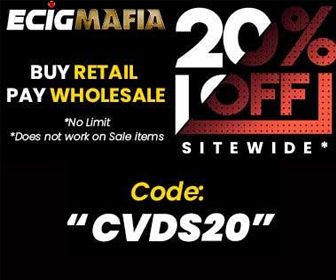 The Drag Baby Mod has dimensions of 58.5mm x 35mm x 21.5mm and has an aluminum alloy and stainless steel chassis. Inside, a 1500mAh integrated battery allows up to 25 watts of power with atomizers down to a resistance of 0.5ohm. The tank measures 18.5mm x 43mm, has a 1.8mL juice capacity, and is constructed from stainless steel. Airflow is located at the bottom middle, and there is no child safety lock.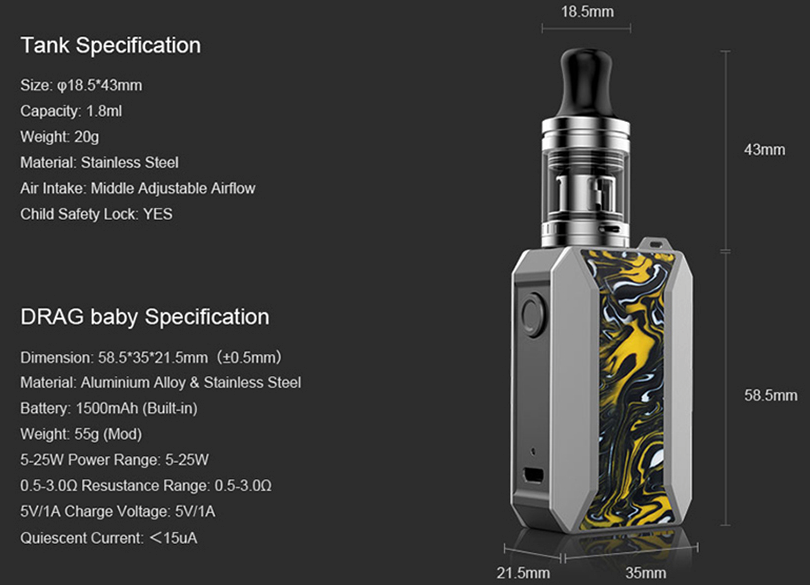 A chain necklace is included with the purchase, so you can easily transport the device whenever you leave the house. Due to the small size, you may also place the Drag Baby into your pocket or purse.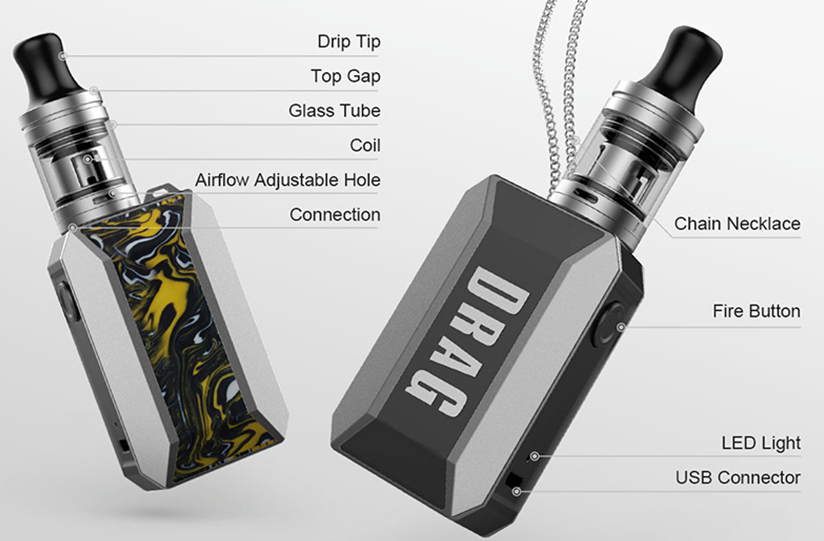 The integrated battery inside the mod features a 1500mAh capacity. This allows for almost 500 puffs on a full charge which means you can vape all day. And the entire charging process only takes about 1.5 hours.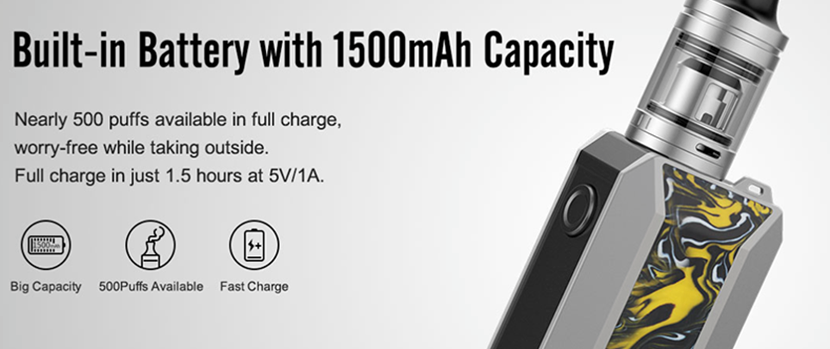 The Voopoo Drag Baby vape kit is built with a Gene.Trio chipset, which was specifically designed to provide an amazing flavor experience.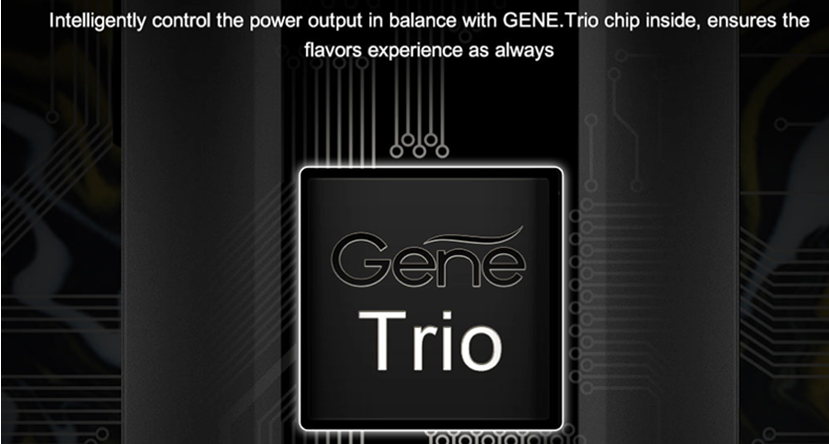 An LED battery indicator permits keeping track of the cell's charge level. A green light indicates the battery's voltage is above 60 percent, a blue light between 20 and 60 percent, and a red light indicates you should plug in the device. If the red light flashes, voltage levels are too low, and the box mod will turn off.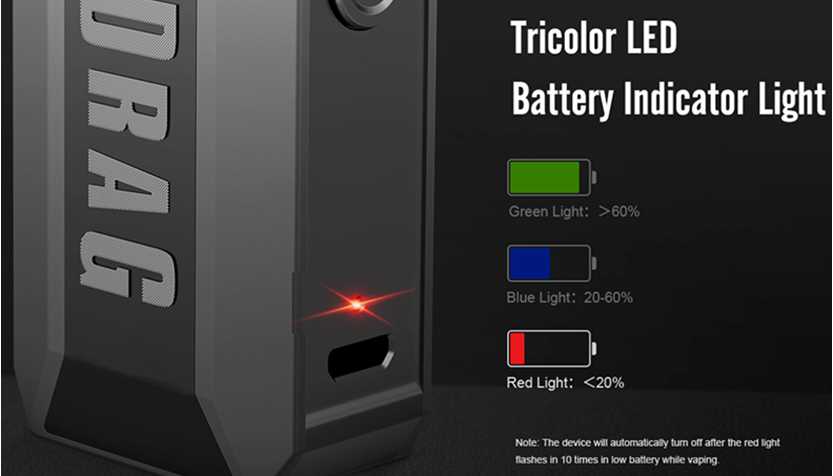 The tank in this kit utilizes creative PnP coils that reinstall in a breeze.  PnP is a branch of the patented Voopoo Maat technology that has simplified coil installation so much that it takes about one second. This process is super easy and mess-free.

The airflow on the tank is also unique. Its new design features two holes at the bottom/middle of the base that can be fully adjusted and result in both an MTL or DTL vape experience.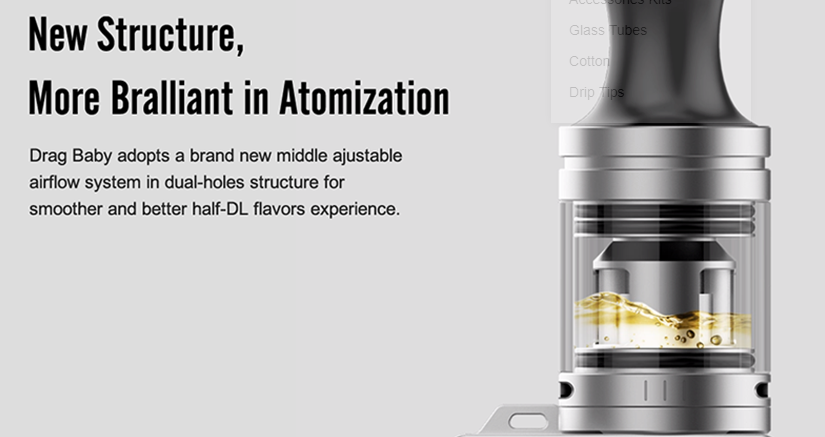 A patented top-fill system results in the easiest possible refills of the 1.8mL tank. The refill process involves simply removing the top cap and squirting e-liquid into one of two fill holes.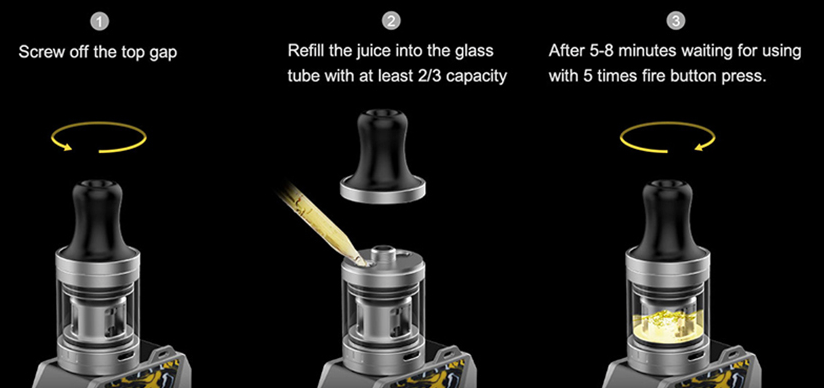 Intelligent cold boot mode assures that firing is almost instantaneous.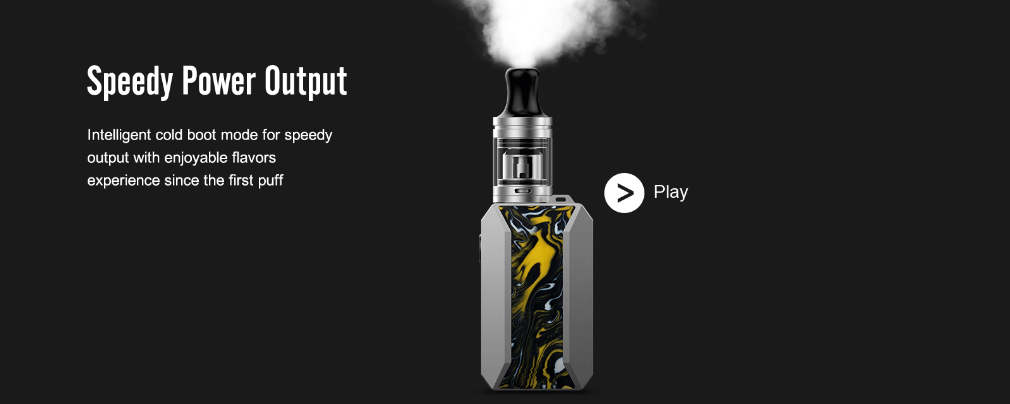 To assure safety, there are 5 protections designed into the Drag Baby. These include timeout protection, short circuit protection, over-discharge protection, overcharging protection, and high current protection.

There are three coil options for the Voopoo Drag Baby. The first is the DL Pnp-M2 coil with a 0.6ohm heating element, a power range of 20 to 28 watts, and is best used with 12mg nicotine salt e-juices. Another coil option is the PnP-C1 which is made with a 1.2ohm ceramic coil and is best used with a 20mg nic salt e-liquid. Or, you can opt for the MTL PnP-R1 coil with a 0.8ohm resistance and 12 to 18 watts of output. It is best used with nic salt juices that are less than 20 mg and provides a half DL/MTL type vape.

Voopoo Drag Baby Features & Specifications
Mod color options: Ceylon Yellow, Teal Blue, Fiesta, Aurora, Ultra Violet, Ink, Rhodonite
Mod: Aluminum alloy/SS/Resin | 58.5mm x 35mm x 21.5mm | 55g
Tank : SS & pyrex | 18.5mm x 43mm | 20g
1.8ml juice capacity
Patented refills
Middle adjustable airflow control via dual air holes
Child safety lock
3 PnP coil options for smooth, flavorful vapor
1500mAh integrated battery
Power range: 5W to 25W
Resistance range: 0.5ohm to 3.0ohm
Micro USB charging: 5V/1A
1.5hr charge time
500 puffs on a single charge
LED battery indicator (green, blue, red)
Quiescent current:  <15uA
Fast-firing cold boot mode
Gene.trio chipset
In The Box
Voopoo Drag Baby Mod
Voopoo Drag Baby Tank
1 x PnP-C1 (1.2ohm) Coil
1 x PnP-M2 (0.6ohm) Coil
Extra Glass Section
Lanyard Chain
Micro USB Cable
Gene Chipset Card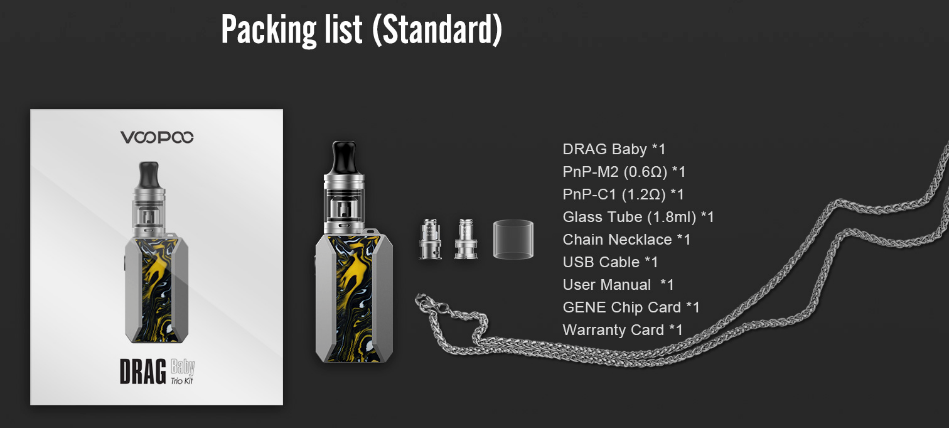 Total Views Today: 1 Total Views: 1,891