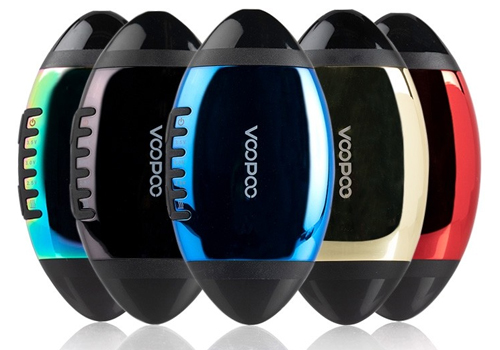 Voopoo VFL: Football Shaped Variable Voltage Pod Kit
Here are cheap deals for the Voopoo VFL Pod Kit.  This new pod system features an American football-shaped theme, premium material, three voltage settings, adjustable airflow control, a 540mAh integrated battery, 0.8ml capacity refillable pods, and nicotine salt-based support.
Review
Overview
From a design perspective, what sets the Voopoo VFL apart from the rest of the crowded field of pod kits is its vacuum-plated aluminum alloy chassis and its American football-shaped theme. On the side of the VFL, you will see several LED lights that further enhance the theme as they appear like the laces on a football. This device is quite compact with measurements of just 89mm x 47mm x 18.5mm and available finish colors include gold, rainbow, blue, red, and pewter.
The Voopoo VFL pods insert into the top of the battery mod. These cartridges can hold up to 0.8ml of e-liquid and are easily refilled via a bottom fill slot. Inside, there's a 1.2ohm coil which is a perfect resistance for vaping on nicotine salt based e-juices. These ceramic coils were designed specifically for flavor production and work in perfect combination with the U-shaped internal air tunnels for additional taste. At the bottom of the juice pods, there are two alternate air intake holes that allow for two alternate airflow settings.
The 650mAh integrated battery inside the mod should allow for extended vape times, is recharged via a micro USB port, and of which the charge level is indicated via an LED light. The maximum output of the VLF Mod is 10 watts and voltage output can be set to 2.5, 3, or 3.5 volts. The current setting is indicated on three separate LED lights. There's also a preheat setting for a more customized vape.
With the purchase of the Voopoo VFL, you will also receive a manual, a micro USB cable, and a warranty card.
Features & Specifications
Dimensions:  89mm x 47mm x 18.5mm
Made from zinc alloy with plastic pods
Colors: gold, rainbow, blue, red, pewter
Football theme

Shaped like an American football
LED lights look like football laces

Pod capacity: 0.8ml
1.2ohm ceramic coils

Compatible with nic salt-based juices
Flavorful vapor production

Two airflow settings
650mAh integrated battery

Micro-USB charging system
Battery LED

Three voltage settings: 2.5V, 3.0V, 3.5V
Taste setting
Maximum power output: 10W
Resting current: 5V/ 500mA
Gallery
Similar Products
Total Views Today: 1 Total Views: 1,712