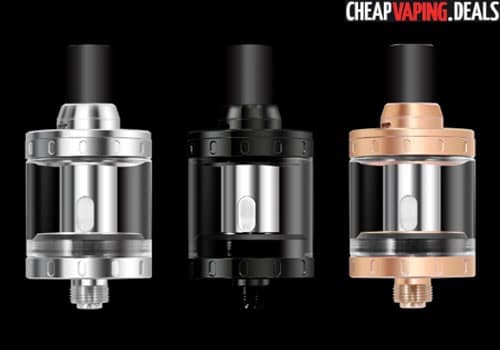 Here's a fantastic deal on the Aspire Nautilus X Tank.
Overview
The Nautilus X is Aspire's latest tank.  It features top adjustable airflow, leak proof design, the U-tech coil system and an extremely portable form factor.
The unit's dimensions come in at only 45mm x 22mm and is available in silver, rainbow, black and gold.  This micro tank's best use is to put on a small mod and easily fit in the pocket or purse.  The chassis is made of stainless steel and the tank tube consists of Pyrex glass.  The tank capacity is only 2ml to ensure the device remains portable.  To make up for this, Aspire added a very clean and simple top refill system.  Simply squirt juice into the top of the tank and you'll quickly be back to vaping.
The tank utilizes the U-Tech coil system which is the latest coil technology.  Nautilus X coils have a resistance of 1.5Ω and have a recommended wattage of  14-22 watts. When firing the Nautilus X, vapor travels through the U-shaped chamber and hits the Kanthal coil heads two times before exiting. This results in amazing flavors.
Airflow on the tank is also unique.  Unlike many of its competitors, the Nautilus X is built with top adjustable airflow control to ensure a leak free vape experience.
Overall, the Nautilus X looks like the perfect tank system to use with a portable box mod and put in your pocket.
Features & Specs.
Dimensions: 22m x 45mm
Stainless steel body
Pyrex glass tank tube
Ultra small
Adjustable top airflow
Tank capacity: 2ml
U-tech coil system for flavor
Top fill system
Leak proof
Video
https://www.youtube.com/watch?v=7_spURZxxL0
Total Views Today: 1 Total Views: 353