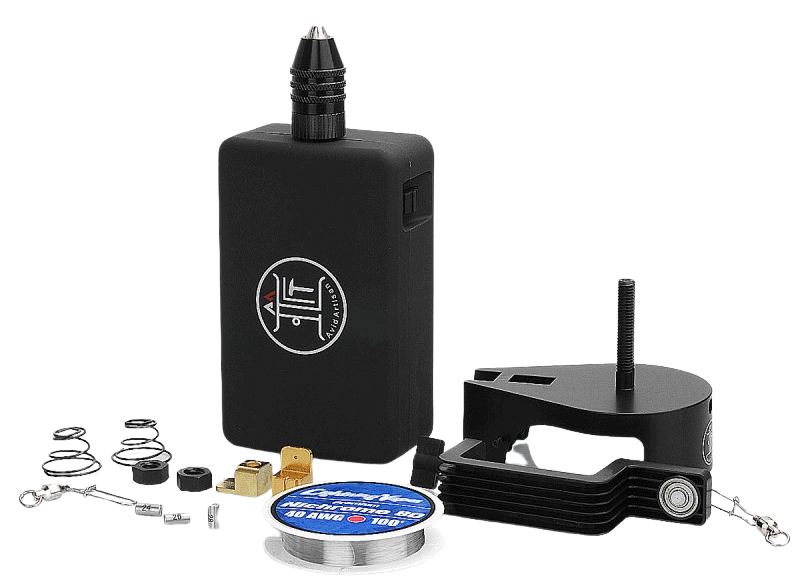 Here are cheap deals for the Avidartisan Daedalus Pro Clapton Wire DIY Tool Coil Jig V2.  Unfortunately, this tool is quite old and not available.
Overview
The Avidartisan Daedalus V2 is an electric automatic DIY tool that will satisfy all your coil-building needs. With this coil jig, you can easily create your heating wire for installation in your favorite RDA, RTA, or RDTA. The Daedalus V2 will work with fused Clapton wire, flat Clapton wire, and any wire type you want to throw at it.
If you want to make coils, this coil-making tool will conveniently create one. Other features of the Avidartisan Daedalus Version 2 are that it supports direct USB power, is made with an updated swivel coast lock, and utilizes an effortless speed and control switch. This item comes with a wide range of spare parts, and the price is simply unbeatable. Best of all, you'll receive 100 feet (30 meters) of Lightning Vape 40GA Ni80 wire with purchase!
Specifications
Dimensions: 80mm x 165mm x 44mm
Weight: 312g
Automatic DIY tool
Direct USB power
Build stapled fused Clapton coils
Build staggered fused Clapton coils
New swivel coast lock
Simple operation
Easy Speed control
Includes 30 meters of Lightning Vape 40GA Ni80 heating wire
Package

Daedalus tool
2 x metal wire guide
2 x swivel coast lock
3 x Clapton tool
Smart coil jig
Tool clamp
2 x screws
2 x springs
100ft of Lightning Vape Nichrome 80 40AWG wire
Manual
Total Views Today: 1 Total Views: 2,255