The Breze Stiik King Max Disposable features 20mL/1mg nic salt vape juice, a rechargeable 850mAh battery, 10K puffs, a mesh coil, direct-to-lung style puffs, and adjustable airflow control.

Breze Stiik King Max Description
There are many disposable vape options in the marketplace. Still, the Breze Stiik King Max is unique because it features fully adjustable direct-to-lung puffs to create your desired experience.  The 20mL internal tank is filled with 10mg nic strength e-liquid instead of the usual 50mg, but the massive size of the puffs and sub-ohm vapor production more than makes up for it.  The atomizer uses a 0.5ohm mesh coil to create flavor, legendary for producing the maximum possible taste with each puff.  A recharge port is located at the bottom to ensure the 850mAh battery never runs out of voltage, but you'll need your own Type-C cable.  This setup will produce up to 10K puffs.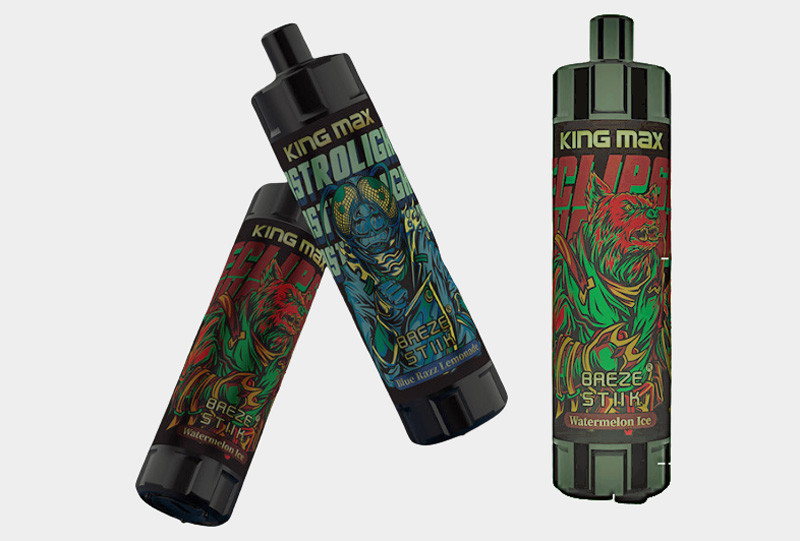 Flavors
There are eight flavor options, each with its unique illustration, so there is sure to be one that you like.  And with dimensions of only 128mm x 32mm, the Stiik King Max can be placed in your pocket.
Mint ice
Strawberry ice cream
Peach mango
Blueberry raspberry
Apple reach
Blue razz lemonade
Watermelon ice
Cotton candy
Specs
Dimensions: 128mm x 108mm
Portable disposable
Each flavor has a unique illustration
20mL internal juice tank
Nic strength: 10mg | 1%
10,000 hits
850mAh  battery
Type-C fast charging port
Ten flavors
0.5Ω mesh coil for flavor
DTL style puffs
Adjustable airflow control
Puff-activated
Similar Products
Total Views Today: 11 Total Views: 1,362