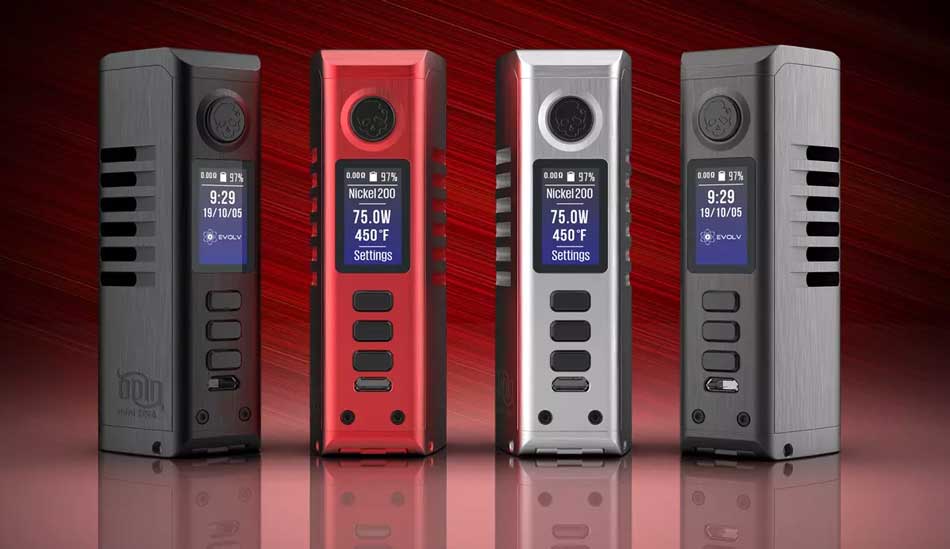 Check out these deals to purchase the  Dovpo Odin Mini DNA75C.  As the name implies, it is built with Evolv's DNA 75C chipset and features an amazing and unique appearance, a single 21700 battery configuration, accurate, stable and efficient operation, 75 watts of power, a color display screen, uploadable themes, eScribe customization, and many safety features. This mod is for sale in brushed black, brushed red, brushed gunmetal and brushed silver.
Review
Dovpo Odin Mini Overview
This mod is a smaller version of the Dovpo Odin DNA250C and is the result of a partnership between Dovpo, Vaporz Cloud and Vaping Bogan.  Power for the Dovpo Odin Mini is gained from a single 21700 battery and fused with the efficiency of the DNA 75C chipset inside, you may maximize vape times. An on-board charging system operates with 1 amp of current for a faster process.  And, in case you want to charge the cell externally, it is bottom-loaded by way of a handy flip door .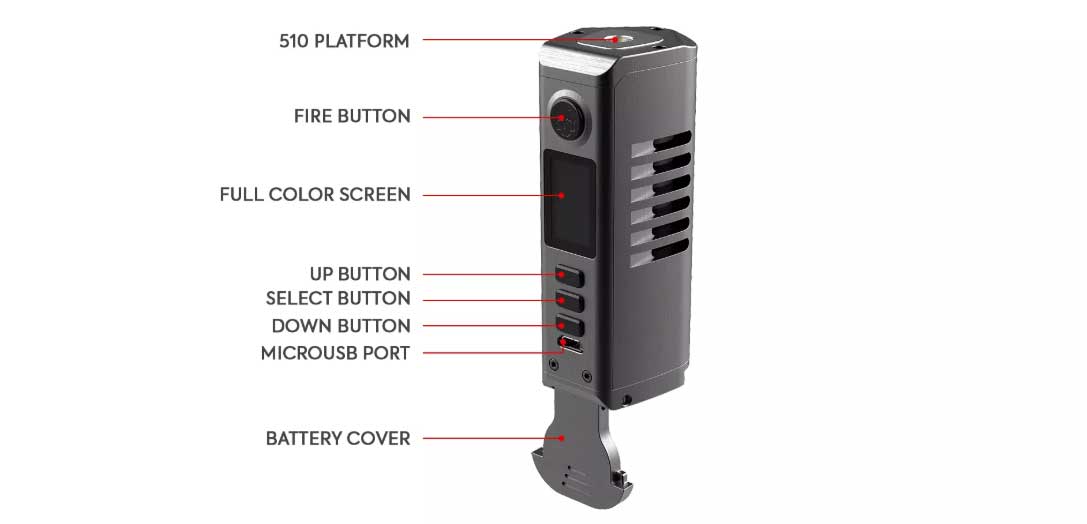 The design of the Odin Mini is small to result in portability from this incredible device. And, the appearance is stunning thanks to large cutouts, four available colors, a full-color display screen, 3 adjustment buttons and an incredible fire button with Vaping Bogan logo.  Feel free to upload themes, set colors or change settings via Escribe, the desktop software that you may download from the Evolv website.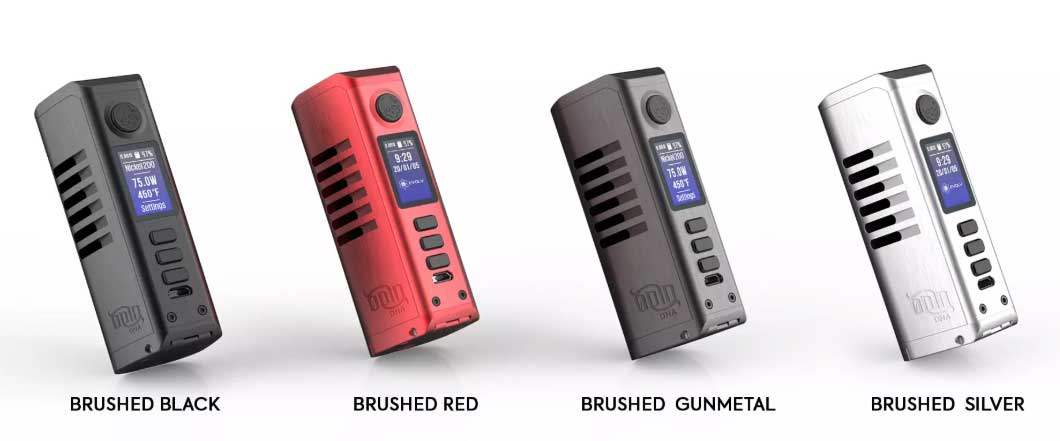 Nothing beats the stability and the efficiency of DNA mods. The DNA 75C chipset, which is present in the Dovpo Odin Mini, permits up to 75 watts of power and works in temperature control modes with all standard heating elements such as nickel, titanium and stainless steel. Or, you may prefer to put in the resistance settings via a TCR mode, only recommended if you are an experienced vaper.  This box mod is able to put out an increased 9 volts versus the lower 6.2 volts of DNA 75 mods.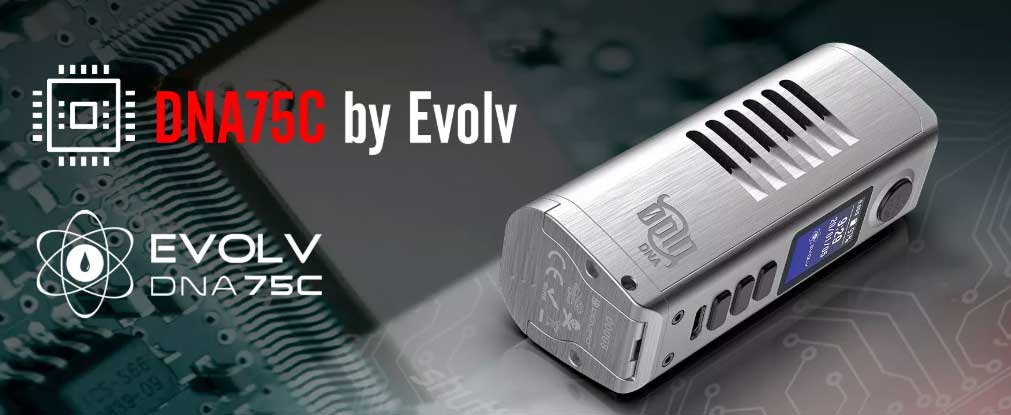 Features & Specifications
Latest Evolv DNA 75C chipboard
Dimensions:36.3mm x 32mm x 90.5mm
Aluminum alloy body
Colors: brushed black, brushed red, brushed gunmetal, brushed silver
26mm 510 bezel
Exquisite fire button with logo
Two adjustment buttons
One select button for easy navigation
Full color 0.96″ TFT screen
Set fonts and upload themes
Menu icons for easy of use
Uses a single 21700 battery
1A USB charging system
Micro USB firmware updates
Micro USB Escribe customization on P
Power output range: 1W to 75W
Temperature Control range: 100°C to 315'°C or 200°F to 600°F
Output modes: TC-Ni/TC-Ti/TC-SS/VW/TCR
Resistance range: 0.15Ω to 3.0Ω
Maximum output voltage: 9.0V
Short circuit protection
Low battery warning
Low resistance protection
High resistance protection
High-temperature protection
Atomizer warning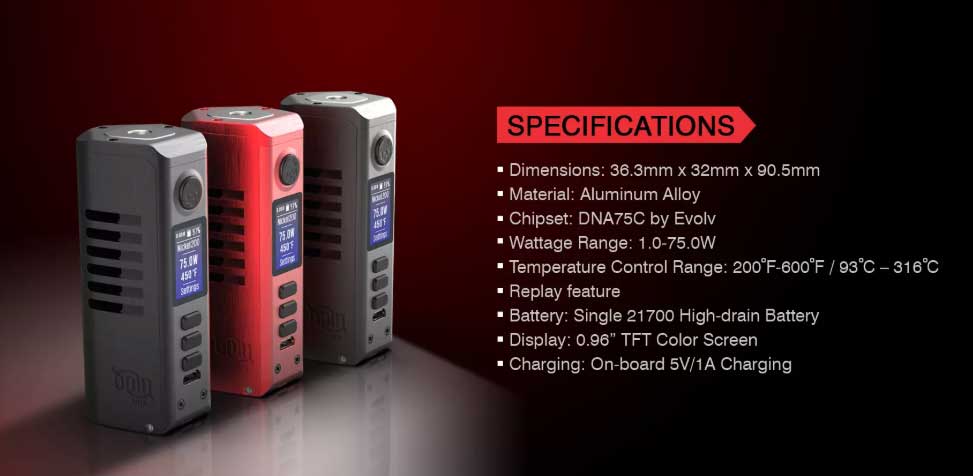 In The Box
In the Odin Mini DNA75C package, you will receive the box mod, a USB charging cable, a pack of extra replacement battery wraps, a user manual, a battery usage warning card, a GC certificate, and a social media card.

Similar Products
Total Views Today: 1 Total Views: 2,613