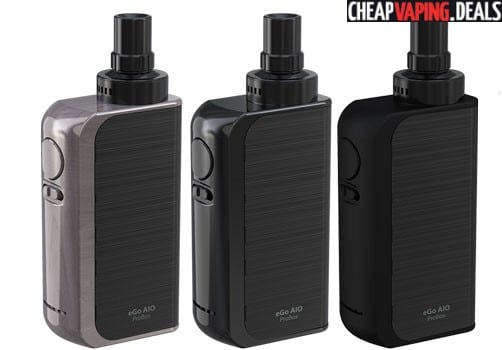 Here are fantastic discounts on the Joyetech eGo AIO ProBox Mod Kit.
Overview
The follow-up to the eGo AIO Box is here with the Joyetech eGo Aio Probox Mod Kit.  This all-in-one vape setup is still affordable and features the same 2100mAh capacity battery and 2ml e-juice internal tank, but now has two operating modes and different paint finish options.
Compared to its predecessor, the Probox kit is 4mm taller with measurements of 23mm x 43mm x 101mm.  The all-in-one vape system features an atomizer inside the mod for convenience and to keep the entire setup more compact. With either resin, glossy black, or rubber black colors available, this new kit has fewer colorways, but the finishes are more appealing.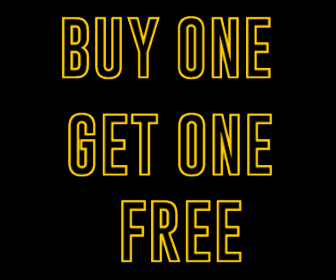 Changes to the mod include the ability to change modes.  You can choose either direct output or constant voltage output.  To do so, toggle a switch underneath the large fire button that has been made larger and is now round.  This kit still features the same 2100mAh internal battery to allow for long vaping times at mid-wattage levels.  The eGo AIO Probox is charged by connecting the device to any wall adapter or computer with the included micro USB cable.
The atomizer's airflow looks identical to its predecessor, with an airflow control ring at the bottom of the top cap.  You can set the AFC ring to either big airflow for direct-to-lung puffs or minimize the intakes for mouth-to-lung vaping.  The atomizer gets wicked from an internal 2ml e-juice reservoir easily topped off with e-liquid via an easy top-fill setup with two large fill ports.  E-juice levels are easily tracked thanks to a viewing window built with an LED that can change the color to your liking.  Set the light to red, yellow, green, blue, indigo, white, and purple, or turn it off.
This is a basic vape setup with more options thanks to the two new operating modes.  This vaping system should produce adequate vapor, is portable, and can be obtained at an affordable price.
Review
Features & Specifications
Dimensions: 23mm x 43mm x 101mm
Weight: 113.4g
Portable all-in-one vape system
Direct output mode
Constant voltage output mode
Leak-proof cup
Child lock
Tank capacity: 2ml
Top fill system with large fill ports
 2100mAh internal battery
Micro USB charging
Customize LED light
An adjustable airflow control ring
Wide range of sticker colors
Atomizer resistance: 0.6Ω
Gallery
Total Views Today: 1 Total Views: 1,082