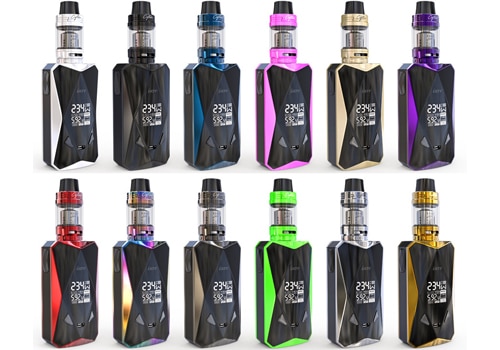 Check out these cheap deals for the Ijoy Diamond PD270 234W Box Mod Kit w/ Captain X3S Tank .
Overview
This kit includes both the Diamond PD270 Box Mod and Captain X3S tank. The setup features a diamond inspired design, a large OLED display, instant firing, 234 watts of power, TCR temp control, dual 20700 cells, 18650 battery compatibility, a 4.2ml juice capacity, easy top fill system and mid-wattage coils.
The entire bundle measures 92mm x 48mm x 34.5mm and is available in white, black, blue, pink, champagne gold, gold, purple, red, rainbow, gun metal, green and silver. The mod's design is inspired by cut diamonds for a very unique appearance. On the front, you will see modern adjustment buttons below a large display that seamlessly blends into the mod. On the side, there's a large firing button that perfectly matches the appearance of the box mod and looks easy to be fired.  At the top, you will see a centered 510 threaded connection bezel that can accept atomizers with a diameter up to 33.5mm.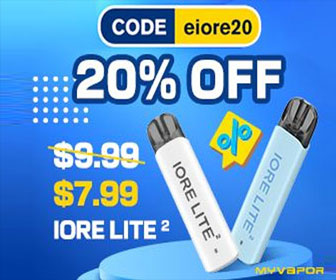 Powered by dual 20700 batteries, you will get insane vaping times, even if you use the Ijoy Diamond PD270 mod at the highest output setting. If you would rather use 18650 batteries, simply insert the adapter into the battery bay. Recharging the cells while they are in the mod can be done by plugging the mod into any wall outlet to top off the batteries or into a computer for firmware upgrades.
Powered by an IWEPAL chip board, the Diamond Box Mod is capable of a whopping 234 watts of output, temperature control with nickel, titanium, stainless steel or TCR and low atomizer resistance at 0.05ohm. Several taste modes have been built into the software including the ability to put in custom ramp vape settings for a really personalized vape experience.
The X3S tank matches the color of the mod and has a 25mm diameter with a 4.2ml tank reservoir. Refills are very easy thanks to a top cap that slides open to reveal a large fill port.  The gasket that surrounds the port can be replaced in case of leakage. At the top of the tank, you will see a black wide bore 810 drip tip, but you may use your own with the included 510 drip tip adapter. Airflow is adjustable at the bottom by rotating the AFC ring that features dual intakes.
Three different coils can be installed inside the X3S Tank. With purchase, you will receive a 0.4Ω X3-C1 coil that fires in the range of 60 to 90 watts and a 0.3Ω X3 -C2 one that has a range of 60 to 100 watts. Or, you may opt to purchase the available 0.2Ω X3-C3 head that is rated from 90 to 110 watts.
Features & Specs
Ijoy Diamond PD270 Mod
Kit Dimensions: 98.3mm x 58.0mm x 25.0mm
Colors: gold, silver, green, purple, pink, red, champagne gold, gun metal, rainbow, blue, white, black
Diamond inspired design
Large fire button
Large front display blends into mod
510 threaded connection

Centered
Compatible with atomizers up to 33.5mm

Firmware upgrades
Utilizes dual 20700 batteries

Long vaping times
Micro USB USB charging system
Also compatible with 18650 w/ included adapter

Maximum power output: 234W
Resistance range: 0.05Ω to 3.0Ω
TC with Ni, Ti, SS, TCR
Custom user mode for personalized vape experience
Ijoy Captain X3S Tank
Diameter: 25mm
Tank capacity: 4.2ml

Top fill sliding refill system
Large fill port
Replacable gasket to prevent leaks

Dual bottom adjustable airflow slots
810 wide bore drip tip
510 drip tip adapter
X3 coil system

Included: 0.4Ω X3-C1 rated 60W to 90W
Included: 0.3Ω X3 -C2 rated 60W to 100W
Optional: 0.2Ω X3-C3 rated 90W to 110W
Decent vapor output with good flavor
Pictures
Total Views Today: 1 Total Views: 1,467