Joyetech Obliq Kit: 60W/1200mAh Variable Wattage Pod System
Here are cheap deals to purchase the Joyetech Obliq Kit.  It features a 1800mAh integrated battery, Type-C charging, power mode, 60 watts of maximum output, 3.5mL pods, easy refills, side airflow, and EZ coils.  This pod system is sold at a low price in six colors.  This kit is outdated, so check other pod system kits.
Obliq Kit Overview
The Joyetech Obliq features a slanted design for a unique appearance that sets it apart from the crowded field of vape kits.  On one of the sides, the metallic body is built with a patterned glass panel available in blue orchid, tropical green, modern rose, black rose, obsidian, and lavender. Moreover, 85mm by 42mm by 22.6mm dimensions make it extremely easy to carry around, but a lanyard is not included in the package.  On the control face, you can see a full-color display screen with a vertically positioned user interface for crystal clear viewing of vape data.  The UI is also designed to be simple so that even a beginner vaper can easily navigate the menu with the two adjustment buttons at the bottom.  On the screen, you can see the battery's charge level, the current wattage, atomizer resistance, the last puff time, and the total number of puffs taken.
.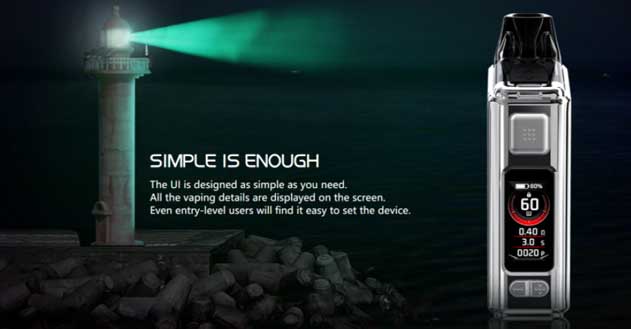 Like many other Joyetech devices, this pod system utilizes an Avatar.AI chipset that can easily identify the coil inside the pod and recommend the best output setting.  This ensures that you never get burnt puffs or damaged coils.  Moreover, the chipset integrates several features to keep you safe such as overtime, over-discharge, overcharge, and short circuit protection.  With 60 watts of maximum output, adjustable from just 5 watts, power originates from a robust 1800mAh internal battery that is replenished by a Type-C fast charging port.  Because the USB interface utilizes a fast current, the charging process completes in under one hour.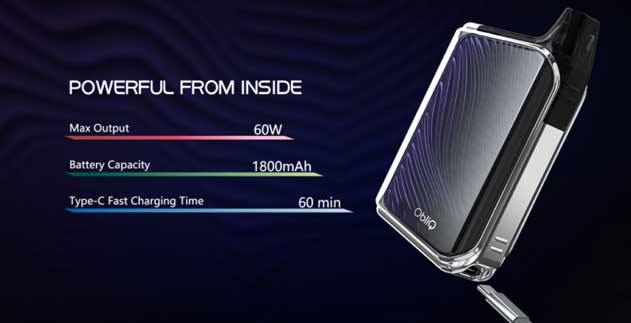 Since this is a pod starter kit, it works with cartridges with a 3.5mL juice capacity and a convenient top-fill design.  Additionally, this cartridge is leakproof, and airflow is adjustable on the side to get the ideal vape experience.  The setup works with EZ coils to induce the best possible flavor generation. Joyetech says they have achieved that by testing several hundred combinations of cotton and wire.  With the purchase of the Obliq Kit, you will receive one piece of the EZ 0.4Ω coil with a wattage range of 20 to 32 watts for direct-lung vaping.  If these are unsatisfactory, install the included EZ 0.8Ω coil for mouth-to-lung vaping at 12 to 20 watts with higher nicotine e-liquids. Or, if you like building coils, buy the optional EZ RBA head that will soon be released into the marketplace.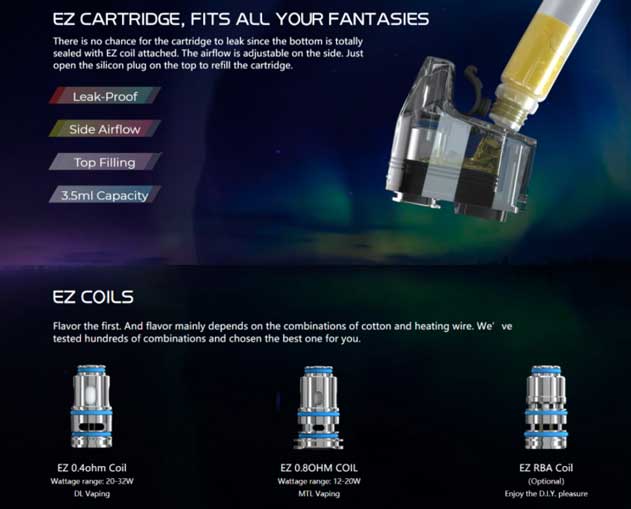 Package
With the purchase of the Joyetech Obliq Kit, you will also receive an EZ cartridge, a 0.4Ω coil, a 0.8Ω coil, a warranty, a manual, and a USB-C charging cable.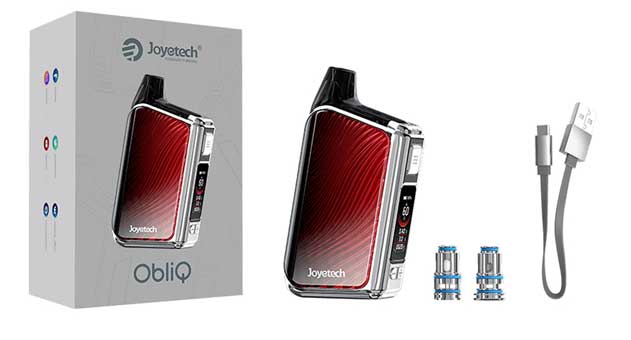 Total Views Today: 1 Total Views: 686