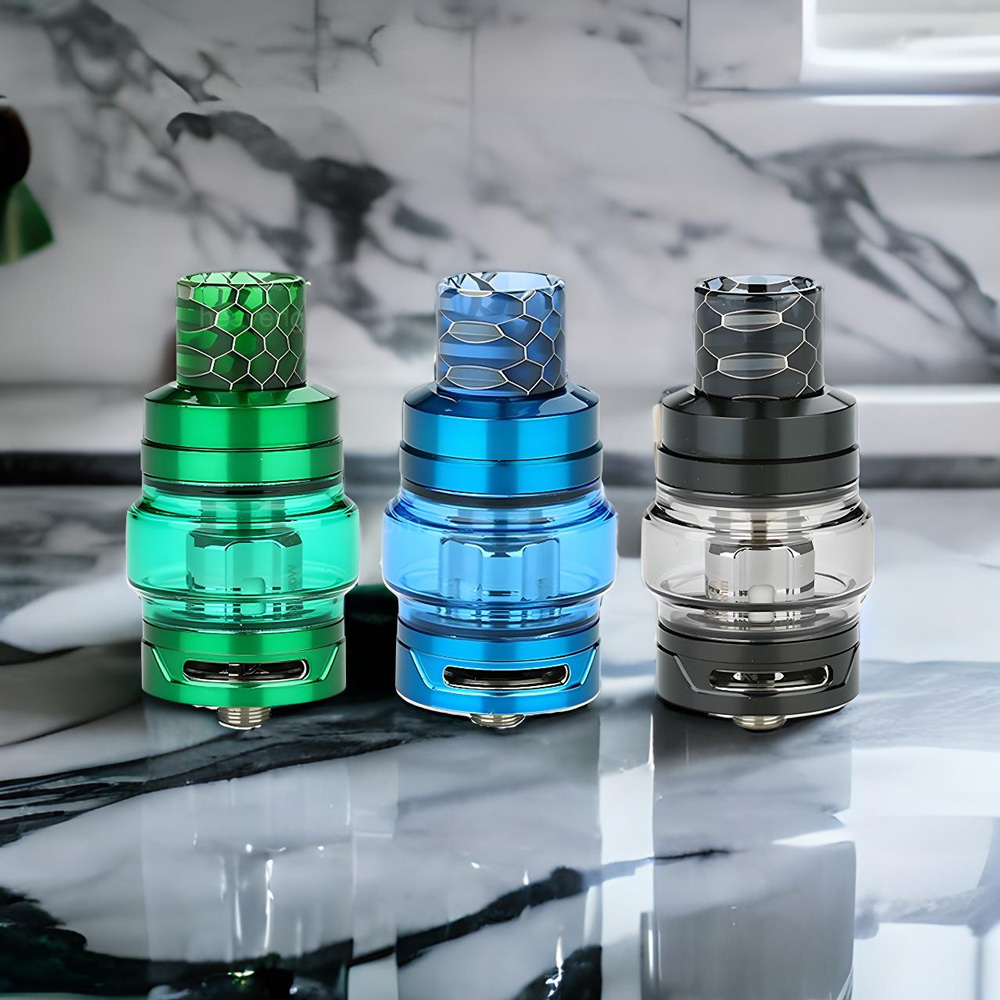 Here are cheap deals for the Joyetech ProCore Air Plus Tank.
Overview
The Procore Air Plus is the latest tank atomizer from Joyetech. This new device features a bulging glass tank to increase capacity to 5.5ml, colorful finishes, ProC coil heads, adjustable airflow, MTL and DTL vaping, and a top-fill setup for easy refills.
Design-wise, the sub-ohm tank looks modern thanks to bright color finishes and unique drip tips. Chassis colors include dazzling, red, gold, green, blue, black, and mixed black.  And the drip tip options are resin black, resin blue, resin green, resin red, resin gold, cellular blue, cellular green, cellular red, cellular gold, and cellular black. This new Joyetech Tank also has a juice capacity of 5.5ml due to the glass tube's bulb-style "bulging" shape. Refilling the atomizer is easy by simply sliding the top cap to reveal a large filling hole you can squirt juice into.
At the bottom of the Joyetech ProCore Air Plus Tank, you will find two large air inlets that can be adjusted. They provide huge vapor without compromising flavor production, especially with the latest ProC series coil heads. With purchase, you will receive two ProCA 0.4ohm coil heads meant for direct-to-lung vaping and provide optimal flavor with huge vapor. This head fires in the 40W to 80W range but is best used at 55 to 65 watts. Other optional coils are a 0.4ohm ProC1 head (DL, 40W to 80W, intense flavor and vapor), the 0.25ohm ProC1-S (MTL, 25W to 55W, smooth and pure flavors), a 0.15ohm ProC2 (DL, 30W to 70W, balanced vapor and flavor), the 0.20ohm ProC3 (DL, 40W to 130W, massive clouds at high power) and the 0.15ohm ProC4 (DL, 50W to 110W, best performance for both flavor and vapor).
With the tank, you will receive two coils, a spare glass tank section, a warranty card, a warning card, a manual, and some spare parts.
Features & Specifications
Wide bore resin mouthpiece
Bulb-style 5.5mL reservoir
510 threaded connection
25mm diameter
Changeable airflow control
2 x ProCA Kanthal DL (DTL) 0.4ohm coils
Several colors
Top-filling method
Total Views Today: 1 Total Views: 825