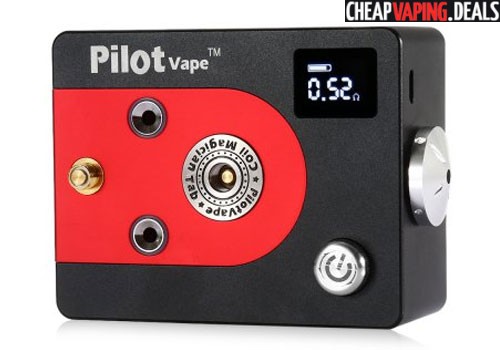 Here are cheap deals to buy the Pilot Vape Coil Magician Tab Version 2.
Overview
This Pilot Vape Coil Magician Tab is version 2 and is a voltage and ohm tester.  It can be used to test voltage/resistance for both your mods and atomizers. The device features a fire/options button, coiling pole power SW, an OLED display, a 510 springloaded/threaded atomizer connection, two external terminals (duck clip/voltage adapter), and a 510 connection pin for box mods and mechanical mods.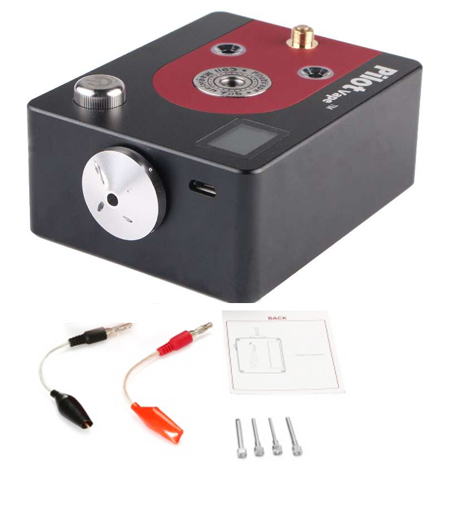 The Coil Magician Tab can measure resistance from 0.01Ω to 9.99Ω and voltage from 0.3V to 9.99V. The wattage range for coil burning is 7W to 50W, and the resistance rate is 0.1Ω. The ohm meter is powered by a single 18650 cell, has a magnetic battery cover, and features reverse polarity protection.  It also features an automatic 15-second cutoff when burning coils.
Specifications
Voltage Measuring Range: 0.3V-9.99V
Utilizes a single  18650 battery
Lowest resistance measurement: 0.1Ω
Resistance Measuring Range: 0.01Ω-9.99Ω
Auto power halt after 15 seconds while burning coil
4.5V/750mah Micro-USB Charging input
Dimensions: 95mm x 75mm x 42mm
Made from aviation aluminum
510 threaded connection
Springloaded pin
In The Box
Coil Magician Tab
2.0mm Coiling Pole
2.5mm Coiling Pole
3.0mm Coiling Pole
3.5mm Coiling Pole
Manual
Total Views Today: 1 Total Views: 169