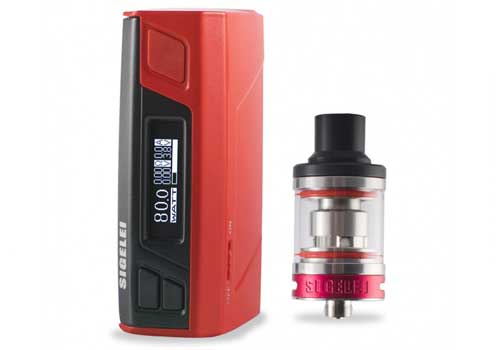 Here are cheap deals to buy the Sigelei J80 Box Mod Kit.
Overview
Sigelei has recently been producing some very popular box mods such as the Fuchai 213W.  Now, they've released yet another beautiful box mod with the J80.  It features up to 80 watts of power, temperature control functionality, and a powerful internal battery.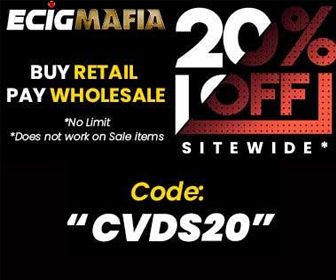 The mod is quite portable as its dimensions come in at just 24.5mm x 67.5mm x 39mm.  It is made from zinc alloy and features an amazing two-color finish with a very modern design. You can get it two ways: either red with black or vice versa.  At the top of the unit, there's a 24mm atomizer bezel that features a 510 threaded connection with a springloaded center pin for maximum compatibility with most atomizers or tanks.  The fire button on the control face is diamond-shaped for a comfortable press and to avoid accidental firing.  The OLED in between the power & adjustment buttons features a four-line display with all the indicators you need to find out current wattage, battery level, power level, temperature, resistance, mode, and more.   To power the device on or off, there's a mechanical switch on the back of the device.
There's no need to buy external batteries to use with the J80 as it is powered by a built-in 2000mAh polymer battery which ensures it can be used at its maximum 80 watts of power for prolonged periods.  The internal battery is easily charged via the micro USB charge port on the bottom, next to the ventilation holes.  In addition to wattage mode, you can also fire the unit in temperature control mode with nickel, titanium, or stainless steel coil heads in the range of 212°F to 572°F.   Overall, these specifications would indicate that the mod is versatile and will work with virtually any atomizer you install on it.
This Sigelei mod is also built with a wide variety of safety protections including MCU protection, over puff protection, and an automatically reduced power function.
Video
Features & Specifications
Dimensions: 24.5mm x 67.5mm x 39mm or  0.96″ x 2.66″ x 1.54″
Weight: 130g or 4.59oz
Made from zinc alloy
24mm connection bezel
510 threaded connection
Springloaded center pin
Built-in 2000mAh polymer battery
USB charging
Diamond-shaped power button to prevent accidental firing and ergonomics
Power range: 10W to 80W
Temperature control range: 212°F to 572°F or 100°C to 300°C
Working modes: Power mode, Ti mode, Ni200 mode, SS316 mode
MCU protection
Over puff protection
Reduced power functionality
Sleep mode wake-up capability
Gallery
Total Views Today: 1 Total Views: 530