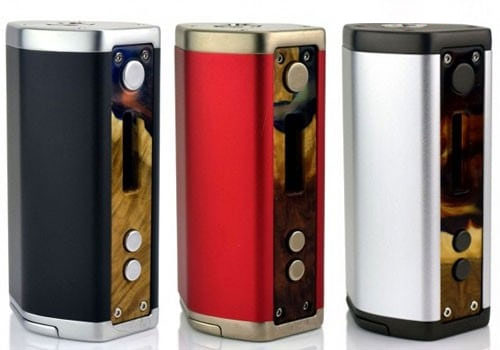 The Sigelei Snowwolf 218 Box Mod features 218 watts of power, a stabilized wood panel, triple 18650 batteries (not included), a full TC suite, TFR mode, TCR mode, and a wide range of safety protections.
Overview
The Snowwolf 218 is a new temperature control box mod from Sigelei.  It features 218W of output power, accurate temperature control with TCR & TFR modes, and a one-of-a-kind stabilized wood panel.
The box mod's dimensions are 93.4mm x 51.7mm x 42.4mm, and it is made from aluminum and zinc alloy.  The control face panel is made from unique stabilized wood and is interchangeable to give the device a fresh look.  The OLED measures 0.91″ and was designed to be intuitive and simple.  The batteries are behind a latched door that is easy to remove for fast battery swapping.  At the top of the unit, there's a 510 threaded connection with a spring-loaded center pin for maximum adaptability with a wide range of atomizers.
Three external 18650 batteries power this mod to sustain the massive 218 watts of output power over time. It was built with onboard charging, and the USB port allows for firmware upgrades when they become available.  There's also accurate atomizer sensing capability and an ability to regulate variable temperature modes accurately in the range of 200℉ to 570℉.  The device can be powered in several modes, including wattage mode, stainless steel temperature control (TC) mode, titanium TC mode, Ni200 TC mode, TFR mode for hybrid builds, and TCR mode.  With these specs, it can power most atomizers in the marketplace as long as their minimum resistance is above 0.10Ω.
Overall, the Snowwolf 218 looks beautifully designed, and each unit's wood panel is unique due to the manufacturing process.  Plus, it has all the technology you wish for in a high-powered variable temperature box mod.
Features & Specifications
Dimensions:  93.4mm x 51.7mm x 42.4mm
Weight: 160g
Made from aluminum and zinc alloys
Stabilized wood panel, unique to each box mod
Swap out the wood plate for custom looks
0.91″ intelligent OLED
Latched battery cover
Powered by triple 18650 batteries
USB charging
Firmware upgrades
Modes: Power/SS/TI/NI200/TCR/TFR
Enter TCR for custom builds
Power range: 10W to 218W
Resistance range: 0.1Ω to 3.0Ω
Temperature Range:200℉ to 570℉ or 100℃to 300℃
Maximum output current: 36A
Input voltage range: 9.6V to 12.6V
Output voltage range: 1.0V to 8.0V
Accurate temperature control
Atomizer recognition technology
Gallery
Total Views Today: 1 Total Views: 882