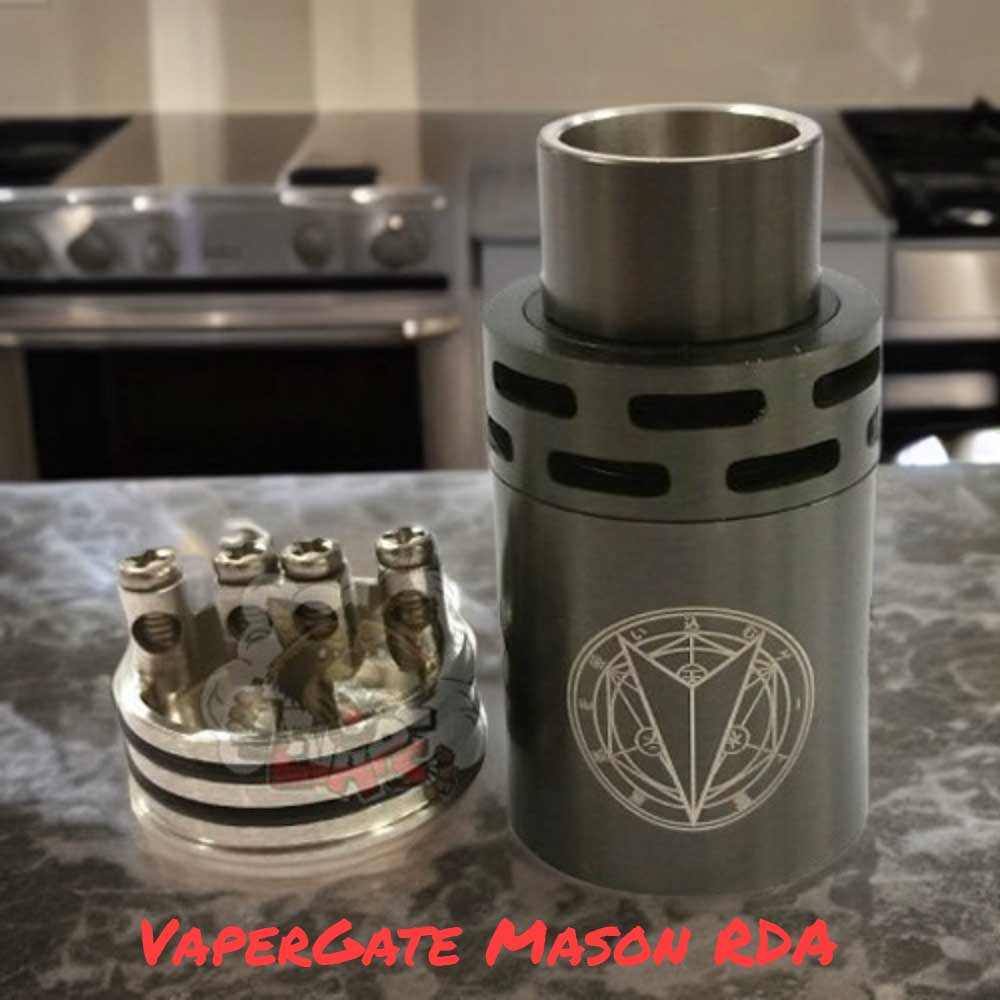 Here's a fantastic deal on the VaperGate Mason RDA.  This item is outdated, so check out similar RDA Deals.
Mason RDA Overview
The VaporGate Mason RDA is offered in three different diameters, all for the same price.  The 40mm version offers the largest build deck in the marketplace.  This RDA will take virtually any build you can throw at it.
The Mason is offered in three diameters: 24mm or 30mm, or 40mm.  All of them are made from stainless steel and black pewter, giving the devices an antique look.  At the top of the device, you will find two rows of airflow slots that can be adjusted to your favorite vape.  At the bottom, there's a 510 connection pin for easy compatibility with virtually any mod.  And a square PEEK insulator keeps the device cool and gives it longevity.  With purchase, you'll also receive a threaded heat-resistant Delrin insert, a 10mm drip tip, and a 10mm SS wide bore drip tip.
The build decks on all three sizes of the Mason are amazing.  The 24mm and 30mm feature a split positive deck with milled negative posts and 3mm diameter wire holes.  Their design includes a 6mm juice well, preventing the need to drip constantly. The 40mm RDA features an amazing quad split positive post with double negatives on both ends, allowing for virtually any build you can imagine. The deck can store much wick material with the 6mm deep juice well.
Overall, the Mason RDAs may be just your desired device if you want to get back to basics.  There are no tornado-swirling airflow or strange air hole configurations, and air intake flows directly to the coils.
Features & Specifications
Constructed from stainless steel
Pewter black color
510 Copper connection pin
Threaded heat sink
PEEK insulator
10mm stainless steel wide bore drip tip
10mm Delrin wide bore drip tip
Quad 2.5mm terminal center post
Deck-milled split two-way negative posts with three terminals on each side
6mm juice well
Airflow cap with double stacked rows of airflow slots
24mm & 30mm Mason RDA Features & Specs
Constructed from stainless steel
Pewter black color
510 Copper connection pin
Threaded heat sink
10mm stainless steel wide bore drip tip
10mm Delrin wide bore drip tip
Split positive build deck with 3mm diameter wire holes
Deck milled negatives
Anti-spin PEEK insulator
6mm juice well
Double-stacked adjustable airflow
Review
Total Views Today: 1 Total Views: 649