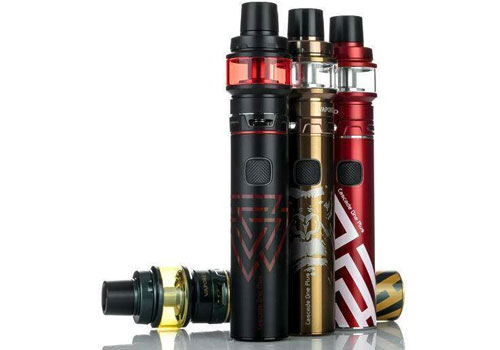 Here are cheap deals for the Vaporesso Cascade One Plus Kit (5mL) or Plus SE Kit (6.5mL). Both have a much bigger 3000mAh battery than the predecessor for extended vape times. And, it features 50 watts of power, mesh coils for incredible vapor production, 2 amp lightning fast charging and bottom adjustable airflow control.
Review
Overview
The Cascade One Plus is Vaporesso's latest pen-style starter kit and includes a powerful 3000mAh battery mod and the Cascade Baby Tank. Design-wise, this kit is compact as it measures only 24.5mm x 138mm, making it easy to transport when you leave the house. The tube mod has black, blue, gold, purple, rainbow and silver color options and the tank perfectly matches the color.
Inside the battery mod, you will find a 3000mAh internal battery that will easily last an entire day or more with a full charge. The cell only takes about an hour and a half to recharge thanks to a lightining fast charging system and this is done via the micro USB port with an included cable. An LED on the power button will flash when it's time to plug in the Cascade One Plus to top off the battery.
Included in this kit is the Cascade Baby Tank. It has a 5ml capacity, but there's also a 2ml version in case you live in the EU where they have TPD regulations. To refill the tank, you simply slide open the top cap that is held in place via a unique lock mechanism to ensure there are not accidental leaks. Additionally, the Cascade Baby is built with a separated juice chamber and coil providing for a leak proof experience and mess-free coil swapping. Powering the Cascade Baby are both Mesh and traditional coils. With purchase, you will get the GT Mesh Coil that has a 0.18ohm resistance and fires from 50 to 90 watts. This type of mesh coil has a larger heating surface and will produce more pure flavor than any traditional coil. Or, you can vape on the included GT CCell2 coil that is built with a 0.3ohm heating element and has a rating that ranges from 35 to 40 watts. Both are said to produce intense flavorful vapors that will be consistent and never produce burnt taste.
With purchase of the Vaporesso Cascade One Plus Kit, you will receive the 3000mAh battery mod, the Cascade Baby Tank, a GT Mesh Coil, a GT CCELL Coil, a micro USB charging cable and an instruction manual.
Total Views Today: 1 Total Views: 366