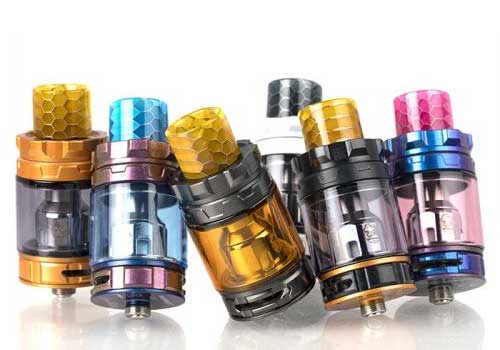 Here are cheap deals for the Wismec Gnome King Tank.
Review
Overview
The Gnome King Tank features a massive 5.8ml juice capacity, an exquisite design with crown molding, an ideal color scheme, an effortless top fill system, massive bottom adjustable airflow and WM coils for huge vapor with amazing flavor.
Made from stainless steel with Pyrex glass tank reservoir, the Gnome King Tank measures 26mm x 57mm and weighs 66.1 grams. The design looks amazing thanks to an incredible crown molded top cap with honeycomb drip tip. Adding to the exquisite appearance is the beautiful color combinations of the tanks chassis, drip tip and glass tube. Available colors for the chassis include black, purple, white, blue, orange and gun metal that all have a completely different color scheme. The glass reservoir on the Gnome King can store a whopping 5.8ml to reduce the need for refills and the top cap slides open to reveal a juice port that you can easily pour juice into.  All components of the atomizer can be detached for effortless cleaning and maintenance.
Dual airflow intakes are located on the bottom and they are massive to work in perfect combination with the coils and produce huge vapor with tons of flavor. The Wismec Gnome King Sub Ohm Tank utilizes WM coils that have three different options. With purchase, you will receive the latest WM01 coil that has a heating elements that has a 0.4ohm resistance, is rated from 40 to 70 watts, but should be fired in the range of 50 to 60 watts. Optional heads include the 0.15ohm WM02 that has a 30 to 70 watts range, but is best at 45 to 60 watts and the WM03 0.2ohm coil that is rated from 40 to 130 watts but will work perfectly in the range of 70 to 90 watts. An optional WM RBA head is also in the marketplace for those who enjoy coil building.
Features & Specifications
Measurements: 26mm x 57mm
Weight: 66.1g
Exquisite design

Crown molded top cap
Unique color combinations of body, tube, drip tip
Chassis colors: gun metal, orange, blue, white, purple, black

Tank capacity: 5.8ml

Top fill setup

Top cap slides open
Large fill port

Detachable structure

Easy maintenance/cleaning

Dual massive bottom air slots
Coils

Included: WM01 Single 0.40Ω Head

Range: 40 to 70W
Best: 50W to 60W

Optional: WM02 Dual 0.15Ω Head

Range: 30 to 70W
Best: 45W to 60W

Optional: WM03 Triple 0.20Ω Head

Range: 40 to 130W
Best: 70W to 90W

Optional: WM RBA
Gallery
Total Views Today: 1 Total Views: 409