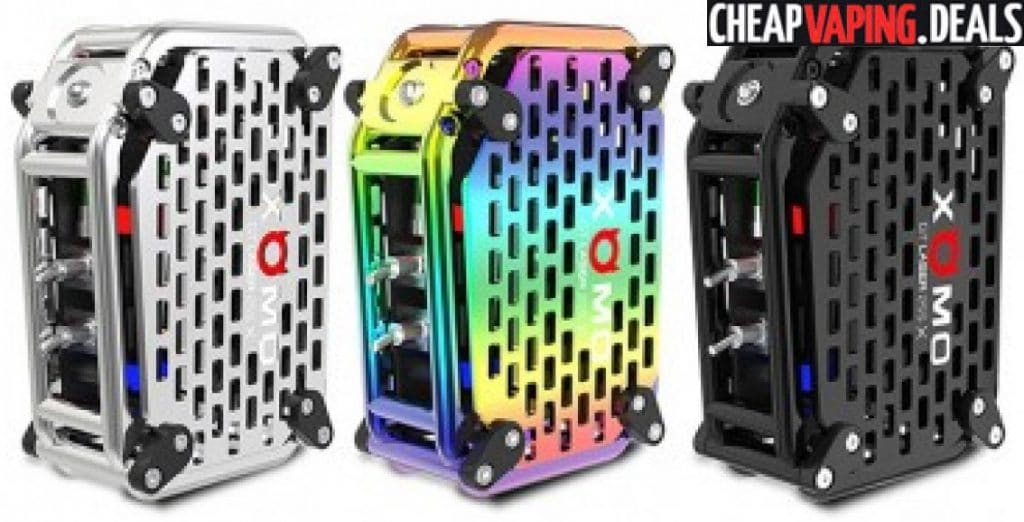 Check out these cheap deals for the  for the XOMO GT Laser 255X Box Mod.
Overview
The XOMO GT Laser 255X looks to be technically identical to the 255S, except the chassis is not transparent.  This mod with mechanical characteristics that features 150W of output, three power settings, instant firing, colorful metal panels, an LED light and a laser light.
From a design perspective, the unit's all metal frame with metal panels result in a very unique look.  It is available in black, stainless steel or rainbow colors and has dimensions of 90mm x 70mm x 31mm.  LEDs  with bright colors light up whenever the mod powers up or is fired.  And, a green laser light inside will also turn on when the one-of-a kind ergonomic firing button is pressed.
The side-located control face on the XOMO GT Laser 255X is quite unique and features two switches.  The top one is used to turn on/off the device or turn on/off the laser light, while the bottom switch has three settings that change the output to either 50 watts, 100 watts or 150 watts.  Since this is almost a mechanical mod, output also depends on coil resistance which is possible down to 0.10ohm.  Power is obtained from a 3500 mAh internal battery that is rechargeable via USB.  Best of all, the conversion rate of the 255X comes in at an astounding 98% and the firing response time is lightning fast at just 0.025 seconds.
Features & Specs
Measurements: 90mm x 70mm x 31mm
Colors: grey, rainbow, black
All metal frame and face plates
LED lights
Laser light
Internal 3500mAh lithium battery
Slanted firing button for ergonomics
Control face with two switches

Top switch: laser on/off or  power up/down
Bottom switch: set to 50W / 100W / 150W

Maximum power: 150W
Minimum resistance: 0.10Ω to 5.00Ω (recommended at 0.2Ω )
Lightning fast firing: less than 0.025s
98% conversion rate
Micro USB charging
Total Views Today: 1 Total Views: 3,447