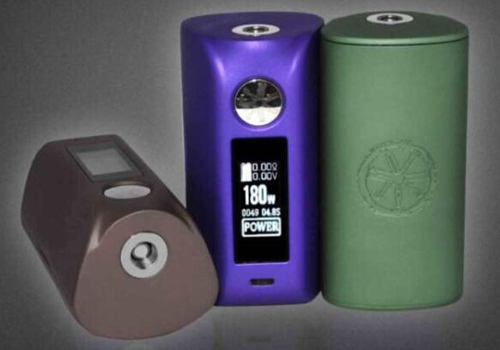 Check out this awesome price for the Asmodus Minikin V2. This 180 watt touch screen mod retails for $100, so check out the blowout prices below.
Overview
Asmodus is back with the upgraded version of the Minikin!  It features a power increase to 180 watts and is built with a touch screen because of its new GX-180-HT chip.  The device is available in black, white or red.
The Minikin V2 features a matte finish, fits comfortably in the hand and has measurements of 80mm x 41mm x 38mm. At the top, there's a stainless steel 510 connection with a springloaded center pin for flush installation of builds or tanks up to 25mm, without overhang.  The 1 amp USB port for charging the two 18650 external batteries is located on the bottom of the control face.  The batteries can be easily swapped out via the convenient magnetic battery door on the back.  The fire button looks similar to other Asmodus devices and features a low profile and is clicky when pressed.    On the bottom, there's 15 ventilation holes keep the device and batteries cool.
What's really exceptional about this mod is that the GX-180-HT chip and the new operating system allows the device to be controlled via the touch screen.  The OLED also organizes all the device statistics vertically in an easy-to-read way.  On the display, you can see battery level for each cell, current coil resistance, voltage, puff counter, puff time and current operating mode.  The menu is easily accessed by swiping as you would on your smart phone's screen.  The screen is said to be very responsive and adjustments are made by touching each individual indicator.  For example, to adjust power, simply press the wattage indicator or you could touch "power" to change mode.
The Minikin Version 2's new chip  allows for a higher power output of 180 watts and several firing modes including power mode, curve mode, several stainless steel presets, titanium mode, TCR mode and TFR mode.  The TCR mode allows the user to put in the temperature coefficient of resistance, while putting the mod into TFR mode allows for setting the Temperature Factor of Resistivity and should be used with hybrid coil builds.  Temperature is changeable in the range of 212°F to 572°F and the mod can fire down to 0.1Ω.  With these features, the V2 mod is sure to work well with virtually any atomizer in the marketplace.
The device also features new battery saving technology.  This Hyper Energy Saving capability prolongs the mod's battery life from 15 to 30 percent.
Video  Reviews
Features & Specs
Dimensions: 80mm x 41mm x 38mm
Fingerprint resistant matte finish
Ergonomic
Stainless steel/Spring-loaded connection
Flush installation with atomizers of 25mm diameter or less
Touch screen OLED
USB charging
USB upgrades
Utilizes two external 18650 batteries
Chip board: GX-180-HT
Operating modes: Power, curve, Ni200, SS317, SS316, Ni200m, Ti, TFR & TCR
Power range: 5W to 180W
Temperature control maximum wattage: 120W
Temperature control range: 212°F to 572°F or 100°C to 300°C
Resistance range: 0.1Ω to 2.5Ω
Maximum output voltage: 7.5V
Highest output current: 45A
Extend battery life by 15% to 30% with Hyper Energy Saving Capability
Pictures
Total Views Today: 1 Total Views: 894