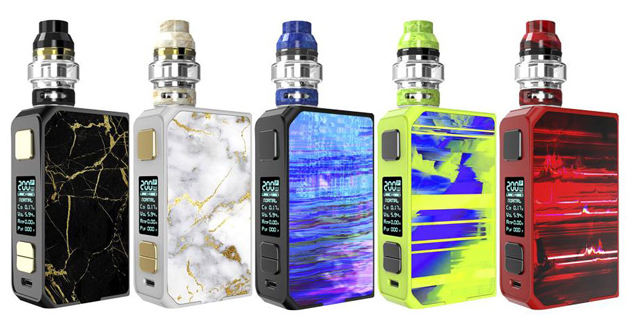 CoilArt Lux 200 Kit: Luxurious Mod w/ UV Printed Glass Panels & Faux Marble Mesh Tank
This luxury mod kit features a breathtaking appearance thanks to master craftsmanship, UV printed glass panels, exquisite finish options, virtually instant firing, a custom display screen, firmware upgrades, 10 different safety features, versatile temperature control and 200 watts of power. Details in regards to the Lux Mesh Atomizer have yet to be released, but its finish is faux marble for a perfect match with the mod's UV printed glass panels.
Master Craftsmanship
Coilart gave the LUX Mod its name because of its master crafted appearance that was designed by Italian fashion designer Aligheri Petraca. Combined with the faux marble resin mesh tank, the panels on this device are made with UV printing, available in five gorgeous color options. The mod is also somewhat compact thanks to dimensions of only 89mmm x 53mm x 25mm. At the top of unit, you will see a 510 spring loaded 510 connector.
Customizable Display Screen
The control face is built with a display screen with vertical menu that features blue font over a black background. On the screen, you can easily view vape data including current wattage/temperature, battery bars for the two cells, voltage,coil resistance, puffs and much more. According to the coilart website, the display can also be completely customized for a personalize experience.
Eagle Chipset For Instant Firing With 200 Watts Of Power
A micro USB port at the bottom of the control face allows for onboard charging and this interface also permits future firmware upgrades. On the technical side, the LUX is made with an Eagle chipset which allows for easy customization and efficient performance. As a result, the device responds to firing within a lightning fast 0.005s and also has 10 different protections systems.
The highest output is 200 watts, the temperature setting is adjustable between 200 and 600 degrees Fahrenheit and the LUX will work with all standard heating elements such as nickel, titanium and stainless steel.
Features & Specifications
Dimensions: 89mm X 53mm X 25mm
Luxurious design
Colors: white, red, green, blue, black, white
Customize display screen
Reinforced Glass Panel w/ UV Printing
510 threaded/springloaded connection
Self adjusting battery contact
Uses dual 18650 batteries
Micro USB charging
Firmware updates in real time
10 safety protections
Fires within 0.005s
Power output range: 5W – 200W
Resistance Range: 0.05Ω – 3.0Ω
Output Modes: VW / TC-Ni / TC-Ti / TC-SS
TC Ranges: 95-315℃ / 200-600℉
Comes with Lux Mesh Tank with faux marble finish
Gallery
Related Deals
Total Views Today: 1 Total Views: 433