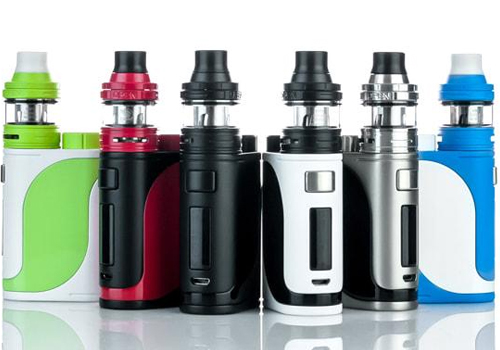 Here's a discount for the Eleaf Istick Pico 25 Box Mod  or get the Starter Kit w/ Ello Tank.Unfortunately, this kit has been discontinued, but eLeaf has plenty of other iStick mods, kits and pod systems.
Overview
The IStick Pico 25 Mod is the latest in Ijoy's wide range of compact mods.  It features easy operation, fast 2 amp charging, firmware upgrades, a preheat system and has a new design in a compact form factor.  If you get the kit, you will also receive the Ello tank that includes two new HW coils, has a 2ml e-juice reservoir and is built with an effortless top fill system.
From a design perspective, the Pico 25 mod looks amazing, is ergonomic and also extremely compact. With dimensions of 25mm x 48mm x 70.5mm, the box mod is tiny and also weighs just 97 grams. The design has been updated and there are many new colors including all black, white/black, silver/black, black/red, blue/white, white/green.
The screen on the control face looks to be identical to previous devices.  It measures 0.91 inches across and features a convenient menu that is easy to operate. Three alternate interfaces can be used including the puff interface (with puff counter) , the current interface (displays amps) or the seconds interface (displays last puff time).  Above the screen, you will find a rectangular fire button that seamlessly integrates with the mod.
At the bottom of the control face, there's a micro USB port that is utilized for firmware upgrades, as well as to charge the 18650 cell.  The charging process is done with a current of 2 amps, so your battery will be fully charged in no time.  Or, you may want to charge the cell externally by unscrewing a convenient top cap to access the battery bay.
If you want to use the  Eleaf Istick Pico 25 with your favorite atomizers, you are also in luck.  Even though the Istick Pico 25 is quite small, it can still handle atomizers with a diameter of 25mm. And, the 510 connection's center pin is sure to be spring-loaded for flush atomizer installs.
With a maximum power output of 85 watts, this mod is quite powerful for its small size.  And, it is also versatile as it has the capability of being used in these modes: power mode, bypass mode, three temperature modes (nickel, titanium, stainless steel) and TCR mode for which the settings can be stored in any of three memory slots.  The device can fire with resistances all the way down to 0.05ohm in variable temperature mode or 0.1ohm in both bypass and power modes.  You can also setup the preheat system for quick power burst during initial firing. Finally, dual circuit protection ensures safe vaping on both the hardware and software level.  This prevents over-charging, over-discharging and excessive current.
If you decide to get the full Eleaf Istick Pico 25 kit, you will receive iJoy's latest tank. The Ello perfectly combines with the mod, is 33.5mm high, can hold 2ml of e-liquid and is built with a retractable top fill system by which the top cap effortlessly slides open to expose a refill port. Included with this atomizer, you will get two drip tips: the first has a tapered elegant shape while the other is wider to maximize airflow and flavor.  Airflow can be changed at the bottom via two air slots that are adjusted by rotating the AFC ring.
What sets the Ello tank apart is a brand new HW coil system that is said to produce amazing flavors and decent vape clouds.  The included 0.2ohm SS316L HW1 head is built with a single coil chamber, has a power range of 40 to 80 watts, but should be used between 50 and 65 watts for better vapor. Or, you can use the included 0.3ohm Kanthal HW2 coil that is made with dual chambers, fires in the range of 30 watts to 70 watts, but is best between 45 and 60 watts.  Not included with purchase is the triple chamber HW3 Kanthal coil that fires in the range of 50 to 130 watts, but is recommended to be used from 70 to 90 watts for huge vapor output.
Review
Features & Specs
Istick Pico 25 Mod
Measurements: 25.0mm x 48.0mm x 70.5mm
Weight 96.5g
Colors: white/green, all black, white/black, blue/white, silver/black, black/red, blue/white
25mm wide atomizer bezel
510 threaded connection
Large 0.91″ OLED screen with three menu interfaces
Rectangular fire button
USB port for firmware upgrades
USB port with fast 2A charging system
Easy threaded top battery cap
Power output range: 1W to 85W
Operating modes: TC/Bypass/TC(Ni,Ti,SS,TCR-M1,M2,M3) mode
Power/bypass resistance range: 0.10Ω to 3.5Ω
TC/TCR resistance range:  0.05Ω to 1.5Ω
Preheat system
Dual circuit protection
Over-current protection
Over-charge protection
Over-discharge protection
ELLO Tank
Dimensions: 25mm x 33.5mm
Stainless steel body with pyrex tank
Tank capacity: 2ml
Easy retractable top fill system
Dual bottom adjustable airflow slots
Tapered/elegant drip tip
Wide bore drip tip
Included – HW1 coil: recommended from 50W to 65W for decent flavor and more vapor
Included – HW2 coil: recommended from 45W to 60W for best flavor with slightly less vapor
Optional – HW3 coil: recommended from 70W to 90W for massive vapor
Gallery
Total Views Today: 1 Total Views: 1,211