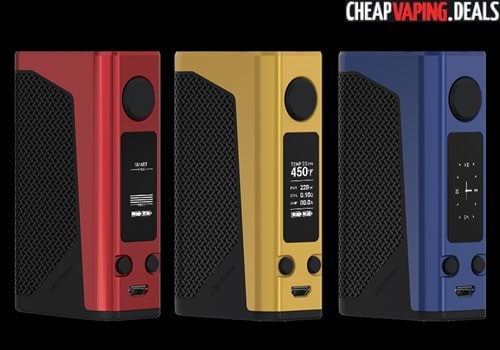 Here's a discount for the Joyetech Evic Primo 2.0 Box Mod.
Overview
The Evic Primo 2.0 is latest in the long line of Evic series of mods.  It features more power at 228 watts, a balanced charging system, fast charging capability, upgradable firmware, a preheat system and can be used as a power bank.
This mod looks almost identical to the first version of the Evic Primo.  With dimensions of 53mm x 26mm x 84mm, the size hasn't been altered and neither has the available colors of silver, black/silver, black.grey, black/red, bronze, red, yellow and blue.  At the top, you will see a high quality 510 connection that is compatible with any build or tank with a diameter of up to 25mm. The screen on the control face is also the same and measures 1.3 inches across.  Its menu organizes vape data for easy mod operation and displays indicators for the battery level, voltage, temperature, power, amps, resistance and mode.  The screen is able to display a analog-style clock and its logo can be changed to your liking.
On the side, you will see a larger 1.3 inch OLED display with a re-designed menu for easy mod interaction. Mod settings and statistics are displayed in vertical orientation and include current mode, current coil resistance, current amperage, current temperature/power, current voltage and battery charge level.  The screen's logo is also customizable or the screen can be set to displaying a real time clock.
Two high rate batteries power the eVic primo 2.0 Mod.  They can be topped of via the USB port that utilizes an equalizing charging system to ensure each battery achieves equal charge.  If you have an Avatar quick charger at home, charging can be performed with a 2 amp fast current to conclude the process in no time.  If you want to use the mod as a power bank, simply put it into reverse charging mode, but you'll need a reverse charging adapter which is sold separately.  Reverse battery protection prevents dangerous operation in case the cells are inserted into the bay the wrong way.  And, dual circuit protection (over-charging, over-current, over-discharging prevention) makes this device even more reliable and safe.
On the technical level, the Joyetech Evic Primo 2 seems to have about the same capability as its predecessor.  But, the power output has been increased from 200 watts to 228 watts and utilizes buck-boost technology to provide steady power output.  Available modes are identical with one power mode, three variable temperature modes, a TCR mode, a smart mode, a real time clock mode and a power bank mode. The minimum resistance is still low at 0.05ohm and the highest temperature output is 600 Fahrenheit.
Features & Specs.
Dimensions: 53mm x 26mm x 84mm
Weight: 156g
Colors: silver, black/silver, black.grey, black/red, bronze, red, yellow and blue
510 connection
Works well with atomizers up to 25mm
1.3″ OLED
Display RTC
Customize logo
Powered by dual 18650 batteries
Reverse charging
Balanced charging system
2A fast micro USB charging system with Avatar charger
Micro USB firmware upgrades
Available modes: VW/VT (Ni, Ti, SS316)/TCR/Smart/RTC/USB Charge mode
Power output range: 1W to 228W
Resistance range variable temperature mode:  0.05Ωto 1.5Ω
Resistance range power mode: 0.1Ω to 3.5Ω
Buck-boost technology for steady power
Preheat system
Reverse polarity protection
Dual circuit protection
Over-charging protection
Over-current protection
Over-discharging protection
QC USB cable
Manual
Warning card
Warranty informaton
Pictures
Total Views Today: 1 Total Views: 60