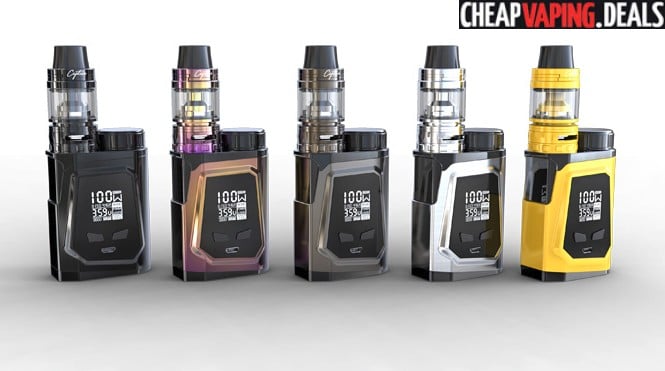 Here's fantastic discounts for Ijoy Capo 100 Box Mod or Full Kit with Captain Mini Tank.  The mini mod features 100 watts of power, an included 21700 battery for long vaping times, an interchangeable face plate with psychedelic designs,  versatile temperature control and a micro USB charging system.
Review
Overview
Here's a portable all-in-one starter kit from Ijoy: the Capo 100 Starter Kit.  This vape bundle features 100 watts of output, an included powerful 21700 battery for long vaping times, temperature control with all coil elements, user mode for ramp vaping,  a 3.2ml capacity, a top fill system and threadless coils.
Included with purchase, you will receive a 100W box mod that works in power mode as well as temperature control with nickel, titanium and stainless steel coils and TCR for precise resistance settings. The unit's software also allows for  ramp-type vaping —  normal, soft, hard modes — and features a custom user mode where you can set up to 6 wattage levels upon initial firing.  And, there's a low resistance capability of just 0.05ohms, allowing the unit to work well with virtually any build or tank.
From a design perspective, the box mod is portable thanks to dimensions of only 78.2mm x 52,3mm x 30mm, allowing it to be simply put in your pocket!  Available colors include black, gun metal, rainbow, silver and yellow.  On the backside, you will see a colorful faceplate, with psychedelic design, that can be swapped out for a new mod look. At the top, there's a 510 threaded connection bezel that is compatible with any atomizer up to 26mm in diameter. Next to the 510, you will see a screw cap that allows easy access to the 21700 battery that has a massive 3750mAh capacity and 40A of continuous discharge for stable power and long vaping times. The cell can be recharged while inside the Capo 100 mod via a micro USB port underneath the display screen. Best of all, you may also use a 20700 battery or 18650 battery with an adapter.
The front-located OLED display looks to be identical to the Ijoy Captain PD270. The menu is fully loaded with vape data that includes power/temperature, a battery bar, resistance, amperage, voltage, puffs, puff time, current mode and current custom mode. As this menu system and operating system has been thoroughly tested, it is said to be very intuitive and effortless to operate.
With the Capo 100 kit, you will also receive  a Captain Mini Tank that matches the color of the box mod. It features a 22.5mm diamter, a sliding top fill system, a black Delrin widebore drip tip, a unique knurled chassis that reduces heat transmission and smooth airflow for flavorful vape production.  If you are in Europe, you will receive a TPD compliant tank that has a 2ml capacity, while orders from the rest of the world will get the Captain Mini with a 3.2ml juice reservoir.
Features & Specifications
Capo 100 Box Mod
Measurements: 78.2mm x 52,3mm x 30mm
Portable & compact
Colors: rainbow, gun metal, silver, black, yellow
Oversized fire button
Interchangeable back panel

Face plate design color options: orange, yellow, blue, green, red

510 threaded connection

Compatible with 26mm atomizers

Front OLED display

Intuitive menu with lots of vape data

Top battery slot

Easy access threaded battery cap

Included 21700 battery

3750mAh capacity for long vaping times
40A continuous discharge

Works with 20700 battery (with adapter)

3000mAh capacity
40A continuous discharge

Works with 18650 battery (with adapter)

2200mAh capacity
25A continuous discharge

Maximum power output: 100W

Normal, soft, hard modes
Custom mode: set 6 custom wattage levels upon mod firing

Full temperature control suite

TC with nickel
TC with stainless steel
TC with titanium
TCR mode

Resistance range: 0.05Ω to 3.0Ω
Micro USB on-board charging
Firmware upgradable
Captain Mini Tank
Diameter: 22.5mm
Plug-type coils (no threads)
Gold plated 510 connection pin

Excellent electrical conduction
Works with most mods in the marketplace

Bottom adjustable air intakes

Smooth airflow
Flavorful vapor production

Colors: match the box mod
Made from stainless steel with Pyrex glass
Capacity 2ml (EU) or 3.2ml
Grooved body for reduced heat
Sliding top fill setup
Heat-resistant Delrin wide bore drip tip (black)
Gallery
Total Views Today: 1 Total Views: 1,050