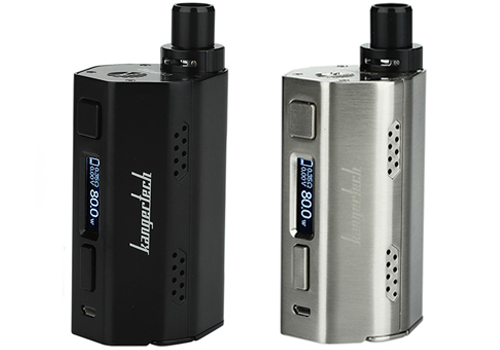 Here are really good deals on the Kanger Cupti 2 100W Starter Kit. This all-in-one vape system features 100 watts of power (with firmware upgrade), adjustable airflow control, temperature control and power modes, a crystal clear display, a 5ml juice capacity, and an easy-fill system.
Overview
The Kanger Cupti 2 features a box mod/tank all-in-one design,  airflow control,  temperature control, and 80W of power which can be easily upgraded to 100W by installing the new firmware.  This new device looks less like its predecessor and more like Kanger's 160W drip box.  The appearance is exquisite, with a  Kangertech logo on the side that matches the button colors for a modern look.   And the measurements are 42.5mm x 51.5mm x 84mm, made from zinc alloy with a durable finish.    The kit is available in white, black, or silver.
On the control face, you will find a large square fire button and a large rectangular adjustment button.  There's also an OLED with a simple but effective menu that displays battery level, resistance, voltage, wattage, temperature, mode, and battery level.  The menu looks the same as the one on the Drip Box 160W.
Inside this vape kit,  find a 5ml Pyrex tank with a simple top-fill system for an easy refill process.  The internal tank's e-liquid levels can be easily monitored through a viewing window on the back, and the tank is said to be completely leak-proof.
This setup utilizes two 18650 external batteries, which are easily exchanged by opening the hinged battery cover at the bottom.  Or, you can charge the cells by plugging the device into any USB outlet.  The mod is capable of 80W of power when you receive it in the mail, but it can be easily upgraded to 100W by updating the firmware.  It can be powered in both power and temperature control modes and has a low atomizer resistance of 0.1Ω, so it can be used with other atomizers.  To do so, install the included 510 tank adapter by removing the built-in tank.  Temperature modes include stainless steel, nickel, and titanium.
The Cupti 2 Kit easily plugs into the computer for upgrading the software or customizing settings.  Installing Kanger's software on your desktop PC allows you to customize the box mod or set the temperature coefficient of resistance in 5 available memory slots for a more accurate vape experience.
Airflow is adjustable at the bottom of the mouthpiece and can be set for either direct-to-lung vaping or mouth-to-lung vaping.
With purchase, you'll get a replaceable CLOCC coil.  But, for those who enjoy building their coils, a CLRBA is also available.
Features & Specifications
Dimensions: 42.5mm x 51.5mm x 84mm
An all-in-one box mod with a tank
Zinc alloy with durable finish and pyrex internal tank
Tank capacity: 5ml
Top-fill setup
OLED display
Works in temperature and wattage mode
Temperature mode with Ti, Ni & SS
TCR mode
Customize settings
Firmware upgrades
Maximum output power: 80W or 100W with a firmware upgrade
Lowest atomizer resistance: 0.1Ω
510 atomizer adapter included
Powered by dual 18650
Micro USB charging
Easy-hinged bottom battery cover
RBA available
Gallery
Total Views Today: 1 Total Views: 679