Update: The
Smoant Ranker Box Mod
Has Been Discontinued – Check  Newer 220W Box Mod
 Or
All Mod/Kit Deals
Here's a cheap deal for the Smoant Ranker Box Mod. 
Overview
The Smoant Ranker Box Mod features the latest chip board, 218 watts of power, a leather finish, unique design, low resistance, curve modes, a massive color display and a large fire trigger.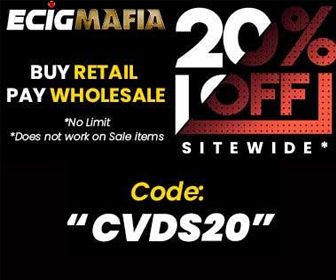 With a size of just 92mm x 60mm x 31mm, this dual battery mod is quite compact and has a unique futuristic appearance due to the display's position and accent lines being angled. The finish is available in black, tarnish, camo and also has an ergonomic leather grip that adds to the mod's quality appearance.  On the side of the unit, there's a large fire button that spans almost the entire side and is made with finger indents for easy gripping. The centerpiece of the Smoant Ranker is the 1.3 inch TFT full color display of which the background can be customized. There are actually two different menu designs to choose from. The first has a car's dashboard appearance with an analog type "speedometer" that "accelerates" the wattage or temperature as you fire and other vape data such as resistance, voltage, mode and more. Or you can use the more traditional second interface that has a large indicator for current wattage/degrees, two battery bars, current mode, current voltage, resistance and a Smoant logo.
Built with an Ant 218 V2 chip, this mod fires almost instantly (0.015 second respond time) and has firmware update capability to ensure it always remains relevant in the vape marketplace. Additional, the chip board allows for custom power and temperature curves which permits you to enter initial wattage/degrees at specific intervals during the first 10 seconds of firing. This results in being able to set the mod to your perfect taste!  The software has several preset output modes that include variable wattage, variable wattage curve, temperature control with nickel, titanium, stainless steel, temperature control curve and TCR.  The power limit of the Smoant Ranker Mod is 218 watts while temperature tops out at 600 degrees Fahrenheit and resistance bottoms at 0.05ohm in temperature modes and 0.10ohm during variable wattage modes. An array of safety protections include overheat protections, reverse polarity protection, over-current protection, low voltage protection, overcharge protection and overtime protection.
For power, the Smoant Ranker uses dual 18650 batteries and can be recharged via its USB port. Not listed in the specifications is how you may access the cells, but we would imagine there is a bottom battery cover that either slides or flips open.
Features & Specifications
Dimensions: 92mm x 60mm x 31mm
Weight: 350g
Colors: black, tarnish, camo
Premium leather grip
Unique angled design
Large side fire mechanism

Finger indented for ergonomics

510 threaded connection
1.3″ TFT full color screen

Two different menus to choose

Traditional
Car dashboard inspired

Customize wallpaper

 Ant218 V2 chip board

Fires within 0.015s
Output modes: VW / VW Curves / Temp (Ni, Ti, SS) / TCR / TC Curves
TC output range:  100 to 315℃ or 200 to 600℉
Power mode output range: 1W to 218 W
Resistance range temperature modes:  0.05Ω to 2Ω
Resistance range power mode: 0.1Ω to 5.0Ω
Safety features

Overtime protection
Overcharge protection
Low voltage protection
Over-current protection
Reverse battery protection
Overheat protection

Utilizes dual 18650 batterires

Micro USB charging
Battery panel type: unknown

Included:

Smoant Ranker  Mod
USB cable
Manual
Warning information
Total Views Today: 1 Total Views: 247