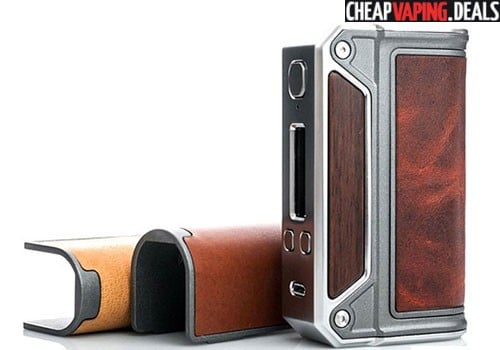 Update: The
Lost Vape Therion DNA166 Box Mod
Has Been Discontinued – Check  Newer Evolv Mods
Or
All Mod/Kit Deals
Overview
The Lost Vape Therion DNA 166 is the 166 watt version of the Therion 133.  It features the same form factor, design and is available in auburn, black, brown, coffee, dark auburn, dark brown, leather black, red brown or yellow.
The Therion DNA166W is constructed from die cast zinc alloy with stunning machining, premium leather and ebony wood panels.  The mod's dimensions come in at 27 mm x 90.5mm x 54mm and the device is quite heavy with a weight of 380g.  The design was intended to make it comfortable to hold in the hand.  At the top, there's a stainless/springloaded steel 510 connection bezel for durability and convenient tank or atty installation.  The OLED screen is the same as the Therion 133 and 75 and features an innovative menu that can be customized via Escribe computer desktop software. The fire and adjustment buttons look to be stainless steel and are springy for comfortable device firing.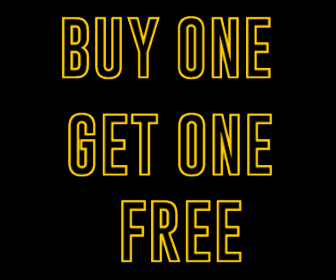 The Therion utilizes two 18650 batteries that are safe to charge inside the device via the USB port. But, if you prefer using an external charger, changing batteries is very convenient.  This is thanks to the leather sleeve that stays in place due to powerful magnets, but is easy to remove.
The mod is pricey because of its DNA 200 chip board, which is said to be worth every penny because it is the best chip in the marketplace for precise performance and best customization options.  The power output range is 1 watt to 166 watts, temperature can be changed in the range of 200 to 600 Fahrenheit and the lowest atomizer resistance is just 0.08ohm.  Temperature operation supports all coil wire including nickel, stainless steel and titanium.
Moreover, a DNA 200 powered mod is very safe to use.  This particular unit has built-in low resistance protection, short circuit protection, low voltage protection and overheat protection.
Overall, many of the Therion DNA 133 mods have not shipped out due to delays.  The Therion DNA 166 is set to ship out shortly and is virtually the same price.  If possible, cancel the other order and get this one instead.
Features & Specs
Dimensions: 27 mm x 90.5mm x 54mm
Weight: 380g
Die cast zinc alloy, ebony wood and leather
Laser logo
Springloaded stainless steel 510 connector with nickel/brass pin
Smart OLED display with intuitive menu
Built with Evolv DNA 200 chip
Energy efficiency: 85%
Power output range: 1W to 166W
Temperature control: 200°F to 600°F or 100°C to 300°C
Temperature control lowest resistance: 0.08Ω
Power mode lowest resistance: 0.15Ω
Temperature control is compatible with SS, Ni and Ti
Uses two 18650 batteries
Parallell battery installation
USB charging
Programmable multi-color LED indicator
Customize via Escribe software
USB firmware upgrades
Short circuit portection
Low voltage protection
Cell by cell monitoring
Cell balancing
Atomizer protection
Overheat protection
Pictures
Total Views Today: 1 Total Views: 462