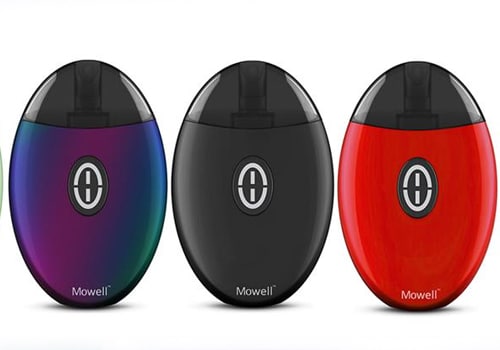 Here are cheap deals for the Mowell Shake Pod Starter Kit.  This all-in-one vape pod system features a 400mAh integrated battery, micro USB charging, battery LED 2ml refillable cartridges, an ergonomic feel and a cobblestone design.
Overview
Design-wise, the Shake Pod System consists of a battery in a refillable cartridge. The entire setup measures 48mm x 12mm x75mm to be portable/light and has color finish options of green, rainbow, black, red and blue. The finish on the zinc alloy chassis is said to be ergonomic thanks to smooth edges to ensure comfort in the hand. The appearance is also unique because it is based on a cobblestone theme. At the top of the Mowell Shake, you will see a mouthpiece that doubles as a refillable pod. It can hold 2ml of e-liquid and two juice ports can be found on the bottom for effortless refills. Simply remove one of the rubber plugs and squirt juice into the reservoir!
The pods insert into the Mowell Shake kit's battery section that is made with a 400mAh battery and is recharged via the bottom-located micro USB port. A battery LED will light up red when charging is required or green when the battery is full enough to engage in vaping. There is no fire button on the Mowell Shake so you simply take a puff to activate it. A fully filled cartridge will allow up to 190 puffs and with a full battery, the device will fire with about 12 watts of power. With purchase, you will receive the Mowell Shake kit, a micro USB cable and a manual.
Mowell Shake Pod Kit Features & Specifications
Dimensions: 48mm x 12.0mm x 75.0mm
Made from zinc alloy
Tiny, lightweight and portable
Smooth edges
Ergonomic
Cobblestone themed finish
Colors: grey, red, green, dream, ocean blue
Refillable pods

2ml capacity
Dual bottom fill ports
Made from PC
190 puffs when fully filled

400mAh integrated battery

Battery LED
Micro USB charging

G-Sensor

Device fires by simply drawing on the mouthpiece
Max power: 12W
Total Views Today: 1 Total Views: 124