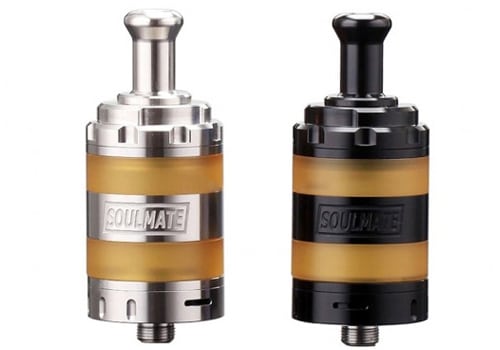 Update: The VXV Soulmate RBA Has Been Discontinued – Check  Newer RBA Deals Below
Here are cheap deals for the VXV Soulmate RBA.  This latest RBA features a luxurious design, an Ultem tank section for high-end appearance, a 2-piece chimney section, easy refills, effortless coil building and efficient wicking thanks to dual juice wells.
Overview
Available in silver or black, the Soulmate measures 24mm x 58mm and is made from stainless steel with an Ultem tank section that is said to be durable. The tank consists of two separate piece of ultem material and one piece of stainless steel. This results in amazing aesthetics, resistance to cracking and damage if dropped on the floor. You can also change the direction that the Soulmate logo faces so that it lines up exactly with your mod or whichever way you like. The tank reservoir of the Soulmate can hold up to a decent 4ml of e-liquid. At the top of the VXV Soulmate RBA, you will see the fill cap whcih was specifically designed for easy installation and to be pleasing to the eye. The chimney consists of 2 pieces to permit easy wicking because you may screw its lower half on, trim your cotton and simply replace the top chimney section.
The build deck on the VXV Soulmate is designed with dual posts with offset wire holes for easy installation of your builds. The low set coil position further results in a faster wicking process and the position of the coils is such that it is close to the internal airflow tunnels which really brings out vape flavors. Underneath the deck, you will find a three section juice well that utilizes negative pressure to feed e-liquid, ensuring the Soulmate will never leak. Furthermore, the juice well entrances are cut on the bottom allowing e-liquid to be completely vaporized. There is also a secondary juice well between the base and chamber that cause even distribution of e-liquid to the cotton. With purchase of the Soulmate RBA, you will also get a screwdriver, a coil, two screws and seven o-rings.
VXV Soulmate RBA Features & Specifications
Dimensions: 24mm x 58mm
Constructed from stainless steel with Ultem tank
Longevity
Top design to ensure easy refills
Tank capacity: 4ml
510 threaded connection
Single coil compatible build deck

Dual posts
Offset wire holes for effortless building
Leak proof deep juice well for easy wicking
Total Views Today: 1 Total Views: 28