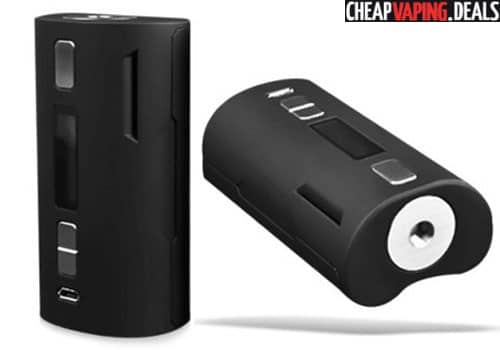 Check out this fantastic deal on the S-Body C2D1 Mod.
Update: This Item Is Out Of Stock Everywhere – Check  Similar DNA250C Mods Below
Overview
The C2D1 by S-Body is a powerful follow-up to the popular Vapedroid DNA75 C1D2.  The C2D1 utlizes dual 18650 cells for up to 167 watts of power from its Evolv DNA 250 chip board.
The mod measures 36.0mm x 47.1mm x 86.0 mm, features a curved design and has a rubber paint chassis to prevent slippage and assure longevity.  At this time, it is only available in black. Underneath the finish, you will find a zinc alloy shell to keep the device light and for longevity.  At the top of the device, there's a springloaded 510 connector for easy and flush atty installs.  To keep the unit cool, there's unique ventilation shafts that also enhance the mod's modern look.  The control face is on the front and features a 0.91″ OLED that is located between a large rectangular fire button and two adjustment buttons.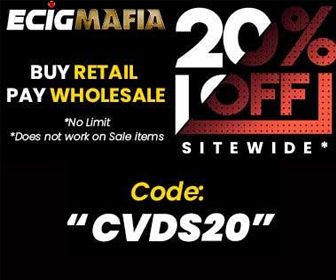 Inside the C2D1 box mod, you will find Evolv's DNA 250, a chip board known throughout the vaping world for precise operation and amazing customization capabilities.  Because the device utilizes two instead of three battery cells, power tops out at a maximum 167 watts.  In temperature control, the range is 200 to 600 Fahrenheit with a minimum resistance of just 0.10Ω.  Variable temperature is compatible with nickel, titanium and stainless steel heads.   This mod will be able to accurately operate a wide range of atomizers, builds or tanks! There are also 8 alternate firing presets that can be customized by using Evolv Escribe software that can be obtained from their website.
The two batteries that allow this S-Body DNA 250 mod  to operate are stored behind a convenient magnetic battery panel on the back that is easily removed.  If you don't have an external charger, you're in luck as the C2D1 mod features on-board charging technology that occurs at a lightning fast 2 amps via the USB port on the control face.  A cell-by-cell monitoring setup also result in balanced charging and you can continue to vape while the mod is plugged in thanks to pass-through charging technology.
Video Review
Features
Measures 36.0mm x 47.1mm x 86.0 mm
Zinc alloy construction with anti-slip rubberized finish
Threaded 510 connection with spring loaded center pin
0.91″ OLED display
Unique ventilation shafts
Easy magnetic battery cover
Uses dual 18650 cells
Micro USB charging at fast 2A rate
Balanced charging system
Pass-through vaping technology
Micro USB upgrades
Built with Evolv DNA 250 chipset
8 preset modes
Power mode range: 1W to 167W
Temperature output range: 200°F – 600°F or 100°C to 300°C
Lowest resistance: 0.10Ω
Power mode minimum resistance: 0.20Ω or higher
Input voltage range: 9V to 12.6V
Output voltage range: 0.5V to 9.3V
Maximum output current: 55A
Efficiency: 97%
Escribe desktop customization
Wide range of safety protections
Pictures
Total Views Today: 1 Total Views: 276