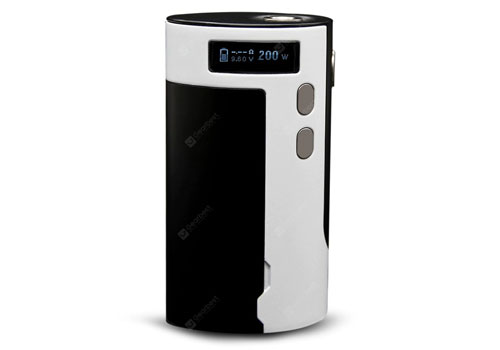 Sense Blazer 200: 200W/Triple 18650 TC Box Mod
Check out this awesome price for the Sense Blazer 200 Mod.  It features a cylindrical shape, 200 watts of power, triple 18650 batteries, micro USB charging, a full temperature control suite, a display screen, and several safety protections.
Review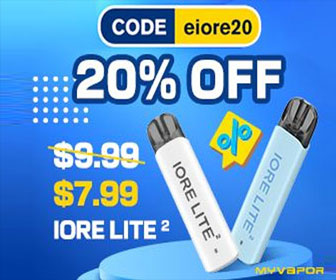 Overview
The Blazer 200 by Sensetech is a 200 watt temperature box mod.  The mod features 200 watts of output, a modern design and plenty of technology. If you get the kit, it includes a tank that works with TFV8 heads, is built with quad adjustable airflow, and has a top fill system.
The mod measures 42mm x 50mm x 92mm and is made from zinc alloy.  The device features an oval form factor with rounded edges so it can feel comfortable in the hand.  You can get the mod in several colors including silver, white, black, red/black and white/black.
At the top of the Blazer 200 mod, there's a 510 threaded connection for fast and flush atomizer positioning.   The control face is front-mounted with two oval-shaped/silver adjustment buttons and a bright OLED with an easily-accessed menu.  The device is fired with a large silver button on the side.
The device has a wide range of operating modes.  In variable wattage mode, it can reach up to 200 watts of power.  The temperature control setting is compatible with nickel, titanium and stainless steel coils that can be fired up to 200 degrees Fahrenheit.  The minimal atomizer resistances is 0.1ohm. All these specs indicated that the Blazer 200 box mod will work well with a wide range of atomizers, including the bundled tank.
The box mod utilizes triple 18650 batteries that can be charged via the USB port while they're inside the unit.  To access the cells, you can remove the back cover that is held down by powerful magnets, yet can be easily removed.  The triple cells setup ensures long vaping times without recharges.
The Blazer tank in this kit measures 26mm across and is made from stainless steel with glass.  The reservoir can hold up to 6ml of e-juice and is topped off with an easy top fill setup that uses a unique flip hinge for an amazingly easy process.  The tank comes with a 510 drip tip adapter to use your own mouthpiece or you can use the included 12mm wide Delrin drip tip that is heat resistant to avoid burning of the lips.  A 510 copper contact on the base ensures proper atomizer installation.
This tank was built to ensure pure flavors with massive vapor.  Included with this bundle, you will get a 0.6ohm Cermaic coil that fires from 50 to 100 watts and is built with Japanese organic cotton, food grade ceramic sleeve with holes and massive triple wicking holes for amazing flavors with huge vapor.  You'also get a 0.2ohm sextuple coil that is rated from 60 watts to 200 watts for higher wattage vaping.  The Blazer tank is also compatible with TFV8 coils.
Airflow is massive with four bottom adjustable air intakes that measure 7.5mm x 3mm.   In combination with the coils, this allows for high power vaping with massive vape clouds that have pure flavor.
Features & Specs
Blazer 200 Box Mod
Dimensions:  42mm x 50mm x 92mm
Zinc alloy material
Cylindrical form factor
Ergonomic design with soft contours
Magnetic battery cover
USB port for charging
Front OLED screen
Front adjustment buttons
Side-mounted fire button
510 threaded connection
Power output range: 7W to 200W
Temperature range: 200°F to 600°F
Resistance range: 0.1Ω to 3.0Ω
TC mode compatibility: SS, Ti, Ni200
Utilizes triple high drain 18650 cells
Missing atomizer alert
Overpuff 10 second protection
Low battery warning
Short circuit protection
Reverse polarity protection
High temperature protection
Pictures
Total Views Today: 1 Total Views: 159