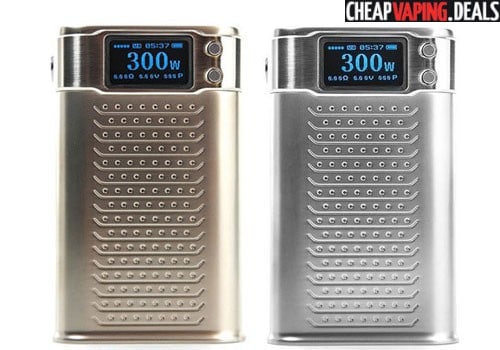 Update: The Smok Koopor Primus 300W Box Mod Has Been Discontinued – Check  Newer Smok Mods & Kits Below
Overview
The Koopor Primus is Smok's latest high-powered box mod that looks great, can put out 300W of power, and features accurate temperature control.
The mod has dimensions of 100mm x 62.4mm x 28.4mm and sports a classy design with a durable zinc alloy construction.  Throughout the device's chassis, there are gorgeous ventilation holes that keep the device cool during high-powered vaping.  The adjustment buttons are on the front of the device next to a large OLED with a simple menu.   On the screen, there are displays for wattage, puff numbers, voltage, resistance, temperature, battery level, current time, and mode.  The fire button is located on the side.  At the top, there's a springloaded 510 connection, and on the bottom, there's a USB port for future firmware upgrades.
With a massive 300 watts of maximum output, The Koopor Primus is one of the most power-capable mods in the marketplace today.   With a new chipset, the device is said to be capable of accurate temperature control from 100°C to 315°C.  The mod utilizes intelligent sensing technology, which automatically discerns the resistance and type of atomizer coil.  The minimum resistance in temperature control mode is .06Ω and 0.1Ω in power mode.  The mod can control stainless steel, titanium, and nickel coil heads in variable temperature modes.   With these specs, there's an excellent chance this device will power your atty, build, or tank.
The device can maintain 300W of power over extended periods because three 18650 external batteries power it.  The magnetic battery cover easily slides off and allows for quick replacement of the cells without any tools.  If you don't have an external charger, the unit does feature onboard charging.  But remember, for battery longevity and safety, it is always recommended to charge batteries externally.
Multiple protections are also built into the mod, such as puff monitoring, overtime protection, short circuit protection, high-temperature protection, and low battery warning.
Overall, this 300W box mod looks like it's going to be incredibly popular.  With 300W of output power and accurate temperature control technology, all for a low price, this one deserves a place in your mod collection.  And the price is just amazing.
Check out the Primus on the Smoktech website
Features & Specs.
Dimensions: 100mm x 62.4mm x 28.4mm
Zinc alloy construction
510 threaded connection
Springloaded center pin
Large OLED that is easy to read
Many venting holes for high-powered use
Schematic diagram
Power range: 1W to 300W
Temperature range: 100°C-315°C or 200°F to 600°F
Output voltage range: 0.8V to 12V
Temperature control resistance range: 0.1Ω to 3.0Ω
Temperature control resistance range: 0.06Ω to 2Ω
Compatible with SS/Ni200/Ti heads
Powered by three external 18650 batteries
Easy sliding/magnetic battery panel
USB charging
Total Views Today: 1 Total Views: 529