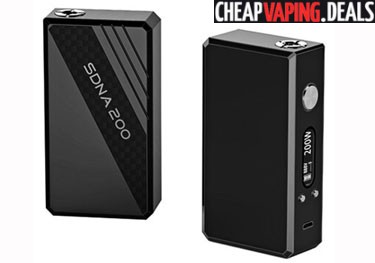 Here's an amazing deal on the SMY SDNA 200 TC Box Mod.
Overview
The SMY SDNA 200 box mod is yet another product from China that utilizes a genuine DNA 200 chip and that is just aswesome. As usual, Simeiyue has really done a great job with a sleek design for the SDNA 200.   In addition to all the standard features, the SMY SDNA 200 box mod has a powerful 4800 mah battery making it one of the largerst capicities you will be able to find in any other DNA 200 devices .
The SNDA 200 is made of a durable aluminum alloy body.  The temperature control supports VT-Ti and VT-Ni.  There is a USB charging port and the firmware is PC upgradable.  The box also features a large OLED screen with indicators for resistance, voltage, wattage, temp and battery status.  The SDNA 200 runs in 4 modes: locked mode, temp control mode, stealth mode and power locked mode.
Features
Original SMY SDNA 200 TC 200W 4800mAh e-cig VV VW box mod
Wattage: 1 – 200W
Compatible resistance (Standard coil): 0.1ohm – 2.0ohm
Compatible resistance range (TC coil): 0.08ohm – 1.0ohm
Temperature range: 200F – 600F
Built-in battery capacity: 4800mAh
Output voltage: 5 – 9V
Material: Aluminum alloy
510 spring loaded thread