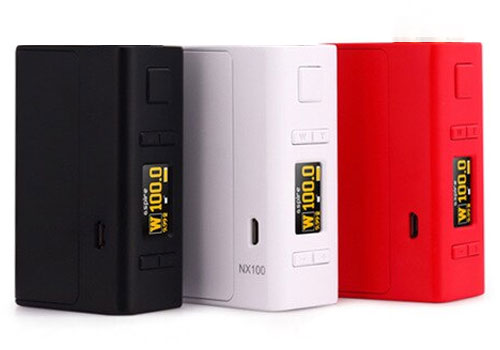 Here's an awesome deal on the Aspire NX100 Mod.  
Overview
The NX100 is a brand new mod from Aspire.  It features a compact design, 100 watts of output  power, a wide range of firing profiles, a TFT screen that allows for a customized logo,  up to 12 different menu font colors and can be used with either a 26650 or 18650 battery.
The mod is made from stainless steel and is quite compact with dimensions that measure just 22mm x 78mm x 45mm.  The design is modern with beautiful lines and accents and rounded corners for ergonomics.  It is available in white, red or black.
The top of the device is made with a spring-loaded 510 that allows for use with virtually any atomizer or tank out there.  The control face is  has a large square fire button, a wattage select button, a temperature control select button and two adjustment buttons.  On the side of the device, there's a micro USB port for charging and firmware upgrades that will add new features to the mod in the very near future.
The magnetic battery cover on the back easily comes off for easily swapping the single 26650 battery that is recommended for use with this mod.  But, you can also install an 18650 cell with the included battery adapter sleeve.
The mod has a maximum output power of 100 watts with a 26650 battery installed, but is limited to 75 watts with an 18650 cell.  Temperature control works in the range of 200 to 600 Fahrenheit and the mod can fire with a resistance down to 0.1ohm.  Temperature control works with all standard coil wire types and there's also three memory slots for use with TCR values.  This allows the Aspire NX100 to be used with most coil types.
The 0.96″ screen on the mod is made with TFT technology that is known to offer amazing resolution and is also quite expensive.  You will also find this type of display in many television sets.   With the NX100 display, you can set 12 alternate font colors and change the logo.   Navigating the screen's menu is very easy as you simply press the "W" button to go between power mode, voltage mode, bypass mode and three different Customizable Firing Button Profiles (CFBP).   CFBP allows you to set custom heat ramps (power curves) according to your liking.   Pressing the "T" button allows for easily interchanging between temperature modes that include titanium, nickel, stainless steel and three TCR modes.
Overall, the Aspire NX100 looks like a compact box mod with plenty of power and a wide range of options, including customization of power ramps and several TCR modes, for a really personalized vape.
Video
Features & Specifications 
Dimensions: 22mm x 78mm x 45mm or
Weight: 120g or 4.23oz
Constructed from stainless steel
Easy mode switching with unique "W" and "T" mode select buttons
510 springloaded connector
0.96″ TFT screen
Power output range: 1W to 100W with 26650 battery, 1W to 75W with 18650 battery
Power modes: VW, VV, Bypass, 3 x CFBP (power ramp modes)
Temperature output range: 200°F to 600°F or 100°C to 315°C
Temperature modes: Ni, Ti, SS, 3 x TCR modes
Voltage output range: 0.00V to 8.48V
Resistance range: 0.1Ω~2.0Ω
Continuous firing range: 5s to 15s
Powered by 26650 or 18650 (use included adapter)
Micro-USB charging
Firmware upgrades
Pictures
Total Views Today: 1 Total Views: 171