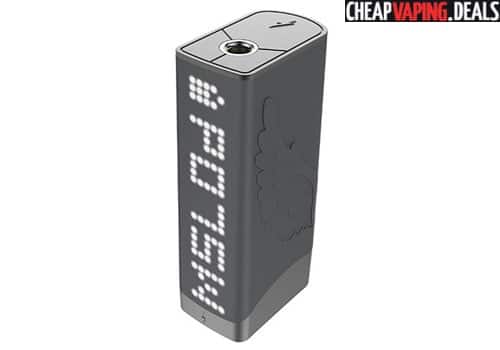 Overview
The CigGo Tattoo is a 75 watt mod that features an amazing engraving, a full length hidden LED screen, temperature control operation and is powered by a single 18650 cell.
From a design perspective, the mod is very similar to the popular Praxis Banshee 150W, but with a more portable form factor.  The Tattoo has a rubberized finish, features durable stainless steel at the bottom and has dimensions of 88mm x 26.5mm x 42.8mm.    The front and back of the device have a beautiful Angel wing engraving for a premium look.  To attach atomizers to the mod, there's a 510 threaded connection at the top.
The control face is located on the side of the device and is built with two adjustment buttons at the bottom and a firing button at the top.  On the opposite side of the mod, you will see the unique LED display that spans the entire length of the device.
The Ciggo Tattoo utilizes a single 18650 battery to fire at up to 75 watts of output.  The device can be powered in temperature control mode with nickel and titanium coils, but only works with stainless steel heads in power mode.  The temperature range is from 200 and 600 degrees Fahrenheit and can be adjusted in increments of 10°F.  The mod's resistance level bottoms out at 0.05ohm, ensuring compatibility with virtually every atomizer out there.
The battery compartment is accessed from the bottom via a door that flips open.  The cover features clear indicators for polarity to ensure batteries are always inserted correctly.  Unfortunately, there is no on-board charging technology, so an external charger is needed to top off the 18650 battery.
Overall, if you liked the Praxis Banshee, you are sure to enjoy using the CigGo Tattoo box mod.   With smaller dimensions,  75 watts of power and temperature control operation, it may be an excellent device to take with you on the go.
Video
Features & Specs.
Dimensions: 88mm x26.5mmx 42.8mm
Weight: unknown
Stainless steel at bottom
Rubberized finish
Amazing design with angel wing engraving
Available colors: black
Full length LED display
510 threaded connection
Uses single 18650 battery
Bottom loaded battery compartment
Power output range: 1W to 75W
Temperature control output range: 200℉ to 600℉ or 100℃ to 315℃
Adjustable in increments of 10℉  or 5℃
Highest discharge current: >20A
Pictures
Total Views Today: 1 Total Views: 187