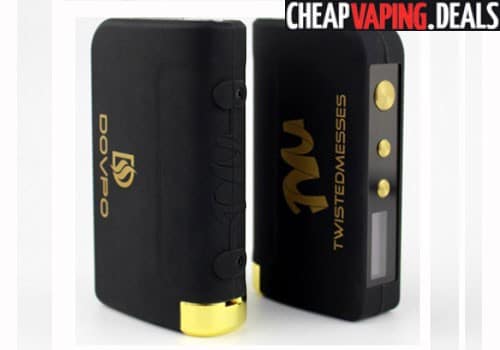 Update: The TwistedMesses 150 Watt TC Box Mod Has Been Discontinued – Check  Newer Box Mods & Starter Mod Kits Below
Overview
This 150W box mod is the result of a partnership between Dovpo and Twisted Messes.   The device is a regulated, dual 18650 box mod with temperature control functionality and a maximum output of 150 watts.
The TwistedMesses box mod features a permanent rubber finish which makes gripping it very comfortable.  It has a hefty feel to it so you can tell you are holding something that's durable and has longevity.   Both the buttons and battery door are 24k gold plated.  The gold plating in combination with the golden Twisted Messes and Dovpo logos gives this device a  stunning look.  The Twisted Messes logo is also embossed in the rubber.
The box mod is compatible with all types of coils including nickel and titanium in both temperature control and power mode.  The lowest atomizer resistance it can fire is 0.05Ω in all modes, so it is compatible with the majority of atties, sub ohm tanks or builds.  The temperature range is 200°F to 600°F.
The Twistemesses mod is powered by dual 18650 batteries in series which are hidden behind a golden plated, sliding battery hatch on the bottom.  The battery door is not only held down  by its lock, but also by two powerful magnets.  And, with shotgun style battery loading, swapping batteries is a breeze.  Simply pop the batteries in and out.
On the top of the device, you will find a 510 connection with a springloaded center pin to make sure all your atomizers fit well and sit flush.  Underneath the buttons on the side, there's a OLED screen with indicators for battery level, resistance, voltage, temperature and wattage.  Hitting the power button three times allows you to switch between variable wattage mode, TC  Nickel mode and TC Titanium mode.
Unlike cheaper alternatives in its class, the Twisted Messes 150W box mod is said to provide very accurate power, resistance and temperature control.    If you're looking for a durable and high quality mod, this may be the one for you.
More information on the TwistedMesses website
Features
Chip manufactured in the USA
Made of zinc alloy
Ergonomic & durable with permanent silicone/rubber finish
Thick coat of 24K gold plating on both the battery hatch and buttons
Power output range: 5W to 150W, adjustable in 1W increments
Power mode resistance range: 0.05Ω to 3.0Ω
Temperature control mode works with Ni200 and Titanium wire
Temperature range: 200°F to 600°F, adjustable in 10°F increments or 100°C to 300°C
Temperature control resistance range: 0.05Ω to 1.0Ω
Lock resistance in TC mode
Operating voltage: 6.4V to 8.4V
Maximum output current: 40A
510 threaded connection
Springloaded center pin
Powered by dual 18650 batteries in series
Fast battery swap with shotgun style loading
Lock device with 5 clicks of power button
Sleep mode
Power off memory function after 60 minutes
Safety features: overheating, reverse polarity, over puff time, low battery voltage and short circuit protections
Video Review
https://www.youtube.com/watch?v=hb3-lEmnhzU
Total Views Today: 1 Total Views: 244