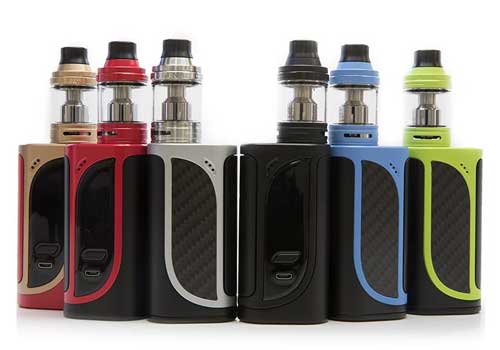 Here's a discount for the Eleaf iKonn 220 Box Mod. 
Deals
Unfortunately, this mod kit is unavailable as it is quite old. Check smilar eLeaf box mods below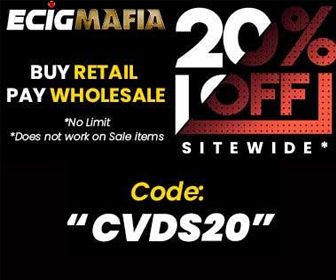 Overview
The Ikonn 220 is the latest affordable box mod from Eleaf.  It features a maximum 220 watt output, a large 0.91″ display, a balanced trickle 2 amp charge system and can also be used as a power bank.
The  mod utilizes dual 18650 batteries that are accessed by opening the battery bay at the bottom that utilizes a hinge system.  The batteries can be charged via the micro USB port that uses a balanced trickle charge system for maximum safety and most efficient charging.  Charging also occurs at a fast 2 amps of current to top off the cells in no time. Best of all, a new reverse charging system converts the 510 connection into a USB output device for charging your smart phone or other USB device in case of emergency. But, you will need to obtain a RC adapter separately.
On the technical level, this device has everything you may need. The Ikonn 220 Mod  has a massive 220 watt capability, temperature control up to 600 Fahrenheit and is able of firing with a low resistance down to 0.05ohm.  Variable temperature is compatible with all types of coils including nickel, titanium, stainless steel and TCR.  And,  there's a preheat function that ensures coils heat up as fast as possible during mod firing.
Amazing patterns on this mod, with a wide range of color combinations and a carbon fiber panel, make this box mod really stand out from the crowd. It is available in gold/red, red/black, blue/black, green/black, silver/black are all black. The measurements of just 44mm x 85.3mm x 28mm additionally result in a portable device that weights only 134g.
A 0.91″ OLED on the front displays mod data in an organized way for easy operation.  The standard screen shows two battery bars, resistance, voltage, amperage and power or temperature, depending on the operating mode.  There are three total menu options that include different vape data: the current interface, puff interface and second interface.
The Ikonn 220's fire trigger spans an entire side of the device and seamlessly integrates with the design to be semi-hidden.  It is said to be ergonomic for a perfect grip.  A standard 510 connector at the top, with a gold plated pin for excellent conductivity, can handle atomizers with a diameter of up to 28mm.
Review
Features & Specs
Measurements:  44mm x 85.3mm x 28mm
Weight: 133.5g
Small high powered mod
Iconic patterns
Carbon fiber panel
Colors: black, silver/black, green/black, blue/black, red/black, gold/black
0.91″ OLED with three menu options
Ventilation holes
Ergonomic stealth fire trigger
510 threaded connection
Compatible with 28mm diameter atomizers
Utilizes dual 18650 batteries
Hinged bottom battery door
2A charging
Balance/trickle charging
Use as power bank with optional RC cable
Modes: Power, TC Ni, TC SS, TC Ti, TCR x 3
Preheat system
Power output range: 1W to220W
Temperature range: 200℉ to 600℉ or  100℃ to 315℃
Maximum output current: 50A
Power mode resistance range: 0.1Ω to 3.5Ω
TC resistance range: 0.05Ω to 1.5Ω
Dual circuit protection
Over-charging protection
Over-current protection
Over-discharging protection
Reverse battery protection
Firmware upgrades
Gallery
Total Views Today: 1 Total Views: 613