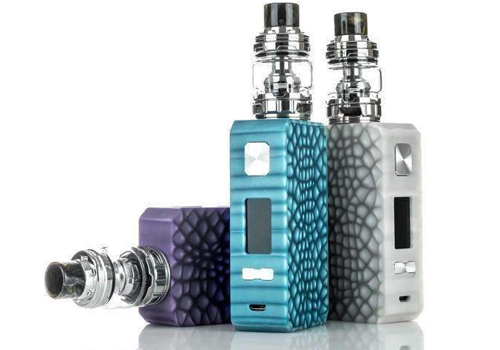 Here are cheap deals to buy the exquisite Eleaf Saurobox 220W Box Mod, Kit or Special Edition Kit at a low price.  The full kit consists of the Saurobox Box Mod and Ello Duro Tank. The mod features a unique luxurious resin finish, interchangeable panels, ultra-lightweight comfortable design, 220 watts of power, dual 18650 batteries, a full-color display, 2 amp lightning-fast charging and versatile operation. If you get the kit, the included tank features mesh coils for intense vapor production, a 6.5ml tank capacity, fast refilling and bottom adjustable airflow.
Deals
Update: This Item Is Out Of Stock Everywhere – Check  Similar Eleaf Products Below
Overview
What sets the Saurobox miles apart from the crowded field of mods is its special resin finish that results in a luxurious appearance and perfectly matches the device's chassis color (black, white, amber, blue or purple). One of the resin panels is held in place via powerful magnets to hide the battery bay which stores the dual 18650 cells. Best of all, this Resin faceplate can be swapped out so you may mix and match it for a unique look and feel whenever you want. Size-wise, the mod is compact, lightweight and easy to hold or carry. On the control face of the Saurobox Box Mod, you will see a 0.96 inch full color TFT display that shows all essential vape information vertically and in a crystal clear fashion. The menu utilizes the latest Eleaf firmware to ensure a user-friendly experience. Vape data you will see on the main menu includes current power or temperature, current voltage, current amperage, atomizer resistance and two battery bars to track charge levels of the cells in the battery bay. Several sub-menus allow for swapping modes, changing mod settings, putting in TCR information (with three memory slots) and getting mod information. At the top of the device, there's a highly compatibile 510 threaded connection bezel which will work with a myriad of atomizers due to its 26mm diameter.
As previously mentioned, the Eleaf Saurobox utilizes dual 18650 cells and these are recharged via a micro USB charging systems that tops of the cells with a very fast 2A current to make the process quick and efficient. Charging also utilizes a trickle & balanced system to assure both batteries achieve equal charge for ultimate safety and security. The micro USB port is also used for future firmware upgrades, so it will always remain up-to-date with the latest technologies in the marketplace.
Operation-wise, the Eleaf Saurobox is capable of 200 watts of power, 600 degrees Fahrenheit temperature control and a minimum resistance of 0.05ohm or 0.10ohm, depending on the mode. Temperature control looks to be versatile as you may use it with nickel, titanium and stainless steel atomizer elements or store your favorite TCR settings in up to three memory slots. In addition to the balanced charging system, there are a multitude of protections such as overcharge prevention, over-discharge prevention, high current prevention, reverse battery prevention, over 10 second puffs prevention and short circuit prevention.
If you purchase the full kit of the Saurobox, you will also receive the Ello Duro Tank. Its main feature is its Mesh coils which is the latest technology in the vaping industry and results in unprecedented vapor production with exquisite flavor. These coils also have quite a long lifespan, saving you a bundle over time. With purchase of the Saurobox Kit, you will receive the HW-N 0.2ohm and HW-M 0.15ohm coils. Another really amazing aspect of the Ello Duro is its 6.5ml tank capacity and top fill system which slides the top cap to reveal an easily accessed fill port. At the bottom of this tank, you will see dual air slots that permit massive airflow, further enhancing vapor and flavor production. Size-wise, the tank has a 28mm diameter and a height of 54mm.
With purchase of the Saurobox Box Mod (full kit), you will receive the Ello Duro Tank, two Mesh coils, spare parts, a micro USB 2.0 charging cable, a warning card and a manual.
Features & Specifications
Dimensions: 52mm x 26mm x 140.5 mm
Weight: 138.7g
Colors: black, blue, amber, purple, white
26mm diameter atomizer bezel (510)
Uses two 18650 batteries

2A lightning fast charging
Balanced/trickle charge system for safety

Operating modes: Power/TC-Ni/Ti/SS/M1/M2/M3 mode
Maximum power: 220W
Output voltage range: 0.5V to 8V
Resistance range power mode: 0.1ohm-3.0ohm
Resistance range TC/TCR: 0.05ohm-1.5ohm
E-liquid capacity: 6.5ml

Sliding top fill system
Large fill port

Dual bottom adjustable air inlets
Mesh coils for huge vapor and flavor

HW-N 0.2ohm Mesh coil
HW-M 0.15ohm Mesh coil
Gallery
Total Views Today: 1 Total Views: 199