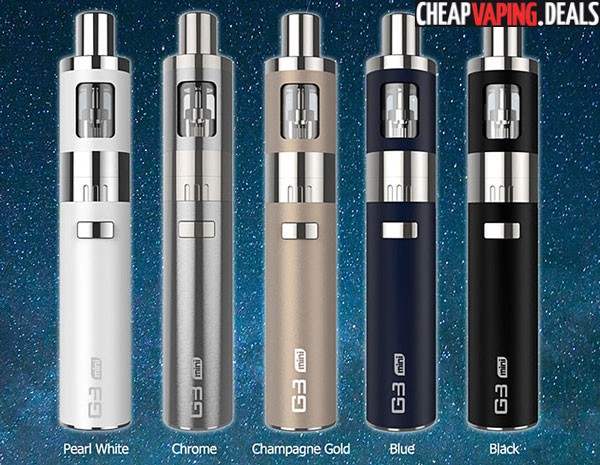 Here's an awesome deal on the Greensound LSS G3 Mini 900mAh e-Cigarette Starter Kit.
Update: This Item Is Out Of Stock Everywhere – Check  Similar Tube Mod & Kit Deals Below
Overview
Check out this fantastic starter kit from Greensound.  The LSS G3 Mini was designed to be portable, compact and still feature plenty of power with excellent vapor production.
Size is the main feature of the G3 Mini kit.  With a length of just 10.7cm, it is compact enough to fit in your purse or pocket to take with you on your night out.  The G3 vaping pen is constructed from 304 stainless steel which has been finished with a glaze paint and a rubberized finish.  It is said to be very pleasing to the touch, ergonomic and extremely light.  And, the coating resists fingerprints and dust, so it will stay clean.  You can get it in several colors including pearl white, chrome, champagne gold, blue or black.
The battery in this kit has a 900mAh capacity and was made for all day vaping without a need to plug it in.  The device also has built-in power saving technology to make the battery last even longer.  The unit responds within a very fast 0.1 seconds of being fired.
To charge the G3 Mini, you have several different options.  The unit features a dual charging port which is compatible with Apple & Android mobile chargers.  Or, you can use the included cable which is compatible with any USB outlet.  The G3 also has built-in passthrough technology, so you can plug it in and still continue to vape.  The battery recharges within one to two hours.
The tank in this kit matches the battery's finish and has a pyrex glass viewing window so that you may see if the 2ml tank needs to be refilled.  It features a 4th generation BDC coil to ensure excellent vapor production and flavor.  At the top of the tank, there's a heat insulated mouthpiece to ensure you never burn your lips. It operates best in temperatures from -20℃ to 40℃.
Overall, this portable G3 Mini kit is an amazing starter kit from any vape beginner.  If you want to switch from smoking to vaping, this compact kit may satisfy you enough to put down cigarettes for good.
More information on the G3 Mini on the Green Sound website
Features & Specs.
Model: LSS G3
Dinensions:  0.74″ x 0.74″ x 4.39″ or 1.88cm x 1.88cm x 11.15 cm (including drip tip)
Weight: 0.097 kg
Chassis made from stainless steel & brass
Rubber coated finish
Light & comfortable in the hand
Pyrex glass e-liquid indicating window
Power range: 1W to 20W
Adjustable voltage range: 3.3V to 4.2V
Coil resistance: 1.0Ω
Fast power up
Powerful: internal rechargeable 900 mAh battery
510 threaded connection
Tank capacity: 2ml
Video Review
Not available
Total Views Today: 1 Total Views: 150