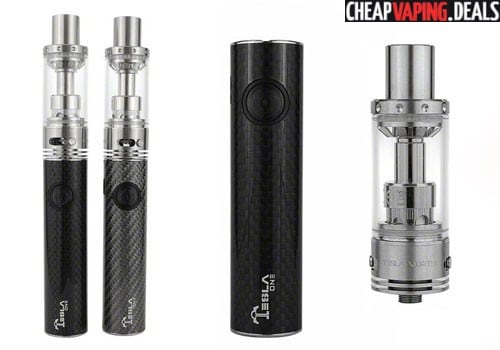 Update: This Item Is Sold Out Everywhere – Check  Similar 100W Box Mod & Kit Discounts Below
Here's a great deal on a Tesla One Kit.  Vaporbeast is only selling a few of these for this cheap price, so it's smart to get one immediately if you really want this kit.
Overview
The Tesla One kit may look like an ordinary eGo tube mod with a tank, but it's hardly that.  It features a powerful battery and a Vortek sub-ohm tank with amazing vapor production.  This setup can fire all the way down to .1Ω and is capable of putting out 100 watts of power.  And it's really easy to use, making it perfect for any vape beginner who would like a high-wattage setup.
The tube-shaped mod is constructed from either Carbon Fiber & Brass (Black & Gray mod) or Stainless Steel & Brass (Stainless Steel mod).  It's a simple-looking device, yet the build quality is excellent and the price is a no-brainer.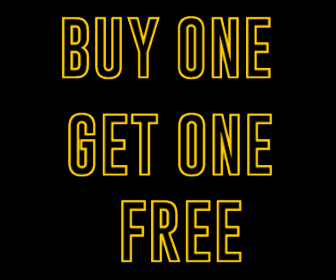 What's amazing about the tube mod is that this tiny device has a maximum output power of 100W, a maximum current of 40A, and a maximum voltage of 4.2V.  It can fire atomizers as low as 0.1Ω so it will power virtually every tank out there.  It's an unregulated device that has a built-in powerful 1800 mAh battery with vent holes on the bottom just as you would see in the Aspire CF series.  To recharge the battery, simply plug it into your computer or USB outlet.  Recharging takes a couple of hours.
At the top of the battery mod, you will find a 510 threaded connection with an adjustable silver-plated copper pin that will allow most tanks and builds to easily fit while maximizing electrical conductivity.   The connector also sports two air holes to keep the device cool.  The fire button features a backlight which is a soothing blue when the voltage is within operating levels.  If the voltage becomes low, it will change to red which means it won't fire and it's time to plug the Tesla One in.  The mod also has built-in safety protections to ensure the battery is not over-discharged.
Included with this kit is the Tesla Vortek Sub Ohm Tank which is made of stainless steel and features an amazing 5.0 mL tank capacity so it won't need to be refilled too often.   The sub-tank has built-in auxiliary airflow to maximize vapor & flavor and a juice flow control system so you can change the size of the wicking holes.  At the top of the tank, you will find a wide bore drip tip that is heat resistant to avoid burning the mouth.     With purchase, you'll get both a 0.2Ω and 0.5Ω coil head that are rated at 80W.
Overall, this Tesla One Kit is an amazing bundle that is perfect for vape beginners but will also satisfy more seasoned vapers.  With the simplicity of use, 100 watts of power, a big 1800 mAh battery, and an amazing 5ml sub tank, you're sure to appreciate this setup.
Features & Specs.
Tesla One Tube Mod
Dimension: 22mm x 87mm
Black & Gray Tesla One: Carbon Fiber & Brass
Gray Tesla One:  Stainless Steel & Brass
510 threaded connection
Brass/Silver adjustable center pin
1800mAh battery
Maximum power: 100W achievable with .18Ω
Maximum current: 40A
Maximum voltage: 4.2V
Resistance range: 0.1Ω – 3.5Ω
Black fire button with voltage indicator light
USB charging
Air ventilation holes
Safety features including over-discharge cutoff
Tesla Vortek Sub Ohm Tank
Constructed from stainless steel
Glass tank  tube
Threaded stainless steel drip tip
Tank capacity: 5.0ml
Coil heads included: 0.2Ω / 0-80W &  0.5Ω / 0-80W
510 threaded connection
Adjustable connection pin
Juice flow control with three settings
Enhanced adjustable airflow
Total Views Today: 1 Total Views: 73